Big Picture: Canes pull off biggest win in years, but the U not back yet
Week 2 proves to be Breakthrough Saturday for Miami's program and a pair of quarterbacks -- Georgia's Aaron Murray and Michigan's Devin Gardner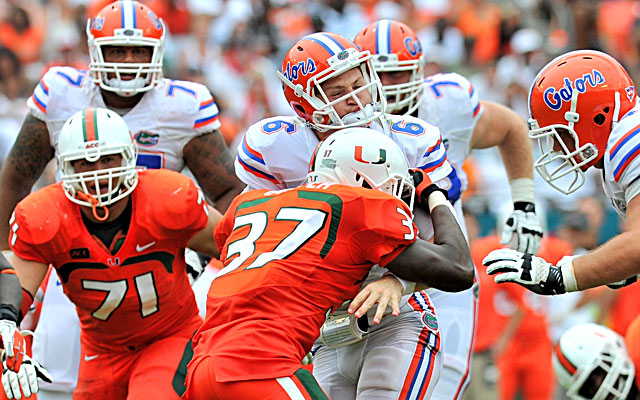 Week 2 seemed to be Breakthrough Saturday for a bunch of folks. In Miami, the Hurricanes started the action with a big win in spite of going 1-11 on third downs to beat favored Florida for the biggest win in Al Golden's time in Coral Gables. In Athens, Georgia QB Aaron Murray -- a guy who was 1-9 all-time against top 12 teams going into the weekend -- shredded the South Carolina defense despite not having his best receiver (Malcolm Mitchell). And later Saturday night, Michigan's Devin Gardner -- wearing the No. 98 in honor of Wolverine great Tom Harmon -- punished the Irish with both his arm and his legs to lead Michigan to a big win over rival Notre Dame in front of the biggest crowd in NCAA history.
For Golden, and his buddy Mark D'Onofrio's much-maligned defense, it was a gritty effort where the Canes looked overmatched on their experienced O-line and only managed 212 yards of offense, but found a way to win thanks to an opportunistic defense. And yes, the Gators offense did more than its share to help the Canes out as Jeff Driskel was picked off twice in the red zone. The win, with dozens of big-time recruits watching on, triggered more of "The U is back" talk. I think it's way too premature.
Miami's not "back" until it wins another national title. Or at least an ACC title. If you've won five national titles, more than anybody else in the past 30 years, you're not "back" just by beating a top 15 opponent at home. The most encouraging sign for UM: holding Florida to 122 rushing yards and just 2.8 yards per carry. Keep in mind in UM's losses to teams that finished in the Top 25 last year -- Kansas State, Notre Dame and FSU -- the Canes surrendered an average of 294 rushing yards in those three ugly losses. Better still, there is growing confidence that Al Golden, who has made so many right moves off the field since taking the job, can win big games.
In regards to the Gators, I'm not giving up on their shot to win the SEC East. I expect Driskel and the young receiving corps to grow from this. Obviously, this will sting for a while though. They scored only twice in six trips inside the red zone and only got one touchdown. You simply can't be a top-10 team if you do stuff like that regardless of how nasty your defense is.
For Murray and the Dawgs, the win saved any BCS title hopes Georgia has and makes the Bulldogs seem like the favorite in the SEC East. Props to Murray, who bounced back from being outplayed by Clemson QB Tajh Boyd a week earlier, by going 17-of-23 for 309 yards and four touchdowns. Of the incompletions Murray had, a few were due to dropped passes. The senior was at his best Saturday in the clutch, going 6-of-7 on third down pass attempts with two going for touchdowns. He also connected with eight different receivers.
As terrific as Murray was Saturday and as much hype as Jadeveon Clowney has received coming into the season, the view from here was that Todd Gurley was the best player on the field. The sophomore RB ran for 134 yards, providing more evidence for those convinced he's college football's best running back, and a legit Heisman contender.
Like his pal Murray, Devin Gardner also really gave the home crowd a lot to be giddy about. In last year's clunker in South Bend, Gardner was the Wolverines leading receiver for an offense that didn't have a pass play longer than 20 yards. They had three on Saturday night, including a 61-yard TD reception by little wideout Jeremy in the first quarter.
The legacy tandem, Gardner, wearing No. 98 and Gallon, wearing Desmond Howard's No. 21, clearly have great chemistry. Gallon's now scored seven TDs in the seven games Gardner has started at QB. Gallon only had one TD in the eight games last year when Denard Robinson was the Wolverines QB, according to the Big Ten Network's research department.
Random stuff
javascript:mctmp(0);•Not sure which looked worse -- the Texas defense or the USC offense. Both were shaky last season and optimistic that they would be much sharper in 2013. The Longhorns, playing against a physical BYU team, looked worse. Taysom Hill ran for 259 yards as part of the Cougars eye-popping 550 yards on the ground. Whatever modicum of momentum the Longhorns had coming off their bowl win last winter is gone.
The Longhorns have three very winnable games ahead: home against Ole Miss and Kansas State and then at Iowa State to regain some confidence before facing Oklahoma in Dallas. I thought UT would beat the Sooners this year, but after watching a lot of the Longhorns get mauled by BYU Saturday night, I'm skeptical again -- and this is after watching OU struggle with West Virginia. Very curious to see how Mack Brown handles things over the next month.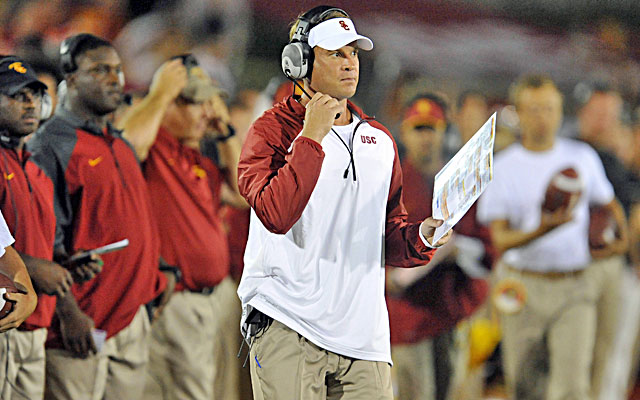 The Trojans seem to be even in more disarray. They put on a dismal performance against a Washington State team that hadn't held anyone under 19 points in two seasons. Lane Kiffin's offense, which didn't have a completion longer than 19 yards in its opener against a suspect Hawaii defense, didn't have a pass play longer than eight yards against the Cougars. Exactly how that can happen when you have Marqise Lee and Nelson Agholor is mind-boggling.
On Saturday night I traded texts with two veteran NFL personnel people who both said they'd never seen a coach look more "scared" calling plays than Kiffin did or look like he has less faith in his QBs.
Remember, Auburn -- with essentially a DB playing quarterback -- did more damage in the passing game against WSU, and that was with Nick Marshall missing some wide-open receivers by 10 yards.
The Trojans' lone bright spot on offense was the running of converted linebacker Tre Madden, who amassed 165 of USC's 195 yards. Madden has proven to be the best offensive move Kiffin has made in the past years. Maybe in his whole USC coaching career.
•The absurdity of the following stat underscores the reality that defense means just about everything when it comes to Michigan State football these days, probably more than any other FBS program in the country. There isn't a better defensive coordinator in the country than Pat Narduzzi, and thus far he's also proven to be the Spartans' de facto offensive coordinator too. MSU has scored four TDs on defense this season. On offense: Only two.
Narduzzi's latest batch of standouts pacing his staunch defense are a pair of projected high-round draft picks in the secondary, Darqueze Dennard and Isaiah Lewis, and sophomore defensive end Shilique Calhoun, who's a big reason why MSU is getting so much pressure on the rival QB. (The Spartans had 27 hits on the quarterback in Week 1.) The 6-4, 250-pound Calhoun has actually outscored the Spartans offense by himself, having produced three TDs this season. Calhoun had two more Saturday against USF with one coming on a 56-yard interception return and another off a fumble return. He also had two TFLs and two QB hurries.
Calhoun wasn't a touted recruit coming out of New Jersey. A high school basketball star, he was about 220 pounds, but his quickness and change-of-direction skills gave the MSU offense fits while he was on the scout team during his redshirt season. Last year, whenever Narduzzi saw LSU on TV, he'd text Calhoun: "See that (Barkevious) Mingo. He looks just like you're gonna look next year."
"That's who Calhoun reminds me of," Narduzzi told me Saturday night. "He's so quick-twitch like Mingo. He's really a freak athletically."
•Best under-the-radar off-season coaching move: My early vote goes to Tim Beckman's hiring Bill Cubit as Illinois' new OC. Last year, the Illini were last in the Big Ten in offense at 297 yards per game. Through their first two games, they're averaging almost 200 yards more per game (493 ypg) and after Saturday's thumping of a decent Cincinnati team, Illinois has already matched last season's win total.
"Bill is an outstanding offensive mind, there's no question," Beckman told reporters after the game. "And in my opinion, that's why I brought him here. He's the best that I've been coaching against or been around."
The Illini kept converting on demoralizing third-and-longs, going 9-for-15 and picking up an average of 11.8 yards on those conversions with seven of the first down plays coming on nine yards or more.
The biggest benefactor of Cubit's arrival has been Nathan Scheelhaase, who has operating with an added sense of urgency, just as the Illini offensive coordinator wants. Scheelhaase has thrown for 728 yards, six touchdowns -- two more TD passes than he had in 10 games in 2012 -- and one interception.
•Two weeks into the Mark Helfrich era and the Oregon Ducks are looking very crisp. Last week Oregon racked up a school-record 772 total yards in its season-opening win over Nicholls State, averaging 10.9 yards per play in the game, the most by any FBS team in Week 1. They also had eight TD drives that lasted two minutes or less. On Saturday, the Ducks went cross country and blasted Virginia, 59-10, averaging 8.7 yards per play to go with a staggering 8.8 yards per carry. Seven of their eight TD drives were under two minutes. Their first four TD drives took a combined 3:54. So through two games, the Ducks already have one-third as many sub-2 minute TD drives than they had in 14 games last year, where their 45 led the country.
•Let's pause a bit on the Bobby Petrino's headed back to the big-time train. It wouldn't shock me if Petrino did a one-and-out at WKU, but his Hilltoppers really stubbed their toes against a rebuilding Tennessee program. At one point, Petrino's team committed five turnovers over a six-play stretch. Of course, WKU lost after that. It doesn't mean Petrino won't roll off nine or 10 wins this season, but that eye-catching 2-0 start over SEC schools went down the drain in spectacular fashion.
•I wrote about how Baker Mayfield, Texas Tech's true freshman walk-on QB, ended up in Lubbock on Friday. Apparently, I didn't jinx him. Mayfield totaled 433 yards of offense against Stephen F. Austin on Saturday night in the FIRST HALF. Next up is a much stiffer test for Mayfield and Kliff Kingsbury: A Thursday night game against TCU.
•Speaking of the Horned Frogs, sorry to see how QB Casey Pachall went down with fractured arm. As I reported Saturday night, Pachall had surgery on his left (non-throwing) arm and will miss the Texas Tech game and is doubtful, according to a source, to return for the Horned Frogs' next game at the end of the month against SMU.
•Stat of the Day:Georgia averaged 8.3 yards per play with Jadeveon Clowney on the field, yet only 2.8 when the Gamecocks' all-American was on the sideline, according to ESPN's research department.
•Stat of the Day, Take II: Baylor had possession for 599 seconds in the first half against Buffalo; averaging a point every 10.7 seconds, while running a play every 14.6 seconds, according to the Big 12's Wendell Barnhouse.
•Stat of the Day, Take III: Colorado School of Mines, the Division II engineering school put on the football map by the innovative artistry of coach Bob Stitt, ran 108 plays, piling up 727 yards, including going five-for-five on fourth downs for 72 points and an NCAA-record 42 first downs. Yes, Stitt keeps happening there.
• Oddest Saturday Scene: The dust-up on the South Carolina sideline where Gamecocks LB coach Kirk Botkin and D-line coach Deke Adams had to be separated from each other by DC Lorenzo Ward after some serious sparks.
• Oddest Saturday Scene, Take II: The looks on Eminem's face as he stood between Brent Musburger and Kirk Herbstreit for a second-half booth interview during the Notre Dame-Michigan game. The subsequent discussion of point spreads was a nice capper to the visual.
•I'm off to A&M. This week should be a lot of fun. Can't wait. Also, if you haven't had a chance to catch Fast Footballon CBS Sports Network (Tuesdays at 5 PM ET and also at 9 PM ET), check it out. The show delves into innovation in a way other CFB shows haven't before.
Schiano would have made $4.4 million in Year 1 with annual raises as part of a six-year de...

Dykes spent this season as an offensive analyst at TCU

The "Wyoming Wild Man" notched six tackles for loss as a junior in 2017
Zaycoven Henderson was charged with aggravated assault with a deadly weapon

Patterson is a former No. 1 recruit in the country

Baker Mayfield and two Sooner teammates made the first team