Chasing the Devil: Can Beamer still ball? Can Les lead LSU past Dawgs?
Saban-metrics Fowler: Urban has been our No. 1 Saban chaser all season, but will he get his own come-uppance against fired-up Wisconsin? And will Les's Tigers survive a Dawg fight Between the Hedges?
• 5 min read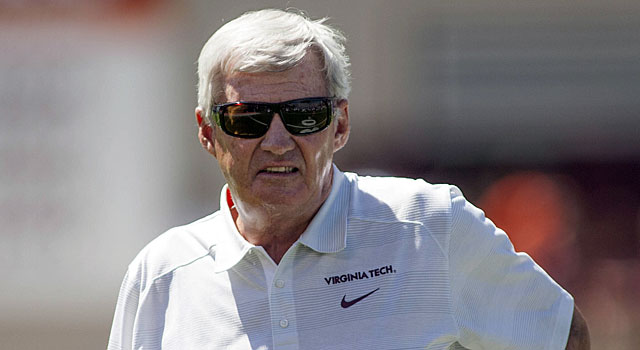 Dr. Dre sells headphones.
He used to sell classic albums. For more than a decade, Dre has teased the Detox record but it never happened. It won't happen. The window has passed. He is too old (48, more like 88 in rap years) or can't replicate the magic from The Chronic/2001 days or simply doesn't want to. Over the years, he's leaked a few records supposedly for Detox, to mixed reviews and 'eh' shrugs. It's time to stop waiting.
So now he sells headphones. There is good money in headphones. Crazy money.
Virginia Tech's Frank Beamer doesn't want to sell headphones. He wants to coach.
In that case, does Beamer -- after putting out classic material and a few five-mic-level albums in his own right -- have another hit record in him?
It's not time to write Beamer off. Tech has started slow in previous non-conference seasons and still won ACC championship games in the same year (see: 2008 loss to ECU and 2010 loss to James Madison). It'd be fun to see Beamer crack the 'Chasing the Devil' Top 10 this season and plunge into the race to unseat Nick Saban one more time.
But Tech fans might have watched Saturday's game against Marshall, which took Tech to triple overtime on Saturday, and beckon the days Tech handedly beat Marshall while the Herd was actually ranked (47-21 in 2002 against No. 16 Marshall), not barely hanging on against a Marshall team coming off a seven-loss season.
Some rain-soaked games are destined for unpredictability, as Tech's win had tipped touchdown passes and backup place kickers.
Tech's outlook for 2013 ACC play seems equally unpredictable. If Tech is better than they showed Saturday, Georgia Tech needs to feel that heat on Thursday in Bobby Dodd Stadium.
Beamer is 66 (more like 88 in rap years) and, though he might not be the football equivalent of Dr. Dre, he belongs in a heavyweight class. From 1995-2011, Beamer produced four seasons of less than 10 wins. Four. Unquestioned consistency. He's sixth all time in wins.
Beamer is in a different place than Texas' Mack Brown, who has three consecutive down seasons to Beamer's one. A string of conference wins might help Beamer reach the 'CTD' Top 10.
Not today. He's pretty far off right now. Doesn't mean it's time to stop waiting. But now would be a good time for a hit record.
Chasing the Devil
Rank
Coach
Devil Rating
Comment

1t






9.0

Urban Meyer, <span data-shortcode= State" data-canon="Ohio Bobcats" data-type="SPORTS_OBJECT_TEAM" id="shortcode0"> -- Meyer got vilified on Twitter for throwing 76 points on FAMU. Meyer-bashing is so convenient it's become tired. But all the Buckeyes' title plans are still ahead of them. A compelling matchup with Wisconsin in The Shoe could very well showcase a two-quarterback system with

Kenny Guiton

and Braxton Miller. Maybe play both, create a few packages for Miller until he's fully recovered. Guiton has Meyer's attention, though Guiton hasn't played a tough defense yet.

1t






9.0

Mark Helfrich, Oregon -- A sign of Oregon's respect … Ducks are favored by 34.5 over a Cal team averaging 33.7 points per game. Apparently 70 is the new 20 in Eugene. Can Oregon and Stanford just move up their game about six weeks, please? Offensive line has to prove it can hold up for a full season, but otherwise Helfrich is nurturing Oregon's speed-and-space formula just fine.

3






8.5

Jimbo Fisher, Florida State -- That Oct. 5 matchup with Maryland just got interesting after the Terps smashed West Virginia 37-0. Otherwise, nothing to see here as the Noles cruised to a second consecutive non-conference win Saturday. Though Jameis Winston's potential seems boundless, the Seminoles need a heavy dose of running game and defense on tap in case Winston has an off night.

4





8.0

Les Miles, LSU -- Just when everyone's focused on LSU's improved passing attack, running back Jeremy Hill reminds the SEC of what the Tigers really came to do. However you feel about whether the oft-maligned Hill's should be a part of the team, he's an imposing back and plays perfectly to LSU's on-field identity. That Auburn win was nice, but do the same in Sanford Stadium on Saturday, then let's talk.

5






7.5

Kevin Sumlin, Texas A&M -- There's little reason to believe the Aggies can't finish the year with one- or two-losses. Sumlin is probably past the 'Johnny Football is a self-absorbed rich kid who doesn't appreciate what he's got' phase of the media discussion, which means he can grab a shower, eat a nice meal alone with some soft jazz in the background and design killer offensive gameplans like usual.

6





7.0

Dabo Swinney, Clemson -- The Tigers' defensive front held its own against N.C. State on Thursday night. Will the secondary hold up for seven more conference games plus South Carolina? Dabo hired Brent Venables to figure that out. There's no denying the Tigers have athletes that look more convincing instead of athletes that look like unfulfilled potential as in years past.

7






6.5

Mike Gundy, Oklahoma State -- Gundy likes a soft non-conference schedule to gear up for nine Big 12 games. Well, between Miss. State-UTSA-Lamar, he pretty much got it. Let's see what the Gundys can do with WVU-Kansas State-TCU in the next three weeks. That three-game stretch could either be really difficult or really easy. Not sure what to make of OSU's defense, which is clearly better than a year ago but gave up 35 to the Roadrunners in week two.

8




6.0

David Shaw, Stanford -- If you needed a reminder of what Stanford can do, let the 29-0 first-half jump on Arizona State serve as a chin check. Several playmakers on defense will make life miserable for Pac-12 opponents (and, yes, that might include Oregon, too). Kevin Hogan has seven straight wins as a starter. Stanford is so insistent on the power running game, it will be fascinating to see if teams can stop it when they know it's coming.

9t





5.0

Al Golden, Miami -- All right, the UF win was impressive, but we need to see more from Golden and the Canes. Don't make us look silly for hyping you with a dud against Georgia Tech in two weeks. Luckily for Golden, his defense looks better than most expected. Offensive line is stout and will create more lanes for

<span data-shortcode=

Johnson" data-canon="Duke Johnson" data-type="SPORTS_OBJECT_PLAYER" id="shortcode0"> than they could against Florida's vaunted front.

9t





5.0

Steve Sarkisian, Washington -- Noah's Sark (the name of his boat) purrs through Lake Washington and into the top 10. The Huskies still have to prove they belong with the Pac-12 heavyweights, but Sarkisian couldn't have had a better non-conference performance. Three years of solid recruiting is paying off.

Keith Price

is efficient. In make-or-break year, Sarkisian is applying pressure.

10





4.0

Will Muschamp, Florida -- Muschamp is back in the top 10 because somehow the Gators have turnover-prone, wildly erratic yet ultimately satisfying optimism. Most of that optimism stems from a relentless defense that will keep Florida in every game. That's Muschamp's ace. The defense will always be good in Gainesville under Muschamp. Quarterback

Tyler Murphy

, replacing the injured Jeff Driskel, showed poise against Tennessee but needs to show more. Quarterbacks never should be hyped after one game.
Next Devils up: Brian Kelly, Notre Dame; Bob Stoops, Oklahoma; Steve Spurrier, South Carolina; Charlie Strong, Louisville; Jim Mora, UCLA; Rich Rodriguez, Arizona; Hugh Freeze, Ole Miss; Pat Fitzgerald, Northwestern; Brady Hoke, Michigan; George O'Leary, UCF.
The Eagles have started winless in Summers' second season and were 5-13 overall under him

The Fighting Irish are up to No. 9 in the latest edition of these college football ranking...

The Fighting Irish are getting more attention after throttling USC 49-14 Saturday night
Jerry Palm is back to look at where the bowl games stand after the midway point of 2017

The sophomore leads the SEC in total offense and passing

The Nittany Lions want the Crimson Tide after dismantling the Wolverines