2014 NFL Roster Cuts: Tracking teams down to 75
With the 2014 regular season just over a week away, more than 1,100 players will be released as 32 NFL teams have until Saturday at 4 p.m. ET to trim their rosters down to the final 53. First up: the initial wave of cuts as teams get to 75 players by Tuesday.
by

Eye on Football staff

• 7 min read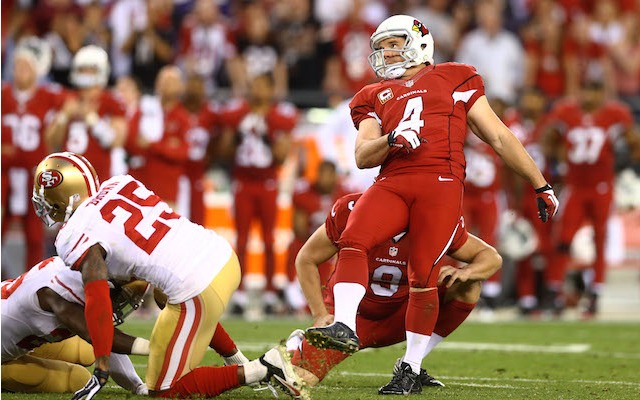 With the 2014 regular season just over a week away, more than 1,100 players will be released as 32 NFL teams have until Saturday at 4 p.m. ET to trim their rosters down to the final 53. First up: the initial wave of cuts as teams get to 75 players by Tuesday. With that in mind, we'll be continuously updating this list. 
---
AFC East

  New York Jets  
Cuts to get to 75: WR Jacoby Ford , TE Colin Anderson , FB Chad Young , DE Anthony Grady , CB Ras-I Dowling , T Bruce Campbell , LB Steele Divitto , OL Patrick Ford , K Andrew Furney , P Jacob Schum , RB Michael Smith , OL Markus Zusevics
Our thoughts: Jacoby Ford, who had 53 kickoff returns for 1,280 yards and three touchdowns with Oakland in 2010, was brought in to compete as one of the team's primary returners but had a terrible preseason.
Dowling, a 2012 second-round pick, continues to have a disappointing, injury-filled career.

Miami Dolphins  
Cuts to get to 75: DB Jalil Brown, TE Michael Egnew, DT Micajah Reynolds, OL Steven Baker, S Demetrius Wright, K John Potter, TE Brett Brackett, CB Steven Clarke, DE Rakim Cox, DT Cory Grissom, C Tyler Larsen and WR Ryan Spadola, WR Armon Binns
Our thoughts: Michael Egnew was a third-round pick in 2012 who never lived up to potential. He was supposed to be a go-to for QB Ryan Tannehill, drafted the same year.



Buffalo Bills
Cuts to get to 75: QB Dennis Dixon , DT Alan Branch , S Derek Brim ,  P Jake Dombrowski,  WR Tori Gurley ,  S Jajuan Harley , K Dustin Hopkins ,  DT Damien Jacobs ,  C Macky MacPherson , WR Chris Summers ,  G J.J. 'Unga, RB Ronnie Wingo  
Our thoughts: Could Dennis Dixon find a home in Philadelphia, where his former college coach Chip Kelly is stockpiling Ducks?
Cuts to get to 75: LB James Anderson, DL Tommy Kelly, DL Will Smith, TE Justin Jones, DT Ben Bass, CB Travis Hawkins, WR Derrick Johnson, LB Deontae Skinner, DB Jemea Thomas and WR Wilson Van Hooser
Our thoughts: The 33-year-old Smith (67.5 career sacks) is coming off a torn ACL, and reportedly, he looks like he might be done as a player.
---
AFC North

Baltimore Ravens
Cuts to get to 75: S Omar Brown, LB Nick DiMarco, P Richie Leone, OT David Mims, CB Marrio Norman, CB Deji Olatoye, LB Austin Spitler, WR LaQuan Williams, WR Mike Willie, RB Cierre Wood, FB Shaun Chapas, OT Brett Van Sloten

Cincinnati Bengals
Cuts to get to 75: CB R.J. Stanford, DT Larry Black, S Isaiah Lewis, K Quinn Sharp, WR Ryan Whalen, TE Kevin Brock, WR Jasper Collins, LB James Davidson, QB Matt Scott. Waived/injured: CB Lavelle Westbrooks, Linebacker JK Schaffer 

Cleveland Browns
Cuts to get to 75: WR Anthony Armstrong , DB Royce Adams , RB Edwin Baker , OL Randall Harris , DB T.J. Heath , DL Cam Henderson , WR Jonathan Krause , OL Ryan Lee , LB Caleb McSurdy , OL Keavon Milton , LB Keith Pough, WR Tim Smith , OL Jeremiah Warren , TE Martell Webb
Our thoughts: Armstrong produced 44 catches for 871 yards in 2010 for the Redskins, but if he can't stick in this Browns receiving corps, that doesn't say great things about his future prospects.

Pittsburgh Steelers
Cuts to get to 75: RB Jordan Hall, RB Miguel Maysonet, WR C.J. Goodwin, WR Kashif Moore, TE Eric Waters, S Jordan Dangerfield, CB Devin Smith, CB Lewis Toler, LB Vic So'oto, OL Chris Elkins, OL Emmanuel McCray, DL Hebron Fangupo, DL Brian Arnfelt, LS Luke Ingram, RB Tauren Poole
---
AFC South

Houston Texans
Cuts to get to 75: WR Joe Adams, NT Austin Brown, NT David Hunter, WR Alec Lemon, LB Terrance Lloyd, OL Sam Longo, CB Junior Mertile, RB William Powell, LB Lawrence Sidbury, OLB Paul Hazel, OG Conor Boffeli, WR Anthony McClung

Indianapolis Colts
Cuts to get to 75: CB Johnny Adams , CB Qua Cox , G Andre Cureton , G Marcus Hall , CB Kameron Jackson , WR Nu'Keese Richardson , LB Jonathon Sharpe , S David Sims , WR Eric Thomas , WR Tony Washington , FB Cam White

Jacksonville Jaguars
Cuts to get to 75: CB Mike Harris , WR St. Louis Rams es Barden" data-canon="Ramses Barden" data-type="SPORTS_OBJECT_PLAYER" id="shortcode0">, LB Allen Bradford , G Antoine Caldwell , LB Josh Hull , RB Harvey Unga , S Joe Young , C Patrick Lewis , DT David Carter , LS Charley Hughlett , WR Kenny Shaw

Tennessee Titans
Cuts to get to 75: LB Kendrick Adams, CB Marc Anthony, DL Lanier Coleman, OL Kevin Danser, OL Tyler Horn, WR Julian Horton, RB Waymon James, CB Micah Pellerin, WR Jaz Reynolds, S Hakeem Smith, WR Derel Walker, LB Jonathan Willard, LB David Hinds, WR Isaiah Williams and OL Gabe Ikard
---
AFC West

Denver Broncos
Cuts to get to 75: LB Jamar Chaney , RB Brennan Clay , WR Greg Hardin , LB Jerrell Harris , T Winston Justice , S Charles Mitchell , DT Will Pericak , QB Bryn Renner , DE Chase Vaughn , RB Jerodis Williams , WR Greg Wilson
Our thoughts: Winston Justice is a fun guy to interview -- especially if you talk about his Winston Bustice nickname -- but he's battled injuries and subpar play for much of his career.

Kansas City Chiefs
Cuts to get to 75: WR Deon Anthony , DL Jairus Campbell , DT Jermelle Cudjo , WR Weston Dressler , G Otis Hudson , WR Jerrell Jackson , CB Brandon Jones , CB Vernon Kearney , S Jerron McMillian , TE Adam Schiltz , WR Darryl Surgent , T Ryan McKee, CB Kevin Rutland, CB Damond Smith
Oakland Raiders
Cuts to get to 75: TE Kyle Auffray, OT Emmett Cleary, LB Justin Cole, WR Mike Davis, DT Torell Troup, WR Rahsaan Vaughn, CB Jansen Watson, QB Trent Edwards, WR Juron Criner, S Larry Asante, WR Greg Jenkins, RB Kory Sheets, OL Lucas Nix

San Diego Chargers
Cuts to get to 75: OT Nick Becton, RB Zach Boren, TE Jake Byrne, WR Brelan Chancellor, LB Adrian Hamilton, WR Micah Hatfield, TE Ryan Otten, DB Lowell Rose, P Chase Tenpenny, RB Kerwynn Williams


---
NFC East

  New York Giants
Cuts to get to 75: LB Justin Anderson, DE Emmanuel Dieke, LB Spencer Adkins, DB C.J. Barnett, TE Jerome Cunningham, DT Everett Dawkins, TE Xavier Grimble, WR Travis Harvey, DB Charles James, K Brandon McManus, DB Kyle Sebetic, G John Sullen, DB Ross Weaver

Dallas Cowboys
Cuts to get to 75: DE Martez Wilson, FB J.C. Copeland, WR Chris Boyd, P Tom Hornsey, LS Casey Kreiter, DE Adewale Ojomo, G Wayne Tribue, QB Caleb Hanie, TE Jordan Najvar, S Matt Johnson, CB Justin Green, LB DeVonte Holloman, CB Johnny Thomas

Washington Redskins
Cuts to get to 75: FB Stephen Campbell , WR Cody Hoffman , LB Jeremy Kimbrough , WR Rashad Lawrence , S Ross Madison , DE Jake McDonough , LB Adrian Robinson , DE Jeremy Towns , OL Adam Gettis, CB Bryan Shepherd, LB Rob Jackson WR Rashad Ross, TE Matt Veldman,OL Mike McGlynn

Philadelphia Eagles
Cuts to get to 75: TE Blake Annen, OL Michael Bamiro, OL Karim Barton, WR Kadron Boone, WR B.J. Cunningham, OL Donald Hawkins, TE Emil Igwenagu, LB Jake Knott, DE Joe Kruger, S Daytawion Lowe, DE Frances Mays, S Davon Morgan, K Carey Spear, DE Alejandro Villanueva
Our thoughts: A fond farewell to Alejandro Villanueva, who spent the past four years on active duty in the Army -- including three tours in Afghanistan.
---
NFC North

Chicago Bears
Cuts to get to 75: S Adrian Wilson , RB Michael Ford , WR Greg Herd, WR Kofi Hughes , OT Joe Long , CB Derricus Purdy , CB Peyton Thompson , DT Nate Collins , OL Dylan Gandy , QB Jordan Palmer , KR/PR Darius Reynaud , CB Isaiah Frey, OG James Brown, LB Jordan Senn
Our thoughts: Adrian Wilson has had a strong 12-year career, but after dealing with heel issues last year, the soon-to-be 35-year-old's career is in jeopardy.
Jordan Palmer, meanwhile, reportedly has signed with the Bills.

Detroit Lions
Cuts to get to 75: G Alex Bullard, G A.J. Dalton, DT Gregory Hickman, RB Steven Miller, DE Kris Redding, WR Conner Vernon, QB James Franklin, FB Chad Abram, P Drew Butler, CB Jonte Green, CB Aaron Hester and K Giorgio Tavecchio

Green Bay Packers
Cuts to get to 75: S Charles Clay , CB Antonio Dennard , WR Chris Harper , LB Korey Jones, TE Colt Lyerla (injury settlement), FB Ina Liaina , QB Chase Rettig , WR Gerrard Sheppard

Minnesota Vikings  
Cuts to get to 75: S Brandan Bishop , OT Pierce Burton , CB Derek Cox , WR Andy Cruse , WR Kamar Jorden , WR Erik Lora , OT Kevin Murphy , DT Kheeston Randall , DE Tyler Scott , DE Jake Snyder , TE Kory Sperry , CB Robert Steeples , WR Ty Walker TE Mike Higgins
---
NFC South

Atlanta Falcons
Cuts to get to 75: DE Theo Agnew , LB Darin Drakeford , S Tay Glover-Wright , WR Julian Jones , QB Jeff Mathews , LB Walker May , RB Jerome Smith , WR Tramaine Thompson , TE Brian Wozniak , S Tyrell Johnson

New Orleans Saints
Cuts to get to 75: WR Andy Tanner, OT Ty Nsekhe, S Ty Zimmerman, LB Kevin Reddick, CB Rod Sweeting, QB Logan Kilgore, OG Manese Foketi, DE George Uku, and DL Rufus Johnson

Tampa Bay Buccaneers
Cuts to get to 75: LS Jeremy Cain, DT Euclid Cummings, OL Jace Daniels, WR Skye Dawson, OL Jason Foster, DE Ryne Giddins, G R.J. Mattes, WR Eric Page, WR Tommy Streeter, DE Chaz Sutton, QB Alex Tanney, FB Ian Thompson, LB Damaso Munoz

Carolina Panthers
Cuts to get to 75:  WR Tiquan Underwood , WR Toney Clemons , P Jordan Gay , DT Linden Gaydosh , DE Alex Hall , OT Oscar Johnson , WR Marvin McNutt , LB Anthony Morales , WR Kealoha Pilares , DE Craig Roh
Our thoughts: At this point, it seems that Tiquan Underwood will be most remembered for getting cut by the Patriots the day before New England played in the Super Bowl.
---
NFC West

Arizona Cardinals
Cuts to get to 75: K Jay Feely, QB Ryan Lindley, OT Max Starks, LB Keenan Clayton, LB JoJo Dickson, C Tommie Draheim, WR Reggie Dunn, LB Derrell Johnson, S Orhian Johnson, WR Kevin Ozier, DT Justin Renfrow, CB Brandon Sermons, RB Damien Thigpen
Our thoughts: Jay Feely missed a 48-yard field goal in the team's third preseason game, and the Cardinals decided to go with the fresher leg of Chandler Catanzaro.

San Francisco 49ers
Cuts to get to 75: QB McLeod Bethel-Thompson, S D.J. Campbell, TE Kevin Greene, RB Jewel Hampton, P Colton Schmidt, LB Kion Wilson and WR Devon Wylie, WR David Reed, LB Blake Costanzo

Seattle Seahawks
Cuts to get to 75: OT Wade Smith, CB Terrell Thomas, OT Cory Brandon, RB Demitrius Bronson, S Mike Dobson, DE Jackson Jeffcoat, WR Kevin Smith, CB Thomas Wolfe, DT Michael Brooks, WR David Gilreath, LB Horace Miller
Our thoughts: Wade Smith had started the past 64 regular-season games for the Texans.

Rams
Cuts to get to 75: CB Jarrid Bryant, P Bobby Cowan, T R.J. Dill, WR Jordan Harris, LS Jorgen Hus, FB Kadeem Jones, LB Johnny Millard,; WR T.J. Moe, T D.J. Morrell, LB Pat Schiller.


The numbers show that Morelli has called a historic amount of penalties vs. Philadelphia

The Browns need to know what they have in their rookie passer

Look for the Raiders to upset the Chiefs because it's been that kind of season
After six weeks of football, is any team any good? Check back next month

The league has been working closely with civic-minded players on ways to assist them in their...

The 2018 draft class is shaping up to be absolutely loaded at the running back spot