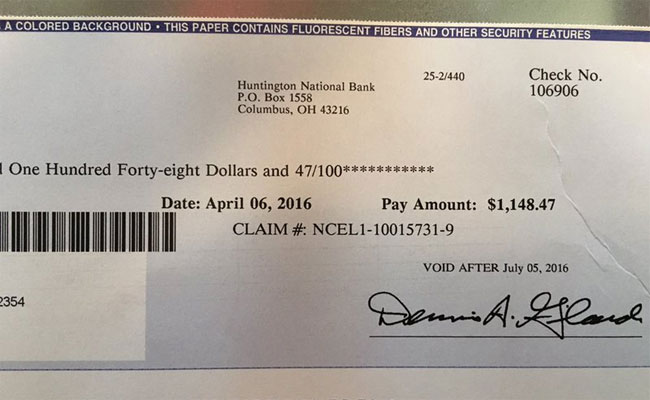 Current and former college football and men's basketball players are starting to receive settlement checks for previously appearing in NCAA-branded video games. This marks what's believed to be the first time active college athletes are permitted by the NCAA to get paid for use of their names, images and likenesses.
The checks come from the 2009 Sam Keller and Ed O'Bannon lawsuits against the NCAA, Electronic Arts and Collegiate Licensing Company. The likenesses and characteristics of college athletes were used by EA in football and men's basketball video games without their permission or any payment -- and with NCAA officials aware of the use behind the scenes.
The case was settled in June 2014 for $60 million with lawyers receiving 30 percent of the settlement. Now the checks are finally reaching players who made successful claims for appearing in games between 2003 and 2014, when the NCAA video games ended due to the litigation.
Leonard Aragon, the attorney for Hagens Berman Sobol Shaprio who is handling the settlement, said 24,932 checks are being issued. The average recovery for a player is $1,237, the median is $1,071, the maximum is $7,622 and the lowest is $58. The lowest payment is an outlier because that player opted out of the EA settlement and only got paid from the NCAA settlement, Aragon said. Otherwise, the lowest payment is $100.
People who received the largest checks were generally those that played five years and were featured in more recent games, plus players on legacy teams who appeared in multiple years, Aragon said. The lawyers created a point system to determine how much to award each player's claim.
Some former players across the country went on Twitter this week to show their settlement checks. Some examples:
Jordan Cornette (Notre Dame basketball, 2001-05):
My NCAA/EA Likeness Settlement. Not a lot, but I will take anything I can from NCAA. Sorry gamers. pic.twitter.com/3VDAJ7oH7t

— jordan cornette (@jordancornette) April 12, 2016
These gamers are so serious. It's too funny I will play whoever owns 2003 NCAA basketball w/ my Irish squad. Winner can have my check.

— jordan cornette (@jordancornette) April 12, 2016
Noah Hartsock (BYU basketball, 2008-12):
Got my NCAA/EA check. My brother who played at UMKC got 2500% more than me. Oh well, it's free money. Thanks O'bannon.

— Noah Hartsock (@noahartsock) April 12, 2016
Channing Crowder (Florida football, 2003-05):
Got my NCAA/EA likeness Settlement payment today. I was only at UF 2 yrs, so that's bout $243/yr. ??? Well... ???? pic.twitter.com/NLG17yiPOe

— Channing Crowder (@OfficialCrowder) April 11, 2016
Dan Mulrooney (Boston College football, 2008-10):
Got this check from @EASPORTS and @NCAA today. Video game settlement check from my playing days at Boston College pic.twitter.com/GiVFADUyWx

— Dan Mulrooney (@Coach_Mul) April 11, 2016
Darien Johnson (New Mexico State football, 2010-13):
Grandma just called me & told me the NCAA just sent me a check for 3k. Lol didn't think that settlement ish was real, but thanks EA Sports

— Darien Johnson (@DarienJ4) April 11, 2016
C.J. Brown (Maryland football, 2009-14):
The ncaa settlement checks are starting to flow in

— CJ Brown (@C_Brown16) April 11, 2016
Jeff Hawkins (Kansas basketball, 2001-05):
In the mail today, came a check from the EA/NCAA settlement. A tiny bit more than the cost of all those games I bought back then

— Jeff Hawkins (@Jeff_Hawkins_KU) April 12, 2016
CJ Wallace (Princeton basketball, 2001-05):
I am extremely happy to say I am NOT receiving a check from EA or some group of stick-up lawyers for using my likeness in a video game. #sad

— CJ Wallace III (@CJW3rd) April 12, 2016
Drew Ferris (Florida football, 2010-14):
$257.58, not just EA but the lawyers who made it happen! https://t.co/IqjGOgmwOI

— Drew Ferris (@D_ferriswheel46) April 12, 2016
P.J. Fitzgerald (Alabama football, 2006-09) told CBS Sports he's receiving about $3,800 for four years on the video game. "I have two little girls, so I'll definitely put it aside and save," Fitzgerald said.
Maryland defensive back Jarrett Ross, Central Florida quarterback Nick Patti and Oklahoma State wide receiver Marcell Ateman are among the current players expected to receive a check, USA Today reported. Aragon said about nine people receiving checks were identified as potentially active college athletes, all in football.
"Three we were able to find on next year's rosters, but when we tried to contact the schools the administration wouldn't let them talk to reporters," Aragon said.
Aragon provided to CBS Sports additional names of current players scheduled to receive video-game checks: West Virginia offensive lineman Tyler Orlosky, a team captain and an All-Big 12 player in 2015; South Alabama offensive lineman Joseph Scelfo; Ohio cornerback Kevin Houchins, a recent transfer from Louisville; Tulane cornerback Parry Nickerson; San Diego State defensive end Alex Barrett; Texas cornerback Sheroid Evans; Georgia State defensive end Carnell Hopson; Colgate linebacker Charles Cairnie; and Kent State defensive tackle Jontey Byrd.
In addition, Notre Dame All-American defensive lineman Sheldon Day and Georgia starting defensive lineman Sterling Bailey are on the list of players getting checks. Both players were seniors last season. USA Today reported that Washington Redskins quarterback Kirk Cousins, Cincinnati Bengals wide receiver A.J. Green and Green Bay Packers linebacker Clay Matthews are among the NFL players getting paid from the settlement based on their time in college.
NCAA rules do not allow college athletes to be paid for use of their names, images and likenesses. When the video game settlement occurred in 2014, the NCAA said it would allow a blanket eligibility waiver for any current college athletes who receives money from the settlement.
"In no event do we consider this settlement pay for athletics performance," NCAA chief legal officer Donald Remy said in 2014.
Still, the fact is a small number of current college football players are being paid for use of their name, image and likeness.
"I would point out that these are some large checks that equals or significantly exceeds what most players would have been paid had they been able to license their name, image and likeness -- whether as a group license or individual license," Aragon said.
Given the NCAA's current rules, no one can say for sure if that statement is accurate. It's not known what the market would bear unless it was permitted to be tested. Just like no one knows if these payments will ever occur again.
But for one moment in time, college athletes are getting paid for appearing in video games.
Follow and read more from Jon Solomon on Facebook and Twitter.