There's a spot for Corey Robinson on some NCAA Mount Rushmore.
If you believe college athletics are a mere hobby enhancing the true ambition -- getting that degree -- Corey's your guy. If you believe there is enough time for athletes to juggle everything -- you know, just like regular students -- then Robinson is the ideal.
"Just because you play football," Notre Dame's rising senior receiver told the Chicago Tribune, "you don't have to live football."
Somewhere at NCAA headquarters in Indianapolis, they should be inventing an award for this guy. Just having him in the building would deflect attention away from all the class-action lawsuits and medical issues.
Robinson will take office April 1 as the Notre Dame student body president. That's a first for an Irish football player. That also seems impossible.
"I figured he could do it," said David Robinson, Corey's hall of fame dad. "I didn't know why he wanted to do it."
Why? Because he can. Corey could be graduating in May and pursuing the advantages of a degree in liberal studies. Former roommate Steve Elmer is doing just that -- dropping football and getting his economics degree in three-and-a-half years.
In fact, Robinson is spending his spring break visiting a friend at Oxford University. David Robinson's son is driven by a pursuit of becoming a Rhodes Scholar. Except …
"Senior year at Notre Dame is something I wasn't ready to give up," he said.
That's another reason why Corey is a shining beacon of truth in a sea of amateurism hypocrisy. He truly can do it all. Corey Robinson plays football for the Irish, but it could be Texas, USC or even Marshall or New Mexico. The expectations are the same.
"Thirty-five to 40 hours per week," Robinson said when asked how much time he devotes to his sport. "It's definitely a job."
It was an innocent, honest assessment. You probably don't have to be told the NCAA has a 20-hour work limit. You shouldn't have to be told that limit is widely considered to be a sham.
The "job" part of football is a wink-and-a-nod requirement of playing the sport at the highest level. There's a reason the Pac-12 developed a proposal that teams not practice between 9 p.m. and 6 a.m. That's because enough were to make it an issue.
Time demands is such a knotty subject the Power Five commissioners passed on the issue when they had a chance to make real change last month at the NCAA Convention. Another year of 40-hour work weeks. At least.
"It's a full-time job, absolutely," David Robinson said. "They get a couple of weeks off the whole year. [His outside activities] don't seem like they're overly compatible [to playing football] … The athlete part of me says, 'Just go with football.'"
To be clear, time management is not an issue for Corey. To pursue the student body presidency, Robinson had two weeks to gather 700 signatures on a petition to get on the ballot. That effort included canvassing 29 dormitories, getting a graphic designer, developing a website.
"That didn't take as long as you think," he said. "Plus, I've always liked the challenge."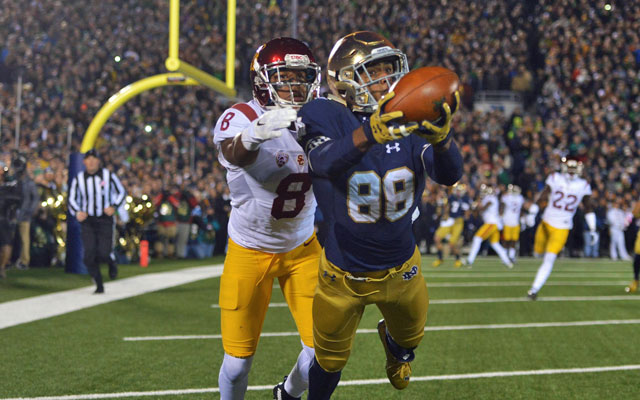 He could handle it all but that's not the point. Robinson is probably the exception. His dad famously served a two-year Navy obligation then spent 15 years with the Spurs. He had a strict regimen for Corey and his brothers David Jr. (now 23) and Justin (19).
"The problem is that there's almost like this barrier, especially for football and basketball," Corey Robinson told reporters at a press conference earlier this month. "There's this notion or stigma that you have to only do one thing year-round, and you can't be excellent at something if you're passionate about two things. You have to choose one.
"I think we're actually crippling a lot of our students."
His father added, "He's built a bit different than most people. There aren't any delusions of grandeur about football."
Corey would rather discuss how he has been to 10 countries, three as a Notre Dame student. He considered leaving school early, not to pursue football but rather to work with the homeless in Brazil.
Last summer, he studied abroad in South Africa. With teammates, Corey has spoken to the Notre Dame Club of Japan.
"I loved Brazil," he said. "The country is full of life and the people are so much fun. Hearing men's and women's stories, praying for them and preaching in the streets of Recife is something that will be with me for years to come."
Corey has chased life, rather than the other way around. He took 18 credit hours, wrote a senior thesis, started a non-profit, served as vice president of the Notre Dame Student-Athlete Advisory Council and wrote enough songs for an album. That was just last semester.
"He's a natural born leader," David Robinson said. "Even as he came in as a freshman, I remember guys on the team saying, 'When Corey comes in the locker room, he's like a light.' That's something strong for a Division I teammate to say about a freshman."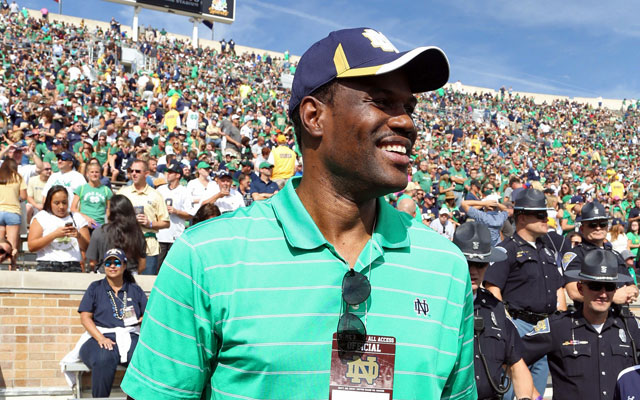 The commissioners will eventually do something to address the "job" mentality of college football. They'll edge away from the illegitimacy of athletics being a mere condiment to the educational main course.
They'll establish structures that address those "voluntary" drills. They'll lock the weight room for a couple of weeks in the offseason so athletes can't work out. Winter conditioning is understandable … but at 5 a.m.?
They'll address some or all of that -- maybe.
Notre Dame coach Brian Kelly did not immediately respond to a request for comment on Robinson's statement that he spends 35-40 hours per week on football. For now, Notre Dame's coach couldn't have a better ambassador. Kelly has singled out Robinson to be a leader on this year's team.
But even at Notre Dame how many Irish players have required reading that includes Leo Tolstoy's "War and Peace," Fyodor Dostoyevsky's "Brothers Karamazov," Thomas Hobbes' "Leviathan" and Galileo?
That's not exactly tea on the back porch skimming "People."
In the fall -- with most of his academic duties complete -- Robinson will take three credit hours as he chases minors in sustainability and business economics, which will allow him to concentrate more on football. Isn't that what major college sports is supposed to be all about?
Robinson already knows the world can be cruel. His draft stock dropped last season, he says, when his catch total fell from 40 to 16.
Whether that's what you will remember about Corey Robinson really isn't the point. Notre Dame's student body president has chosen to experience his senior year at Notre Dame. That should be enough.
"The world," Robinson said, "can always wait for me."