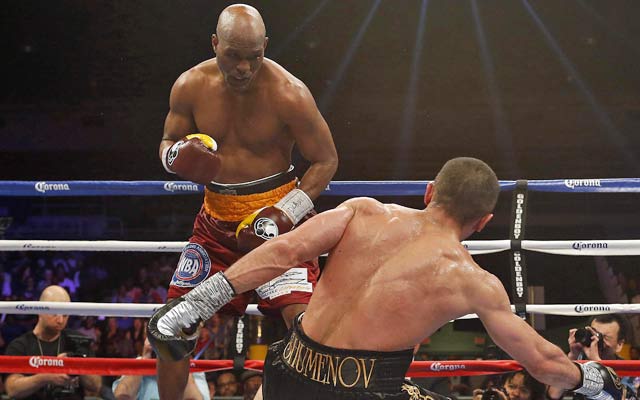 Another night. Another chapter to the ageless legend.
Three months beyond his 49th birthday, Philadelphian Bernard Hopkins became the oldest man to unify light heavyweight titles with a split-decision victory over Beibut Shumenov to wrap up a three title-bout card at the DC Armory.
Hopkins entered the ring as the IBF champion at 175 pounds and left it with Shumenov's WBA title after he was deemed the winner on two official scorecards by margins of 116-111. The third card judged the fight for Shumenov, 114-113.
CBSSports.com agreed with the majority, giving it to Hopkins, 117-110.
"It's not my job to deal with [split-decision scoring]. It's my job to get ready to unify this title before 50," Hopkins said. "Shumenov is a gallant warrior and he'll be a champion again when I leave, I'm pretty sure."
Though he was 19 years older than his foe, Hopkins was continually the sharper puncher and ultimately landed 186 punches to Shumenov's 124, though the Kazakhstan native threw 608 shots to Hopkins's 383.
"I'm special. In a way that you believe is good," Hopkins said. "There's no definition of special. Special speaks for itself."
Hopkins scored the fight's lone knockdown, dropping Shumenov with a short right hand about a minute into the 11th round.
"[Tariner] Nazzim [Richardson] had been begging me to throw that short right hand. It was there the whole fight," Hopkins said. "I've been around 27 years, I've seen everything. I just had to make some adjustments."
Golden Boy executive Richard Schaeffer said WBC champion Adonis Stevenson is next, whether in DC, in Brooklyn at the Barclays Center or perhaps up in Stevenson's Canadian homeland.
"Wherever we can make the most money," Schaeffer said.
On the closeness of the decision, Schaeffer said, "I was speechless."
The Result: Hopkins yells to the media section, "I'm from the old school." The surprising split decision comes via scores of 116-111 to Hopkins, 114-113 to Shumenov and 116-111 for Hopkins.
Round 12: Hopkins is content to lay on the ropes and counter, which he again does very well, landing clean lefts and rights. A leaping left hook scores and gets the crowd revved again. Both men grapple and land to the final bell, which should mean coronation for Hopkins. Hopkins, 10-9
CBSSports.com score: Hopkins, 117-110
Round 11: Out of nowhere,  a huge counter right drops Shuemenov to one knee about a minute in. He rises and suddenly it feels like DC is South Philly, filled with "B-Hop" chants. Shumenov scores with his own right in the final 10 seconds, but is answered by a left. Hopkins, 10-8
Round 10: Action goes to the ropes, where Hopkins is countering well and making Shumenov miss. Hopkins lands two jabs and both miss right hands. Again, Hopkins is driven to the ropes and counters well off them. Hopkins, 10-9
Round 9: The fight has gotten rougher, which seems to have benefited Shumenov. He lands a left hand that may have bothered Hopkins a bit. Still, he's not following up too aggressively, though members d his corner are on the floor waving him forward. Shumenov lands a jab, but Hopkins scores with a jab and a long right at the bell. Shumenov, 10-9
Round 8: Shumenov leaps in with a left hand, scoring with it for the third time. Hopkins goes to the ropes and the younger man scores, but Hopkins comes off and lands a left of his own. Hopkins lands a looping right with 45 seconds to go. They exchange at the bell and it's Shumenov's best round so far.
Shumenov, 10-9
12 a.m. ET: Crowd is announced at 6,823.
Round 7: Hopkins looks confident, as if he knows he's the quicker and slicker man. He lands a jab, struts to one side and lands a right. Shumenov digs a right to the body, but he's fighting at the older man's space and pace. Hopkins, 10-9
Round 6: Hopkins lands a counter right, again, to start the round. Shumenov eventually replies with a sweeping lead left. A Hopkins right is followed quickly by a left-right combo that lands and drives Shumenov back. Shumenov looks disheartened as he reaches his corner at the bell. Hopkins, 10-9
Round 5: Hopkins continued to land the right hand in what few burst of actions occurred. Shumenov looks somewhere between a forward-focused offensive fighter and a guy who wants to counter. As a result, he's doing well at neither. Hopkins, 10-9
Round 4: Hopkins opens the round with a lead right that scores. He's finding the range and has been able to land cleanly. Shumenov has done little more than plod forward and is leaving holes. He fares better in the final 30 seconds, but not enough to win the round. Hopkins, 10-9
Round 3: Hopkins lands the beat punch of the night, a looping overhand right, at 90 seconds and instantly prompts a "B-Hop" chant from the crowd estimated at 6,700 by Showtime staff. Hopkins lands a counter right as Shumenov charges forward at the bell. Hopkins, 10-9
Round 2: Hopkins lands a short right as they come together in a clinch. Throws a jab and misses a wild overhand right, already showing more than what he had in the opening round. Shumenov lands a sweeping lead left hook. The youngster looks unfazed through two and the fighters exchange at the bell. Hopkins, 10-9
Round 1: Ninety seconds pass without a punch being landed. Hopkins circles, Shumenov follows, pawing with the left hand. Boos after the round ends. Give it to the Kazakh, based on nothing beyond violent posturing. Shumenov, 10-9
11:30 p.m. ET: Imagine that, a ring announcer not bent on stealing the show. Jimmy Lennon Jr. classily reels off the officials and proclaims it "Showtime!"
11:28 p.m. ET: Hopkins, true to his new "Alien" persona, hits the ring in a green space creature mask -- a departure from his old "Executioner" hood.
11:22 p.m. ET: Beibut Shumenov, fighting a Philadelphian, comes out to the Rocky III anthem, Eye of the Tiger.
11:13 p.m. ET: Malignaggi: "I told him to go be great. So I can say, if this is my last fight, then I lost to a great champion. If I answered you right now, I'd tell you I was going to stop fighting, but next week I might change my mind."
11:11 p.m. ET: Porter: "We knew [the right hand] was going to land all night."
11:10 p.m. ET: The difference in strength became decisive in the fourth when Porter dropped Malignaggi early in the round, then landed a big left hand and a follow-up flurry that left his man helpless along the ropes. Malignaggi sagged to the floor as referee Sam Williams intervened at 1:14 of the fourth.
11:05 p.m. ET: It's not gone well so far for the "Magic Man." He was cut under the left eye by one of the first punches of the opening round, then was wobbled badly by a series of left hands in the second. They both weighed in less than 147 pounds, but Porter appears much, much stronger through three.
10:55 p.m. ET: Malignaggi bounces in his corner and Porter kneels in prayer. Title fight no. 2 is underway.
10:50 p.m. ET: Biggest roar of the night so far as Paulie Malignaggi heads to the ring for his 10th career title fight. He's 5-4 in the first nine and has won titles at 140 and 147 pounds.
10:37 p.m. ET: Quillin: "There's tons of things I can do better."
10:36 p.m. ET: The judges make it official with scores of 120-108, 119-109 and 119-109 for Quillin. He wins all but two of a possible 36 rounds on the three scorecards.
10:33 p.m. ET: Quillin coasts to the finish line in what's bound to be his 31st straight win as a pro and third straight title defense. The extra generous CBSSports.com scorecard gave Konecny three rounds. It's unlikely the judges will be any more giving.
10:26 p.m. ET: We interrupt the format for some ringside mirth. After BoxingScene columnist Cliff Rold claims he's asking the Easter Bunny for the hasty end of this fight, ESPN's Dan Rafael replies by saying he's considering converting if it would speed up the process. Meanwhile, the crowd begins to boo the monotony of the one-sided action.
10:23 p.m. ET: He's not flashy and he's not been memorably effective at any point through nine rounds, but Konecny is most certainly a tough guy. He's taken dozens of clean whistling shots to the head, was bleeding pretty hard from the nose after round eight and has still barely taken a backward step. He's also losing big, probably 7-2 if not worse.
10:09 p.m. ET: We're halfway home in the 160-pound title bout and Quillin has made it appear more and more like a high-profile spar session. He's landing clearer and flashier shots against his plodding foe, and he's even found time to jaw with Showtime guest analyst Daniel Jacobs, an active middleweight and potential future foe. No worse than 5-1 for the champion.
9:57 p.m. ET: Through three rounds of the middleweight bout and it's obvious Quillin is the sharper and faster fighter, but Konecny hasn't appeared dissuaded from perpetually boring in and occasionally landing winging shots to Quillin's head. Call it two rounds to one for the champion.
9:40 p.m. ET: Who says music doesn't transcend culture? Konecny, a native and resident of the Czech Republic, made his ring walk to the gravelly strains of AC/DC. Quillin followed soon after and Jimmy Lennon Jr. Is about to take the mic to begin the meat of the night.
9:35 p.m. ET: We're waiting for Peter Quillin and Lucas Konecny to stroll to the ring on Showtime. If all three title fights go 12 rounds -- and odds are that two of them will -- it's fixing to be a long night at the Armory.
9:20 p.m. ET: Punching people for money apparently agrees with Roach, who earned a unanimous decision victory in his four-round pro debut with Galindo. All three judges scored it, 40-36, for Roach.
9 p.m. ET: Showtime is going live with its Mayweather-Maidana promo documentary while the final non-televised bout -- Washington's Lamont Roach Jr. against Victor Galindo in a four-rounder at welterweight -- heads to the ring in an arena whose lower bowl has filled nicely.
8:57 p.m. ET: The third Washington-based fighter on the undercard, welterweight David Crayton, was a quick winner against Miami's Howard Reece, stopping him at 1:58 of Round 1. Crayton is 7-0, while Reece, who was dropped once, fell to 2-5.
8:25 p.m. ET: Brooklyn's Zachary Ochoa made it two in a row for New York City's largest borough with a fifth-round stoppage of Puerto Rican Hector Marengo in a scheduled six-rounder at junior welterweight. Two more fighters on the card -- WBO middleweight champion Peter Quillin and IBF welterweight title challenger Paulie Malignaggi -- are also from Brooklyn.
7:57 p.m. ET: Well, that was quick. Ali scored a first-round KO when a left hand dropped Clark alongside the ropes and rendered him unable to rise before referee Joseph Cooper reached 10 at 2:06 of the round.
7:51 p.m. ET: The night's first scheduled 10-rounder is in the ring. Brooklyn's Sadam Ali will aim for a 19th win without a loss against former world-title challenger Michael Clark (44-9-1) in a welterweight match. Ali was a U.S. Olympian in 2008.
7:40 p.m. ET: It's three out of four for the unbeaten fighters after former U.S. Olympian Marcus Browne improved to 10-0 with a unanimous eight-round decision over 36-year-old veteran light heavyweight Otis Griffin. Browne dominated from the outset and scored the fight's lone knockdown in sending Griffin (24-16-2) to his sixth consecutive loss. The official scores were 80-71 across the board.
6:55 p.m. ET: Showtime is about to go live on its Extreme channel for the non-championship portion of the undercard. The main network will take over at 9 p.m. and the night's first title fight -- between WBO middleweight champion Peter Quillin and challenger Lucas Konecny -- will follow the premiere episode of All Access: Mayweather vs. Maidana.
6:42 p.m. ET: Washington's D'Mitrius Ballard went to 5-0 with a second-round TKO of Quincy Miner in a super-middleweight bout scheduled for six rounds. Miner landed an uppercut, then shoved Ballard to the floor and fell on him alongside the ropes. He rose and complained of a left arm injury and was ultimately unable to continue at 2:35 of the second. Miner is 3-5.
5:58 p.m. ET: Dominic Wade scored the first sudden result of the evening when his one-two combo dropped Floridian Marcus Upshaw and promoted a referee wave-off at 2:11of the second round in a scheduled eight-round middleweight bout. Wade improved to 15-0 and scored his 11th stoppage. Upshaw is 15-12-2.
5:40 p.m. ET: The night's first fight is in the books, as is its first upset. Puerto Rican lightweight Jose Valderrama (4-7) ended a seven-fight losing streak with a unanimous four-round decision over previously unbeaten Chrisshawn Alexander (4-1). All three judges scored the bout, 39-36.
The light heavyweight division is not lacking for star power.
Both Adonis Stevenson and Sergey Kovalev come to the ring bearing title belts and fearsome reputations, while the tale of Bernard Hopkins has been told repeatedly since he was a young man of 40 -- precisely nine years ago.
A name you don't hear so often, however, belongs to one Beibut Shumenov.
The 30-year-old was born in Kazakhstan, lives in Las Vegas and was actually a championship commodity at 175 pounds before any of the heralded contemporaries earned their current laurels.
Still, until he landed a fight with the latter member of the famed trio -- which takes place when he faces Hopkins on Saturday night in Washington, D.C. -- Shumenov had been hard pressed to get anyone to pay attention, let alone respect.
"I've been dreaming all of my life for this moment," he said. "I've been ready to fight at this level for several years. I couldn't get there on my own."
Now that he's arrived, he'll put the World Boxing Association title that he's held since 2010 up against the International Boxing Federation crown that Hopkins has worn since last year -- in the main event of a three-bout card to be broadcast by Showtime at 9 p.m. ET.
Hopkins weighed in Friday at 172 1/2 pounds, two pounds lighter than Shumenov's 174 1/2.
The show will also include a defense by unbeaten World Boxing Organization middleweight champion Peter Quillin against Czech veteran Lucas Konecny, as well as an IBF welterweight title match between champion Shawn Porter and challenger Paulie Malignaggi.
"Hard work and preparation has been done. I am fighting one of the greatest ever, who beat so many other legends and great fighters," Shumenov said. "I am ready to show the world what I'm capable of. I will show the world that I am the best light heavyweight champion."
Hopkins, a pro since 1988 -- when Shumenov was 5 -- is widely assumed to be pursuing Stevenson, who holds the World Boxing Council title in the division and recently made a jump from appearing on HBO to Showtime, where he'll defend his title next month.
Should both Hopkins and Stevenson win, a match for what would then be three title belts is expected later this year.
But Hopkins, naturally, insists he's not taking Shumenov for granted.
"Get ready for school, student," he told his foe at the final fight-week press conference. "No disrespect. It's logic. I am the professor with a Ph.D."
TALE OF THE TAPE
 
Bernard Hopkins
Beibut Shumenov
Record
54-6-2, 32 KOs
14-1, 9 KOs
Height
6-1
6-2
Reach
75"
74"
Weight
172 1/2 pounds
174 1/2 pounds
Age
49
30
Stance
Orthodox
Orthodox
Hometown
Philadelphia, Pa.
Shymkent, Kazakhstan
Rounds
482
101
How does Hopkins win?
He's an old man and he's able to control the pace thanks to years of ring wisdom, but it's not as if Hopkins was an offensive machine in his younger days. He manages to make younger and presumably stronger opponents slow their work rates and thereby takes away their inherent advantages. Plus, in recent years, he's shown a far more varied stylistic game. Do it to Shumenov and he'll win again.
How does Shumenov win?
Many Hopkins opponents are beaten mentally before the reach the ring, and the fight itself merely turns into the 12-round byproduct of one man making another believe the ring is littered with traps that will be activated by an all-out effort. Shumenov has only had 15 pro fights, and if he approaches this one with a young man's zeal and tries to outwork and overpower Hopkins, he could thrive.
Prediction: Hopkins by unanimous decision
In reality, Shumenov's two most significant attributes for this fight are his title belt and his willingness to appear on Showtime. It's a chance for Hopkins to add a championship log to the Adonis Stevenson fire and continue an unlikely run that began shortly after Jermain Taylor chased him from the middleweights nine years ago. Unless Bernard instantly turns 49, it's another chapter for the legend.
TALE OF THE TAPE
 
Shawn Porter
Paulie Malignaggi
Record
23-0-1, 14 KOs
33-5, 7 KOs
Height
5-7
5-8
Reach
69 1/2"
70"
Weight
146 3/4 pounds
146 1/4 pounds
Age
26
33
Stance
Orthodox
Orthodox
Hometown
Akron, Ohio
Brooklyn, N.Y.
Rounds
129
310
How does Porter win?
The Ohioan was in against a clever and athletic boxer in his last fight against Devon Alexander and was the stronger, more energetic and more determined man for the majority of the rounds. He faces an older foe here who's trickier than Alexander, but has less firepower and has traveled far more miles in the ring. Step on the gas hard and often and it'll be tough for Malignaggi to keep up.
How does Malignaggi win?
Every time it looks like the "Magic Man" has reached the end of his competitive rope -- as it did when he faced a younger and stronger Adrien Broner last June – he comes back and is able to cheat the grim reaper with another career-saver. Zab Judah was the unwilling victim of the latest return, and Paulie can keep it going if he can frustrate and flummox his less-schooled foe and turn him sloppy.
Prediction: Porter by unanimous decision
It's nearly impossible not to like Malignaggi. He's approachable, engaging and does a terrific job as an analyst on Showtime's broadcasts. But in this case, the match with Broner will be indicative. He simply can't shuck and jive his way through 12 rounds anymore against an opponent who's big, strong, hungry and smart enough not to lose his composure. Porter starts fast and lands better over the full 12.
TALE OF THE TAPE
 
Peter Quillin
Lucas Konecny
Record
30-0, 22 KOs
50-4, 23 KOs
Height
5-11
5-8
Reach
73"
70"
Weight
159 4/5 pounds
158 1/4 pounds
Age
30
35
Stance
Orthodox
Orthodox
Hometown
Chicago, Ill.
Usti nad Labem, Czech Republic
Rounds
136
360
How does Quillin win?
The third-most heralded of the middleweight champions, Quillin is nonetheless the one to turn to when you're seeking highlights. He scored six knockdowns in winning his WBO title and has scored 11 knockdowns in his last three fights. His aggression could pay off here against an older foe who's more used to being hit by 154-pounders, not a young, tough 160-pounder.
How does Konecny win?
Of course, while Quillin is no doubt exciting, he's also on the receiving end of more than a champion's share of punches. And there are more than a few people who think Gabriel Rosado was on his way to a rallying when he was stopped by a cut. If the Czech is able to weather an early storm against a guy fueled to make an impression, he may reap the benefits in the fight's second half.
Prediction: Quillin by TKO in 9
It's by no means a definite that Quillin will ever get his true barometer fights at 160 against Sergio Martinez or Gennady Golovkin, but it won't be for lack of trying. Konecny is an older and smaller opponent who has all the ingredients of an opponent who'll make "Kid Chocolate" look spectacular. Expect mayhem and punishment on the way to a ninth-round intervention in Quillin's favor.