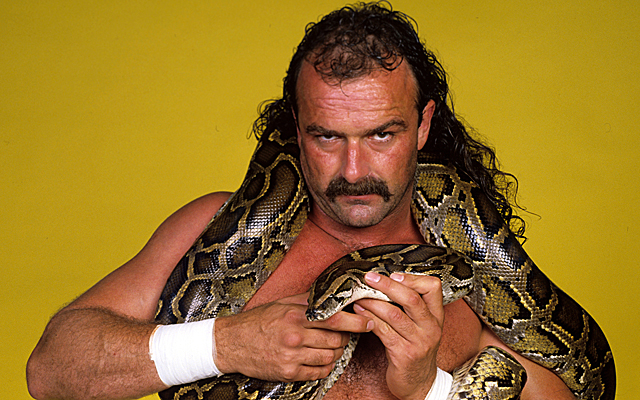 It's been a long, hard road for Jake "The Snake" Roberts, but one of pro wrestling's all-time greatest heels will be inducted into the WWE Hall of Fame this weekend in New Orleans, prior to WrestleMania XXX.
By now, you may be all caught up on the basics of Jake Roberts' exploits both in and out of the ring. His gimmick of the cold, calculating and soft-spoken villain with an evil streak was among the most entertaining and influential of the genre. He hailed (in character, at least) from Stone Mountain, Georgia, and he finished off his opponents by drilling their skulls into the mat with a move known as the DDT. And then, in one final act of dominance, he'd dump his giant pet snake Damien on his fallen adversary.
Everyone knows his biggest rivals: Randy "Macho Man" Savage, "Ravishing" Rick Rude, Andre the Giant, the Honky Tonk Man and so on. Most recall the time he brought a cobra into the ring, which proceeded to bite the Macho Man in one of the more graphic scenes to appear on WWE television in the past 30 years.
Nowadays, his struggles outside of the ring are a well-told story, particularly Roberts' impressive resurrection from addiction and weight problems thanks to fellow wrestler Diamond Dallas Page's assistance.
If you know all of that stuff, you've got a good idea of who Jake "The Snake" Roberts is. Here now, in honor of his Hall of Fame enshrinement, are eight things you might not know about "The Snake."
1.) His planned feud with Hulk Hogan was scrapped because too many fans were cheering for him.
By the fall of 1986, Jake Roberts had become one of WWE's strongest villains. If he wasn't scaring people with his sinister promos, he was creeping them out with the help of Damien the boa constrictor. On top of that, he could actually wrestle a solid match, as evidenced by his summer-long feud with Ricky "The Dragon" Steamboat.
It was time to pair off Roberts with the big guy -- then-WWE champion Hulk Hogan. So they went forward with it, even filming an incident for TV where Roberts DDT'ed Hogan and left him laying during an interview.
Video evidence of that DDT has never surfaced, because after the first matches between Hogan and Roberts were booked, WWE scrapped the entire feud. Why?
Because at those early matches, the fans were cheering for Roberts instead of the cash-cow babyface Hogan.
Legend has it WWE wasn't willing to expose their top babyface to getting booed against a man clearly booked to be the villain. So instead, they separated Hogan and Roberts into different storylines, and did cave in and turn Roberts into a good guy shortly thereafter.
2.) Sid nearly got the Randy Savage cobra treatment.
Yes, there was a psuedo-sequel to the Randy Savage cobra bite incident. As it turned out, Sid Justice (a.k.a. Sycho Sid, a.k.a. Sid Vicious) was never going to get bitten by Roberts' latest pet cobra. But fans didn't know that. And with the Savage snake bite fresh in everyone's minds, they at least knew Roberts (the heel character) and WWE (the promotion) were not above such a thing.
On a 1991 episode of Superstars of Wrestling, Sid Justice was to wrestle a masked jobber named El Diablo. But jobbers were often anonymous and interchangeable, so that alone was not a red flag.
Before the match began, the Undertaker confronted Sid in the ring. El Diablo left, returning in full sprint a few moments later with a silver case. Diablo unmasked, revealing himself to be Jake Roberts, and joined the Undertaker in beating Sid down. They tangled his arms in the ring ropes -- just like the Randy Savage incident -- and Roberts pulled a cobra from the case. Before the snake could sink its fangs into Sid's arm, Hacksaw Jim Duggan ran in for the save.
3.) He once appeared on an episode of Boy Meets World.
Not even Jake "The Snake" Roberts could escape the cheesy 1990s lure of Corey, Topanga and the rest of the Boy Meets World gang.
In a November 1996 episode of ABC's TGIF sitcom, the kids attend a match between Roberts and Vader -- with Brother Love on commentary, oddly -- because, as the story went, Vader was the father of their classmate (played by Ethan Suplee). He and Vader needed their support, even though it meant Corey splitting time between that and Topanga's sweet sixteen party.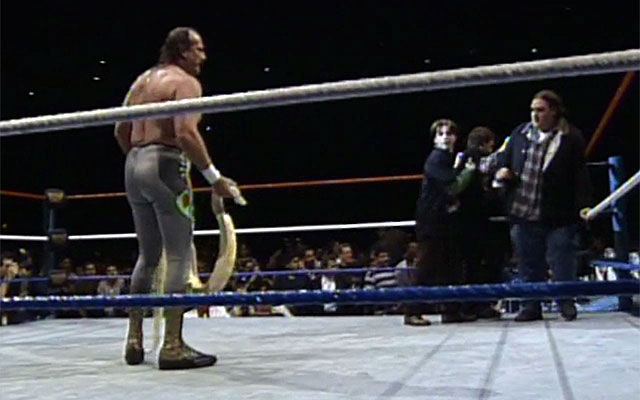 4.) 25 years ago, his sister performed 'America the Beautiful' to open WrestleMania V.
Roberts comes from a family of pro wrestlers, with father Grizzly Smith wrestling for decades before Roberts got into the business. Roberts' half-brother Sam Houston saw some limited success wrestling under a cowboy gimmick in the NWA and in the 1980s WWF.
Oddly enough, Roberts' sister, who wrestled under the name Rockin' Robin, became the only member of the family to ever hold a title in WWE (then WWF), as its women's champion from 1988 to 1990. On the flipside, while Houston and Roberts both had the honor of competing at WrestleMania, Rockin' Robin never wrestled a match on the big show. But in 1989, she was called upon to kick off WrestleMania V by singing 'America the Beautiful.' So there is that.
5.) He wrestled "Ravishing" Rick Rude a minimum of 128 times between 1987 and 1989.
I guess there's something about a guy airbrushing a photo of your wife onto the crotch of his tights that makes you never want to stop kicking his ass. Maybe that's part of the reason Roberts and Rude's streak as each other's opponent from 1987-1989 -- a streak that included a match at WrestleMania IV -- went on so long.
The real total is probably much larger, but those are the documented, verified occurrences of Roberts vs. Rude in singles and tag team matches according to the website The History of WWE.
6.) He once did a pro-wrestling selljob for Muhammad Ali.
Granted, Jake Roberts is a legitimately tough man and was booked as such throughout his wrestling career. But when you're being punched by Muhammad Ali -- and he's being nice enough to pull his punches and not actually clobber you -- you should probably return the favor and act as if you've been -- ya know -- punched in the head by MUHAMMAD ALI.
Roberts did sell the punches, but he did so in a pro wrestling way. Which is to say, you reel a bit, and allow the opponent to keep punching you. If he hits you several times in a row, THEN (maybe) you fall down. In hindsight, it just seemed silly to see Muhammad Ali land multiple unblocked punches to the head of a non-boxer and have that person not fall unconscious, because MUHAMMAD ALI.
7.) He's an ace NFL expert picker vs. the spread.
But that's a sore subject around these parts.
8.) He was an original member of the Legion of Doom.
The Road Warriors -- Hawk and Animal, along with manager Paul Ellering -- are rightfully remembered as The Legion of Doom. But The Legion of Doom began as a stable of heel wrestlers in Georgia Championship Wrestling in 1982, a group originally consisting of the Road Warriors, Roberts, Arn Anderson, King Kong Bundy, The Spoiler, Matt Borne, and Ellering. What a rush...
Follow Denny Burkholder on Twitter: @DennyBurkholder.