Top 50 MLB free agents: Expect drama when it comes to signing Cano
Will Robinson Cano return to the Yankees? He likely will, but expect some twists and turns for the Jay-Z-represented free-agent-to-be.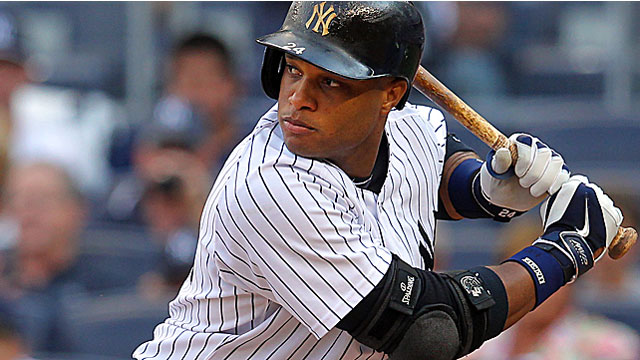 Everyone is figuring top free-agent-to-be Robinson Cano will return to the Yankees. But a soap opera may break out first.
One of the new Cano representatives, the famed rap-singing mogul Jay Z, who just entered the business, became the first agent in baseball history to pen unflattering rap lyrics about Cano's former representative, the biggest baseball agent Scott Boras. So Jay Z's new song introduced trash talking into the agent game (the union was said not to be especially thrilled with this new wrinkle, though Jay Z has nonetheless been approved by that entity).
Ultimately, it'll be interesting to see if the new New York-based agent team of Jay Z (Empire State of Mind was a mega hit, and perhaps a hint) and CAA co-head Brodie Van Wagenen, who will actually lead the negotiations for the star second baseman, will win the last word with a mega deal befitting the best current player on baseball's most storied franchise. While everyone thinks they already know the ending (yes, Cano back in pinstripes), there promises to be a lot of twists and turns before they get there.
There's no evidence yet that the sides are anywhere close to finding common ground, or even anywhere close to being in the same ballpark. The belief is that the Yankees began this spring with an offer comparable to David Wright's new $138 million Mets deal while the Cano camp was looking at a hope of repeating teammate Alex Rodriguez's record deal for almost exactly double that -- $275 million.
So while almost everyone believes Cano badly wants to stay in pinstripes -- and the Yankees just as badly want to keep him -- it would appear there's a lot of work to do to make that happen.
Cano is easily the biggest name and player on a free-agent market that includes a fair number of stars but only one superstar.
The list has been pared substantially by the new propensity to sign up the stars in an era flush with cash. So it isn't exactly stacked with superstars.
But there's still at least one more player hoping to get into the nine-figure range (Jacoby Ellsbury), a .400-plus on-base guy (Shin-Soo Choo), two former 40-homer man (Curtis Granderson and Paul Konerko), a two-time Cy Young winner (Tim Lincecum), a seven-time All-Star catcher (Brian McCann), a 300-homer, 300-steal guy (Carlos Beltran), three 200-game winners (Andy Pettitte, Roy Halladay and Tim Hudson), a former MVP (Justin Morneau), a couple Biogenesis stars (Nelson Cruz and Jhonny Peralta), a stable of solid starters (Matt Garza is probably the best in his prime, though Ervin Santana isn't far behind), one terrific closer (Fernando Rodney) plus a couple of hot closers who came into the year as something other than closers (Edward Mujica Koji Ueharaand Joaquin Benoit).
Here's an early look at a top 50. (*no players with options were included, though some will wind up as free agents).
1. Robinson Cano, Yankees, 2B: He has turned in his usual excellent offensive season but his case for the big bucks is hurt by 1) signing on with noted Yankees fan Jay Z who made "the Yankees hat more famous than a Yankee can," and quite possibly 2) hints that the nouveau riche Dodgers may not have the money once they (hopefully) lock up about-to-be-Cy-Young-winner Clayton Kershaw. Cano's best case is that the Yankees need him for branding since all their other many great players are in their upper 30s or early 40s. The Yankees will counter by saying he's not Derek Jeter or A-Rod (the good, pre-roids A-Rod, that is). The 24 home runs, 85 RBI and .305 batting average are right in line with what you'd expect, but Fielding Bible has him as only a plus-7 this year (tied for 10th best among second basemen), down from a plus-22 last year, which was second-best to the Cubs' Darwin Barney. That's important since one of the key selling points for Cano, 30, is that he's the best-hitting middle infielder in the game. Cano's a better player than Mark Teixeira ($180 million, eight years) or probably even Prince Fielder ($214 million, nine years) but considering no one expects him to go, youngish veteran agent Van Wagenen will need to pull one out of his bag of tricks to hit the magic $200 million mark.
2. Jacoby Ellsbury, Red Sox, CF: He's played a big role in a World Series title, put up a monster 2011 season (he led the AL with 364 total bases) and proven to be a dependable leadoff man and stellar center fielder. One AL exec cited B.J. Upton's $75.2 million, five-year deal as a baseline figure, but that may be optimistic management thinking. Ellsbury will surely shoot for nine figures, and many think he'll get it despite a few injuries (one was misdiagnosed, exacerbating the situation) and a question as to how close he'll ever get to the 2011 power numbers. The Red Sox are low-keying their interest but Jackie Bradley Jr. isn't proven as a major-league center fielder, so they would be in the game at the right price. The Mariners, Cubs (with ex-Red Sox GM Theo Epstein), Blue Jays and many others could also be in the mix. The Yankees, who'd been hoping to get that payroll below $189 million, could be a wild card.
3. Shin-Soo Choo, Reds, OF: With 85 walks and a .412 on-base percentage, figures only behind teammate Joey Votto in the NL, some may believe he's a better leadoff man than Ellsbury -- though many execs prefer to see him as an excellent right fielder rather than a below average center fielder. He does just about everything well (16 steals, 17 home runs) but may be better suited for right field. The Mets have been expected to be in their pitching -- though they could also consider Ellsbury. The Rangers, who once tried for him, are another possibility.
4. Brian McCann, Braves, C: Offensive catchers are invaluable so there should be a feeding frenzy for this seven-time All-Star with a perennial .800-plus OPS. The Rangers, Cubs, Phillies and Yankees seem like possible players, with the Tigers and Nationals -- two more in a potentially big field -- who could make sense.
5. Matt Garza, Rangers, SP: He has gotten healthy in time to lead a less-than-glossy starting pitching market. Has proven successful in the AL East, Wrigley Field and The Ballpark at Arlington, so not many knocks from a competitive standpoint. He cost quite a haul in trade (Mike Olt, C.J. Edwards and more), so the fair assumption is he'll get quite a haul on the market.
6. Ervin Santana, Royals, SP: He has been everything, and more, for Kansas City following a career in Anaheim/Los Angeles that also wasn't without highlights. With no history of arm trouble, could potentially make a score to rival even Garza.
7. Hunter Pence, Giants, OF: He may look clumsy, but he can do a lot of things well, and he's a winner. The Giants would like him back.
8. Ricky Nolasco, Dodgers, SP: Oddly overlooked on free-agent lists, he's been a consistently good pitcher and double-digit winner throughout his career. Would surely love to stay with his hometown Dodgers, for whom he has started 5-1, and if they win a World Series, maybe he gets his wish.
9. Nelson Cruz, Rangers, RF: A lot of folks wondered aloud if he'll take a financial hit to match website wizard Melky Cabrera. But the reality is, he's a much better clubhouse guy with a much longer history of sustained success. Reality: he'll easily get a three-year deal even after his Biogenesis suspension, and may get four. Was on his way to perhaps his best year (27 home runs) when he took MLB's deal to sit the rest of the season, disappointing his teammates.
10. Tim Lincecum, Giants, SP: He has had a disappointing run the past two years from a statistical standpoint, but as one AL exec said, "he's better than a 4.5 ERA pitcher." On occasions, he's been terrific (see the 148-pitch no-hitter), and his pedigree in a thin starters market will draw significant interest, much more than most would think. Some may like him better as a bullpen piece, but he should still have plenty of hits as a starter.
11. Kendrys Morales, Mariners, 1B-DH: The Mariners are said to have interest in retaining him. But you have to wonder why Morales -- who prefers to play first base ("he's a good first baseman," an AL exec said) and may not mind an escape from pitchers-haven Safeco Field -- would sign up for more years in Seattle. Should benefit from a supremely weak first-base class.
12. Carlos Beltran, Cardinals, OF: Years after his career allegedly was in jeopardy due to knee trouble, he's producing just as always. One of the best players, and best instinctual players, of the generation. On a per-year basis, he would rank higher, but two years is probably the limit at this point.
13. Fernando Rodney, Rays, RP: He has to have priced himself out of Tampa Bay at this point. While Rodney couldn't duplicate the 2012 magic, he's still an upper-echelon closer. Red flag: Wasn't nearly as good before he got to Tampa.
14. Hiroki Kuroda, Yankees, SP: Supposedly, he would like to finish his career in Japan. But he might still have another year or two to go in MLB based on his terrific 2013 season. Hard to see him anywhere but the Bronx or Chavez Ravine assuming he's still in MLB.
15. Curtis Granderson, Yankees, OF: He could sell himself as a poor man's Ellsbury seeing how he had a similarly dynamic 2011 season and could claim fewer injuries (though his happened this year). But he probably is a corner outfielder at this point, which changes the equation. Loves his hometown of Chicago.
16. A.J. Burnett, Pirates, SP: Perennially overpaid, that is likely to be the goal again. Much better in Pittsburgh than he was in New York. Reinvented himself as a clubhouse leader.
17. Bronson Arroyo, Reds, SP: He's been one of the most consistent winners in the NL, much better than the press clippings would suggest. Another plus: he's never hurt.
18. Bartolo Colon, A's, SP: Fountain of Youth disciple was a Cy Young contender until recent groin injury.
19. Edward Mujica, Cardinals, RP: Talk about timing. He's emerged as one of the better closers in baseball (0.78 WHIP) after having been previously relegated to a middle-inning guy.
20. Andy Pettitte, Yankees, SP: Uncertain he'll be back yet another year, but his strong finish indicates he can return if he wishes.
21. Stephen Drew, Red Sox, SS: A steady defender with a high OPS for his position, a move to the Dodgers would seem like a possibility if he leaves Boston. Will benefit from weak shortstop market but injury history is a concern.
22. Jason Vargas, Angels, SP: Blood clot derailed decent walk year.
23. Mike Napoli, Red Sox, C/1B: If there's a hip problem, who can tell? He has taken nicely to Fenway Park and been the RBI man they envisioned. Very tough and good for a team.
24. Javier Lopez, Giants RP.  He would be a terrific lefty addition to any pen.
(Note: Koji Uehara was originally listed here at No. 24, but he had a vesting option he just hit at 55 games, so he will be back in Boston for 2014. Lopez was added as he was mistakenly omitted.)
25. Grant Balfour, A's, RP: His save streak was a testament to consistency. Strong closer market could hurt him, though.
26. Joaquin Benoit, Tigers, RP: Like Uehara, he's ably filled the closer void (17 for 17 saving games).
27. Jarrod Saltalamacchia, Red Sox C: Took awhile but finally has developed into a fine starting catcher (.797 OPS is a career high), just in time for free agency.
28. Scott Feldman, Orioles SP: He proved to be worthwhile pickup for Chicago, then Baltimore.
29. Justin Morneau, Twins 1B: Nice August (seven of 15 homers have come in the month) helps, but who could have imagined he'd be this low on the list?
30. Phil Hughes, Yankees, SP: Will be better off away from Yankee Stadium, as far away as possible. California teams might be best bet for Orange County product. Still two years younger than most other starters on the list. Worth a flyer.
31. Jason Hammel, Orioles, SP: Tough competitor and solid middle-of-the-rotation guy (though he's had to play the ace at times in Baltimore).
32. Paul Maholm, Braves, SP: Dominated Billy Crystal but otherwise defines the word solid.
33. Tim Hudson, Braves, SP: He'll return from his broken ankle, and who's to say he won't be the same?
34. Roy Halladay, Phillies, SP: Another older injured star who seems likely to stay.
35. Jhonny Peralta, Tigers, SS: Was having All-Star year before Biogenesis struck.
36. Corey Hart, Brewers, 1B/OF: Worth a chance after injury-ravaged year.
37. A.J. Pierzynski, Rangers, C: Should have been more popular last year on market.
38. Josh Johnson, Blue Jays, SP: Rough season in Toronto could point to needed switch to NL, or at least US Talent dictates he'll be worth a flyer to a few.
39. Dan Haren, Nationals, SP: A late flourish means there will be takers.
40. Nate McLouth, Orioles, OF: Seems to have found nice niche after up-and-down start to career.
41. Michael Morse, Mariners, LF: Injury-plagued year came at the wrong time. Great raw power though.
42. Bruce Chen, Royals, SP: After averaging three victories a year for 12 years, he has averaged 12 over the past three. Late bloomer who adjusts with the best of them. Very smart.
43. Scott Kazmir, Indians, SP: Showing signs of regaining form after taking early retirement.
44. Scott Downs, Braves, RP: Very good lefty will have plenty of suitors.
45. Carlos Ruiz, Phillies, C: Lost power will cost him.
46. James Loney, Rays, 1B: Resurrected his career in Tampa. Could benefit from weak 1B market.
47. Boone Logan, Yankees, RP: Consistent lefty with an unexpected edge.
48. Mike Pelfrey, Twins, SP: Move out of New York seems to have him on right track.
49T. Raul Ibanez, Mariners, OF: The rare 40-plus slugger has been a mega bargain two years running.
49T. David Murphy, Rangers, OF: If you throw out this year, he looks a lot better.
49T. Dioner Navarro, Cubs, catcher: Few have noticed the terrific offensive year (.871 OPS) he's having.
49T. LaTroy Hawkins, Mets, RP: Popular reliever still has enough to keep going.
50T. Paul Konerko, White Sox, 1B: Looks like retirement candidate coming off rough year.
50T. Michael Young, Phillies, 3B: Rocky finish raises question whether it's worth it for him to keep playing once $80 million contract expires. Beloved figure can get a job if he wants one, though.
Get your sports fans something that they'll wear all year

Get 15 percent off any order of more than $75 at CBS Sports Shop

No, you're not imagining things. This MLB offseason has been very slow compared to the last...
Francesa will retire from radio next month, so he'll have plenty of free time next summer

The Twins need help in the rotation, and they may look to the trade market to find arms

Here are the bullet-points of what went down Tuesday regarding MLB and the Braves' punishm...