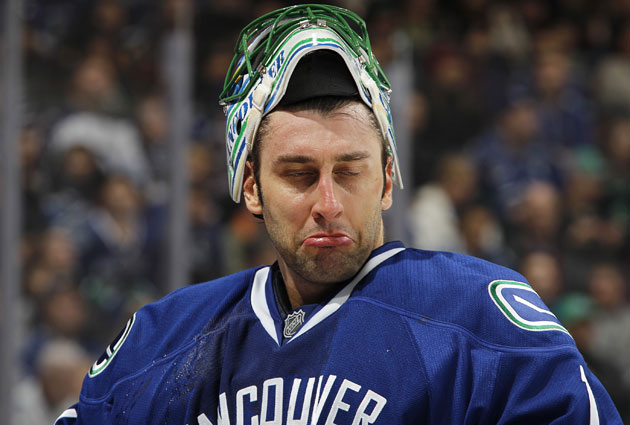 A resolution for the Vancouver Canucks: Put an end to the Roberto Luongo situation one way or another. (Getty Images)
We at Eye On Hockey try to be optimistic, so we still (perhaps foolishly) believe the NHL season is going to start sometime in the very near future. 
And since it's Jan. 1 and the time of year that everybody makes up a New Year's resolution that they might keep, we decided we would help out all 30 NHL teams and come up with some resolutions for them.
Anaheim Ducks: We will not waste what could be Teemu Selanne's last year in the NHL anymore than the lockout already has. We'll also put in a Haagen-Dazs in the Honda Center.
Boston Bruins: First and foremost, we will get owner Jeremy Jacobs a better PR firm. Based on the lockout, he could really use it. Everything can fall into place after that.
Buffalo Sabres: Just because we have money now doesn't mean we should recklessly spend it all. We also will stand up for our goaltender on the ice, not after the game.
Calgary Flames: We're going to stop giving out huge contracts for proven mediocrity. We will realize when to cut bait on a lost season instead of "going for it."
Carolina Hurricanes: We will open up the ice and let this growing roster of offensive stars go wild. We will not let Alexander Semin fall into the same old narrative about him being an awful teammate and a lazy player.
Chicago Blackhawks: We will stop changing Patrick Kane's position and let him be the winger that he was born to be. Also, we'll find a second goal song; Chelsea Dagger is past its prime.
Colorado Avalanche: Do whatever we can to get Matt Duchene to consistently play like the No. 3 overall pick that he was and the franchise player that he should be.

Columbus Blue Jackets: We will listen to everything that John Davidson has to say and hand him veto power over anything that Scott Howson thinks about doing. And we mean anything.
Dallas Stars: Make sure Jamie Benn gets paid like the cornerstone power forward that he is.

Detroit Red Wings: Simply put, it might be time to finally get younger. No matter how desperate we might get defensively, we won't beg Nicklas Lidstrom to come back.
Edmonton Oilers: We're getting that No. 1 overall pick again!
Florida Panthers: We will not deviate from the Dale Tallon blueprint, which includes not bringing in Roberto Luongo with his present contract. We will also bring back our loveable mascot Stanley ASAP. We'll also try to win a few more games in regulation and not rely on shootout loser points as much.
Los Angeles Kings: We won't stop being so damn smug on Twitter because we're awesome. We won't mess with the good things that we've got. We'll also make sure there's a seven-second delay when Jonathan Quick is doing any sort of public speaking.
Minnesota Wild: To not get outshot nearly every single game, make an effort to move the puck out of our defensive zone from time to time and not waste our new star players' talents.
Montreal Canadiens: We will adopt a slogan from Patrick Burke's equality mission: If you can play, you can play. Same goes for coach and general manager, language be damned.
Nashville Predators: Clear another organizational hurdle and finally get past the second round of the Western Conference playoffs. We'll also try to get Pekka Rinne an occassional night off so he doesn't have to appear in 73 games again.

New York Islanders: We will use any potential amnesty buyout on Rick DiPietro and part ways. And those black third jerseys? Gone.
New York Rangers: We will not waste the offensive collection of talent that we've assembled by having them just block shots. We will make every John Tortorella media session available online.
Because people want to watch this. Well, we do, anyway.
New Jersey Devils: It's time to start finally preparing for life after Martin Brodeur. We'll also play Ilya Kovalchuk until his skates fall off.
Ottawa Senators: Fully buy into Paul MacLean's motto that you have to "score your way to the Stanley Cup." Also: Remind our fans that they're allowed to cheer louder than Maple Leafs fans who make their way into our own building.

Philadelphia Flyers: To not trade every young player that was recently signed to a long-term contract. We're looking at you, Wayne Simmonds. We hope you stick around for a while.
Phoenix Coyotes: It's about time we're sold. Also, do whatever we need to do to make sure Don Maloney, Dave Tippett and Sean Burke remain happy. They've earned it over the past three years.
Pittsburgh Penguins: Finally, after all of these years, get that elusive scoring winger to play alongside Sidney Crosby.
San Jose Sharks: Not get our coaching staff fired with another underwhelming season that has us having to fight for a playoff spot to the end of the season with a roster that is capable of so much more.

St. Louis Blues: We will continue doing what Ken Hitchcock says, no matter how boring the resulting hockey might be. We will make sure Alex Pietrangelo gets the Norris attention that he deserves.
Tampa Bay Lightning: Whatever needs to be done to help Anders Lindback will be done. Any kind of defense is a good kind of defense.
Toronto Maple Leafs: Three words: Get. A. Goalie. Three more words: Make. The. Playoffs.
Vancouver Canucks: We'll finally accept that Roberto Luongo's trade value isn't high and get on with this show already.
Washington Capitals: We will make sure Alex Ovechkin is on the ice as much as he should be, which is a lot. Plus those third jerseys will be worn more often; they're great.
Winnipeg Jets: To get everybody in our fair city to stop coming up with new reasons to hate Evander Kane.
For more hockey news, rumors and analysis, follow @EyeOnHockey , @StubitsCBS, and @Agretz on Twitter and like us on Facebook.