Video: Jonathan Quick drops three F-bombs at Stanley Cup rally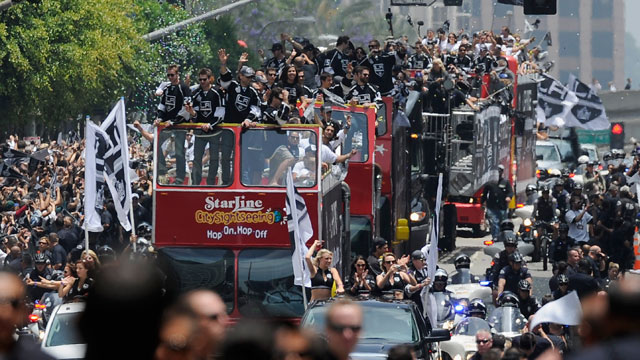 The parade heads down Figueroa in downtown L.A. (Getty Images)
The Los Angeles Kings continue to enjoy the glow of winning the Stanley Cup. On Thursday came the parade through downtown Los Angeles and the subsequent rally inside Staples Center.
The day had some great moments. There was Jim Fox, the former player and current color analyst, nearly breaking down on the TV set, overcome with emotion.
But there wasn't much better than Darryl Sutter receiving a roaring applause and responding at first with a Bill Clinton-esque thumbs up before busting out the fist pump. It was so not him that it was just great.
This is of course courtesy of the .GIF masters at SB Nation.
That was good but the show was stolen later by Jonathan Quick. At the rally a few of the players were called up to the microphone and when the crowd finally slowed the applause for the Conn Smythe Trophy winner he took a second and then did his best Dustin Brown impression by dropping an F-bomb. Three F-bombs, to be exact.
It probably goes without saying after that, but this is NSFW for some foul language.
Now I don't know, but it kind of sounds like Quick has been partying as hard as some of his other teammates there, now doesn't it? Not that I blame him. Either way, it was a moment worth a laugh to be sure, especially when you hear the announcer apologizing to the audience at home.
It was a fun finish to an exciting day in L.A., something that was the best part of winning the Cup according to some of the players.
Food for thought: Maybe that was why Quick doesn't usually do a ton of talking to the media.
For more hockey news, rumors and analysis, follow @EyeOnHockey and @BrianStubitsNHL on Twitter and like us on Facebook.