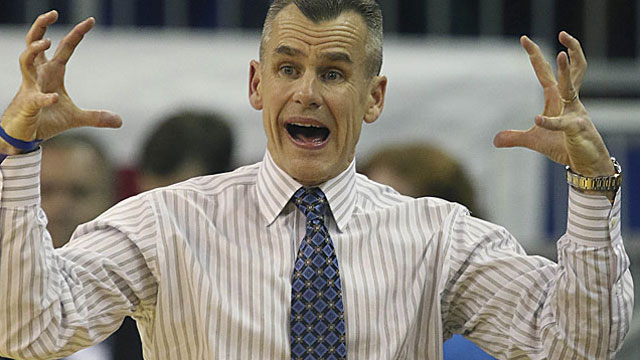 He's getting the opportunity to coach two of the world's very best players.
That's the simplest way to explain this move by Billy Donovan.
He's been given the keys to a ready-made contender.
Oh, sure, there are plenty of other reasons Florida's longtime coach is finally leaving college basketball for the NBA, and I'll dive into them momentarily. But the best reason -- the one too many critics can't seem to grasp -- is that Billy Donovan was presented with the chance to coach two future Hall of Famers (Kevin Durant and Russell Westbrook) in the prime of their careers, and that's just not the type of thing a man who has forever been intrigued by the idea of professional basketball could resist.
Nor should it have been.
****
I don't remember the year or even what prospects we were watching. But what I do remember is that it was July. And that we were at the Peach Jam. And that it was a Sunday afternoon. And that Billy Donovan and I were standing off to the side of the court, chit-chatting about whatever, just passing the time until it was time to go home when a man approached us and started a conversation.
I didn't recognize the man.
I don't remember his name all these years later.
But it was a man clearly connected to prospects on some level, and so Donovan found himself trying to walk the line between being pleasant and violating NCAA bylaws designed to prevent what the governing body considers inappropriate contact. This man wanted Donovan to call him later because he needed help with something or another, and Donovan just sort of nodded along and, again, tried to be as kind as possible without crossing some NCAA line. The whole thing was awkward, if not a completely normal summer scene. And I just remember Donovan looking at me, after this man walked away, and basically saying, "Isn't it crazy what I have to deal with?"
We both laughed.
Donovan never expanded on that thought, best I can remember. But my interpretation was that he found it insane, and a bit frustrating, that, after two national titles and the development of a slew of NBA players, he still worked in a sport and at a school where maintaining a certain level of success required him to cater to men like that man.
And, even then, his job was still more difficult than it probably should've been.
Simply put, Billy Donovan at Florida was never going to be able to consistently match John Calipari at Kentucky, Bill Self at Kansas, Mike Krzyzewski at Duke or Roy Williams at North Carolina when it came to recruiting nationally without an established in, and Donovan came to understand that recently. His success hadn't made his job easier; his job was just as hard as it ever was, if not harder. So the NBA has for at least a year or two served as an attractive possible alternative to life at Florida, and it all culminated with Thursday afternoon's announcement that Billy Donovan is moving to Oklahoma City.
Some have said it's a questionable move.
Others have gone so far as to call it a bad move.
To that, I say, please.
I'm mostly uninterested in telling other adults what they should and should not do with their own careers, which is why I never wrote, in advance, that Donovan had to go. Truth is, Donovan didn't have to go. He could've continued living a nice and comfortable life at Florida, a place his family loves, and I would've completely understood that on a personal level. But, let's be honest, on a professional level it's a no-brainer for him to leave Florida for Oklahoma CIty because he's leaving a ho-hum college roster for a star-studded NBA roster while scratching an itch that's been itching for a while.
If it goes well, it goes well.
No explanation needed.
And if it doesn't go well, so what?
All Donovan would do then is return to college basketball and take the best job available, which would likely be a better job than the job he's had for 19 seasons. And he'd make that transition while avoiding the awkward moment of leaving Florida directly for another college, and, for the life of me, I can't understand why this is hard for some to understand.
You want to question why OKC would hire Billy Donovan?
Fine.
I disagree.
Because I think it's a smart hire.
But I'll at least listen to your argument.
But what I can't listen to is any argument suggesting this is a misstep on Donovan's part, because, if that's your argument, you don't understand what Donovan is actually doing.
Bottom line, this isn't a win-lose situation.
It's a win-win.
And there really isn't a scenario where Billy Donovan doesn't emerge better for it.