Candid Coaches: Which college coach is best equipped to jump to NBA?
Brad Stevens made the leap from the Butler Bulldogs to the Boston Celtics. We asked a bunch of college coaches who could be next. Their top answer might surprise you, but it shouldn't.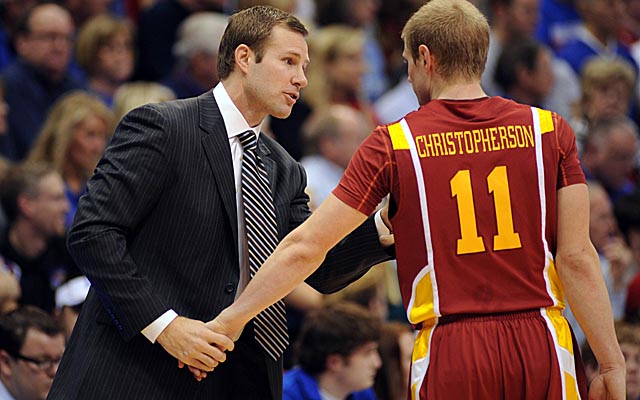 CBSSports.com's college basketball trio of Gary Parrish, Jeff Borzello and Matt Norlander spent the July recruiting period at various NCAA-sanctioned events, where they sat and talked with coaches from all levels of the sport. Parrish, Borzello and Norlander asked for opinions on prospects, players, coaches and issues. They'll be sharing those opinions to specific questions here in the blog over the next three weeks.

The Boston Celtics lured Brad Stevens away from college basketball in July in a move that gave the sport a rare summer headline. It was a surprising development.
But there's some thought that it could start a trend of NBA franchises dipping into the college ranks for coaching candidates, especially if Stevens is successful.
Which leads us to our first question:
What college coach is best equipped to next jump to the NBA?
Fred Hoiberg (19 percent)
Mike Krzyzewski (16 percent)
Billy Donovan (14 percent)
Bill Self (14 percent)
John Calipari (12 percent)
Tom Izzo (12 percent)
Thad Matta (5 percent)
Others receiving votes: Tony Bennett, Larry Brown, Kevin Ollie, Jay Wright
FIVE QUOTES THAT STOOD OUT:
On John Calipari: "Coach Cal has evolved as a coach and is just a better pro coaching prospect now than he was when he was at UMass. He always has talent and he does not try to over-coach or over-think things for his teams. I love the fact that he is not stubborn strategically. If you look at his UK teams, they were all different in terms of type of talent but still successful. His 2011 UK team truly exemplified this as they played a different style than the prior UK and Memphis teams he had coached and went to the Final Four."
On Fred Hoiberg: "He's a smart guy who understands the NBA from the perspective of a player as well as the perspective of an executive. I think it's practically guaranteed that he'll be an NBA coach someday, and probably sooner rather than later."
On Tom Izzo: "NBA basketball is about who the stars want to play for and who can be a master of the half court, where championships are won. Tom Izzo has the respect factor and is a genius in both coaching offense and defense."
On Mike Krzyzewski: "His credibility is stronger than ever based off his USA run. And, if you notice, his Xs and Os change with personnel."
On Bill Self: "He is a corporation by himself. He is one of the few titans left that hasn't made the jump yet who could handle all the egos."
THE TAKEAWAY (BY GARY PARRISH)
Nobody has enhanced his reputation as a current and future coaching star over the past two years than Fred Hoiberg because, let's not forget, it seemed like a questionable move when his alma mater hired him in April 2010 despite the fact that Hoiberg had no previous coaching experience at any level. Turns out, experience wasn't necessary. Because, as they say, when you got it, you got it. And Hoiberg clearly has it -- both the talent and personality to flourish as a coach just like he once flourished as a player.
He also has NBA front-office experience.
That means Hoiberg has now been a successful college and professional player, a respected NBA executive and an accomplished Big 12 coach. In other words, his resume is diverse and impressive, and it's only a matter of time before an NBA franchise lures him from ISU. I've believed that for more than a year now, and I've stated it publicly many times. The results of our poll suggest, at the very least, that college coaches agree.
Ball left the program earlier this month and has since signed with a Lithuania professional...

The Hoosiers grow up before our eyes, and Miller has his first signature victory as Indiana...

Trae Young, a freshman and the nation's top player, has a 21-point first half at Wichita S...
Michigan State is probably going to have company atop the Big Ten standings

Sooners beat third-ranked Shockers while Florida and FSU lost in upset fashion to unranked...

Neither the Bearcats nor the Bruins have a top-60 KenPom win, but that will change Saturda...