More 16 vs. 1: Three reasons it will happen | Why it won't | It will take a quality 16-seed
I remember March 17, 2006, vividly. I was playing a gig at a bar called Tuxedo Junction in Danbury, Connecticut. Big, white projector screens on each side of the stage were showing the NCAA Tournament as our band provided nettlesome background noise disguised as cover tunes while everyone was glued to the game.
Is this the year a 16 beats a 1?
   Here are the percentages via SportsLine for projected No. 16 vs/ No. 1 games in the NCAA Tournament. Matchups were determined via Jerry Palm's latest projected bracket,

•

  85.7 percent: Chance of all four No. 1 seeds advancing vs. a No. 16


•

  14.3 percent: Chance of a No. 16 seed upsetting a No. 1 in the first round
No. 1
No. 16
Pct.
Kansas
Texas Southern/Wagner
97.2
Oklahoma
Bucknell/Hampton
96.7
Michigan State
High Point
98.8
Villanova
North Florida
92.3
It was a Friday night. Sixteenth-seeded Albany was down in Philadelphia, causing the country to freak out. The Great Danes got up 50-38 on No. 1 UConn as they neared the midway point of the second half. The band was too distracted by all of this to bother playing "Don't Look Back in Anger," so we took an early set break. More than 100 people in the bar were fixated on the game. The Huskies were considered the best team in the country heading into that tournament. And here's a 16th-seeded Albany team -- in the program's first NCAA Tournament appearance ever! -- up double-digits on the favorite to win the title.
Was mighty UConn actually going to lose? How amazing would it be to finally see this happen? A 16 beating a 1!
Right about the time UConn erased a lead in a handful of possessions, I found myself more satisfied than I was 10 minutes prior. I realized it then and there. I wanted the chase. I wanted the carrot to dangle forever. I didn't want the 16 to win, and I haven't truly wanted it since.
The NCAA Tournament will always fulfill, no matter what. By nature of its existence, it is fool proof and providing new ways to deliver us awe each year. But there are two significant achievements that have yet to be unlocked. One is a 16 seed beating a 1 seed. The second is a mid-major team winning the whole freaking thing in the modern era. Now that -- that I'd love to see any time now. We got so close with Butler in 2010 and 2011, and it was thrilling to see George Mason, VCU and Wichita State make us believe in recent years, too.
But when it comes to the 1/16, I want the automatic outcome every time.
And if I'm being honest, I'm kinda fine with the 15s chilling out for a while against the 2s, too. Florida Gulf Coast, you were incredible, yet some sick part of me hopes we don't see another thing like that for a decade because the more often it happens the less special it feels.
A year before Dunk City slammed into the Sweet 16, we had 15 seeds Lehigh and Norfolk State stunning Duke and Missouri, respectively. Seeding has become overrated, but I still like the mirage of it all. Thankfully, 2015 saw all 1s and 2s win their first game, and I hope 2016 will bring more of the same. Who's with me!
(Anyone?)
Sixteens are 0-124 against No. 1s, dating back to the tournament's expansion to 64 teams in 1985. In 15 of those 124 games, the 16 has finished within single digits of the upset. The most recent time that happened was two years ago, when Arizona beat Weber State by nine. Do you even remember that? No, you don't. And you shouldn't. Because that's what should happen with most 1/16s. They should harmlessly start and finish as filler backdrop for other, cooler tournament games happening in that television timeslot.
And then, every few years, the universe can throw a wild card at us, like UConn-Albany in '06, Coastal Carolina getting frisky against Virginia two years ago, Southern really flirting with history against Gonzaga in 2013. (I was at that game and terrified at the prospect of having to write a gamer on the first 16-over-a-1. Thank you, Zags), or the the game that was closer than any 1/16 ever has been: Georgetown robbing Princeton of glory in 1989.
In fact, 1989 isn't just an overrated Taylor Swift record -- it's the year the 16s truly blew their best chance. Princeton lost 50-49, and East Tennessee State blew a 17-point lead against Oklahoma before losing 72-71. People can say No. 1 seeds are more vulnerable than ever, but I promise you no 16 seeds in 2016 are cracking open 17-point leads on any of the teams on the top two lines this season. Albany going up 12 in the second half on UConn in '06 was beautifully aberrational.
It's not like I don't respect the 16s. I do. In fact, the NCAA needs to stop forcing four of them to play each other in Dayton every year in the First Four. If we've gotta keep the tournament at 68 teams instead of its rightful, pristine assembly of 64, then let's make it interesting and send the eight worst at-large teams and force them to play their way to the weekend.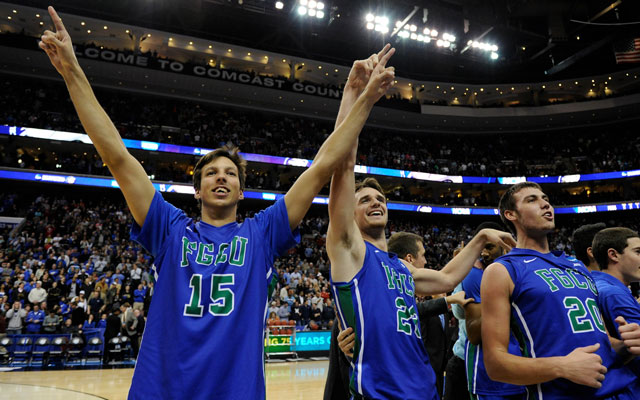 Give all four 16s the real, true tournament experience. Align them up in the bracket, below the 1s, and let them live out a dream for three or four days. Then watch them get creamed. Because that's what should happen when you're a 16.
I'll take all the 14s-over-3s you wanna give me. Who doesn't get giddy with a 13 doing damage to a 4, then crashing the party in the second weekend? Sign me up. And I love an 8-over-1 takedown in the second round. There are plenty of upset varieties the tourney throws at us every year that continually keep us on our toes and remind you and me that we know nothing. But once a 16 beats a 1, that's it. We don't get to go back. Yes, when they eventually happen, hopefully decades from now, it will still be incredible to see such upsets.
But nothing will feel like the first. So here's hoping we can stave that feeling for seasons come. The wait for it is so discouraging. I hope it'll last.