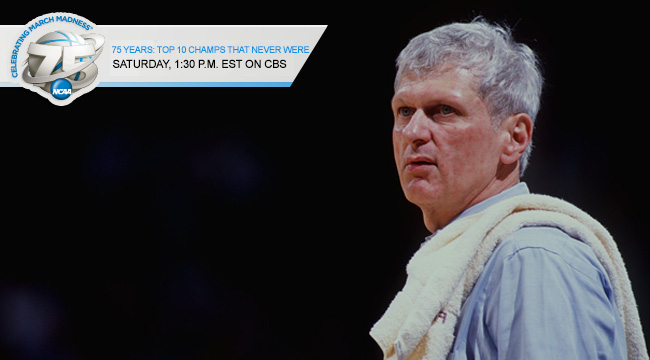 Bill Frieder was 188-90 as Michigan coach from 1980-89 before leaving for Arizona State. (Getty)
Bo Schembechler fired Bill Frieder and then uttered the words, "A Michigan man will coach Michigan!"
Frieder was a Michigan man. He grew up watching the program and had a pair of degrees from the school. However, word had leaked out in March 1989 that Frieder had verbally agreed to take the Arizona State job just prior to the Wolverines' opening NCAA tournament game against Xavier. Michigan's athletic director/football coach made the move, electing to have assistant Steve Fisher take the helm.
Michigan proceeded to reel off six consecutive wins and cut down the nets in Seattle following a dramatic overtime victory against Seton Hall in the national title game.
Frieder has no regrets.
"If I had to do it all over again, though, I would have handled it differently," Frieder said.
More on March Madness at 75
Related links
More college hoops coverage
Frieder said he was frustrated with the direction of the program at the time. Charter flights had been cut, and he didn't feel as though the basketball program had the necessary support to sustain success. He had taken Michigan to four consecutive NCAA tournament appearances, won back-to-back Big Ten regular-season titles and the team was 24-7 overall and 12-6 in Big Ten play heading into the postseason in 1989. Frieder had spurned Arizona State a couple years earlier, but was approached again in March.
"When Schembechler became the athletic director, he gave me no indication he would be behind basketball the way I needed him to be behind it," Frieder said. "Arizona State had been recruiting me and my wife and I looked at each other and said, 'Let's take a shot."
It was Tuesday morning and the team was departing for Atlanta the following day when the news broke that he had verbally agreed to take the Sun Devils job.
"I decided to be completely upfront and honest," Frieder said. "I didn't want to mislead my players, the community or the media. I told everyone I was going to Arizona State."
And with that, his tenure was over in Ann Arbor after nearly nine seasons in charge. Schembechler, who doubled as the athletic director and also football coach at the end of his affiliation with Michigan, left months later to become the president of the Detroit Tigers.
"If I'd have known he was going to leave, I'd still be at Michigan," Frieder said.
Fisher, his longtime assistant and close friend, took over the team and earned the permanent gig thanks to the improbable postseason run. Schembechler didn't want to give him the job, but had no choice after he led the Wolverines to the Final Four and ultimately the national championship. Frieder supported him, sitting in the stands for the first half of the Xavier victory (he had to leave when he was swarmed by media at halftime) and also watching the Final Four in the Nike suite in Seattle.
"It was the culmination of a decade of hard work," Frieder said. "And I was part of it."
Fisher gave Frieder a championship ring -- and the two remain extremely close to this day. Frieder, 70, coached eight seasons at Arizona State. Frieder spends most of his time in San Diego and is also the lead college basketball analyst for Westwood One radio.
"If that was the worst thing to happen to me, I've had a tremendous life," he said. "I have no complaints and no regrets."