CHARLOTTESVILLE, Va. – Everyone can score at the NBPA Top 100 Camp. When there is so much talent on display, offense is certainly not a problem.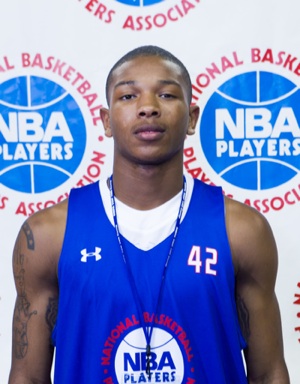 Markel Crawford was one of the best defensive players at the NBPA Top 100 Camp. (Davide DePas)
As a result, Markel Crawford aimed to make an impact in other ways. The 6-foot-4 shooting guard from Melrose (Tenn.) was a pest defensively throughout the camp, playing very aggressive at that end of the floor. He forced turnovers and deflections, and was effective in transition.
"I'm trying to a lot of things that no one else does," Crawford said. "Take charges, playing defense. I bring passion for the game."
Crawford was one of the less-heralded 2013 prospects in attendance, but his play throughout the spring AAU period with the Atlanta Xpress has built up his reputation in a major way.
He is ranked No. 24 in CBSSports.com's shooting guard rankings, but he could crack the overall top 100 when the list is updated.
"I played well," Crawford said. "I'm getting a lot of experience, getting my name out there. It's going good so far."
In terms of recruiting, Crawford is hearing from Florida, Texas, Tennessee, Arkansas and UCLA. Villanova and Syracuse are also sniffing around
He wants to take trips to Florida, Texas and Tennessee in the near-future in order to progress in the recruiting process.
"I want a fast tempo and great coaching," Crawford said.