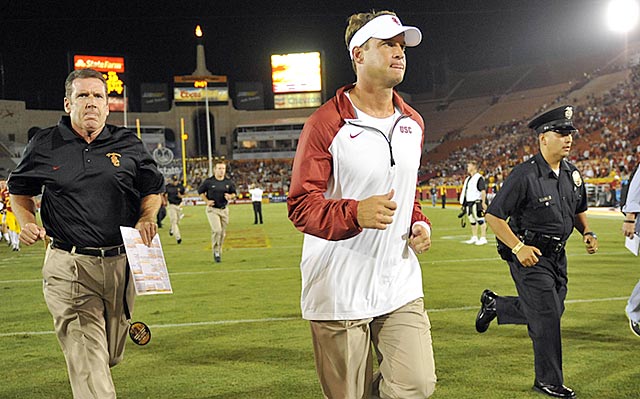 LOS ANGELES -- Not much of the Los Angeles Memorial Coliseum crowd of 77,823 stayed for the end, but those who did stay were angry. They were booing Lane Kiffin and his Southern California football team after the Trojans' 10-7 loss Saturday night to Washington State, and they were screaming at true freshman quarterback Max Browne to take off his redshirt and save this team, and they were chanting "Fire Kiffin."
And USC defensive end George Uko, one of the last Trojans off the field, summed it up for pretty much everybody in the program when he slammed his hands into his thigh pads and yelled this as he walked toward the tunnel:
"I didn't come here for this s--t!"
Nobody did, George, but on the bright side, it won't last much longer. The crazy experiment of Lane Kiffin at Southern California, which made even less sense than his first two head coaching jobs -- seeing how this one came after he had failed with the Oakland Raiders and embarrassed himself with the Tennessee Volunteers -- might not last much longer.
It can't, can it? Not after last season's team started the season No. 1 in the country and ended with a 7-6 record, and not with recruiting for next season off to a mediocre start, and not with several of the Trojans' top targets in town for this weekend and hearing the home crowd boo the team and especially Lane Kiffin off the field. USC supporters have turned on Kiffin so thoroughly that they were taunting him before the game began. It was during pregame warmups when Kiffin said he heard the first "Fire Kiffin" chant of the night.
"We're getting used to playing on the road," Kiffin said with a sardonic smile.
The "Fire Kiffin" chant was louder when he disappeared into a tunnel for halftime, and it was louder still when he emerged from that tunnel a few minutes later for the start of the third quarter. It wasn't as loud after the game, but only because most of the crowd was gone.
They had been leaving for hours, several thousand fans not bothering to come back for the second half and more fans leaving as the night went on and neither team was scoring. This conference opener was tied in the fourth quarter and still people were leaving because this was Saturday night in Los Angeles -- there has to be something better to do than watching this lousy game of football.
And it was lousy. This wasn't a defensive struggle. This was two awful offensive teams, the team from Washington State lacking the skill and speed to make anything happen and the team from USC lacking the guts to try.
And that, said Lane Kiffin in his most damning comments of the night, was exactly how he wanted the game to go.
"As boring as it was, that was the plan," Kiffin said, "once we [saw] that we were able to play that well on defense."
Whatever, Lane. The USC defense may or may not be good, but Washington State isn't the offense to test it. The Cougars didn't move the ball because they can't. The Trojans didn't move the ball because Kiffin was too scared to try.
USC quarterbacks completed 11 of 21 passes for a total of 54 yards.
"I've never heard of stats like that," Kiffin said.
But he kept calling those plays, nothing but bubble screens and sideways passes and backward passes and passes short of the first-down marker on third and even fourth down. The Trojans' second-longest pass of the night was a 7-yarder from Max Wittek to Marqise Lee in the fourth quarter. Success? Not really.
It was fourth-and-8.
Kiffin called so many short routes that Washington State cornerback Damante Horton jumped one of them with 27 seconds left in the second quarter, intercepting Cody Kessler's screen and returning it 70 yards for a touchdown to tie the game at 7.
Kiffin didn't let Kessler play in the second half, as if this thing was his fault. It wasn't. Blame lies with the fourth-year coach who has recruited most of this roster, the same coach who played cautiously in the second half at home against outmanned Washington State. Twice, Kiffin ran the ball on third-and-long to set up long field goals. The first kick was blocked, but Kiffin tried it again on the next possession. That kick missed.
There was a third kick, but this one was attempted by Washington State -- and Andrew Furney hit a 41-yarder with 3:03 left to make it 10-7. Fans were booing and fans were leaving and fans were booing as they were leaving, and all that's left is for someone to solve this problem. Two fans thought the solution was wearing No. 4.
Yelled one: "Max Browne, take off your redshirt!"
Yelled another: "Lift your redshirt, Browne. Get in there!"
Maybe the solution is more Max Browne. Maybe it's even more Tre Madden, the former linebacker Kiffin converted to running back and milked for 32 carries and 151 yards on Saturday night.
USC fans think the solution is less Lane Kiffin. That's for Kiffin's boss to decide, but it's like George Uko said: He didn't come here for this s--t.