Dean Ambrose's wild ride from rejection to WrestleMania 32 star
Facing Brock Lesnar at WrestleMania 32 is not an easy gig. For WWE superstar Dean Ambrose, it is proof that his unwavering spirit and likely journey through the business has paid off.
Nobody recruited Dean Ambrose to become a wrestler. He wasn't a physical giant or a standout athlete. He was just plain-old Jonathan Good from East Cincinnati, an obsessed teenage wrestling fan who saw sports entertainment as an exit strategy from dealing with real life.
"I had a hard time going to school," Ambrose told CBS Sports. "I probably wasn't the most pleasant young person to be around. I kept a very tight circle of trusted people. I still kind of am like that today."
Nothing in his day-to-day slog inspired him as much as the action he saw in the ring.
"For me, wrestling was an escape. It was like a way out."
It wasn't easy, but Ambrose eventually became a bonafide WWE superstar who is now among the most popular performers on the roster. On April 3, he will face Brock Lesnar in a no holds barred street fight, one of the marquee matches at WrestleMania 32, which the company hopes sets an attendance record at AT&T Stadium in Arlington, Texas.
Nicknamed "The Lunatic Fringe," his WWE personality isn't all that different from his real one.
On WWE programming, Ambrose doesn't sit around waiting for good fortune. He shows up at the front door unannounced. He invites his opponent's best shot with a sneer and a smirk. He attacks. He creates his own opportunities.
That's why fans love Ambrose. That's also how he made it to WWE. Tenacious and determined, he simply refused to be ignored.
"I wasn't 'gifted' in the way that Brock Lesnar or Roman Reigns or somebody like that is gifted, in that they got the physical attributes and so forth," Ambrose said. "I don't have particular born-in talents and abilities, [but I have] an aptitude for this that a lot of people don't have, just [from] being a student of this."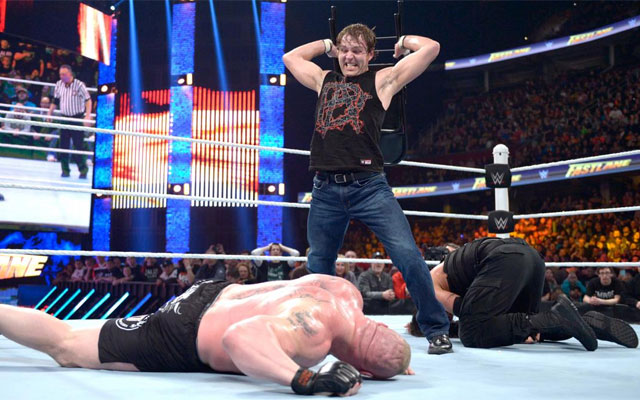 Nothing enthralled Ambrose in his formative years more than pro wrestling. He devoured countless hours of wrestling footage on videotape. Soon, he concluded that the wild and colorful world inside his TV screen would be a great place to build his future.
"It was like a life on the other side of this," Ambrose said. "This green, sprawling Land of Oz that is pro wrestling. You just imagine, 'What would it be like to be a pro wrestler? What do they do every day? They just go out there and... wrestle.'"
In 2003, Ambrose found his entry point: An ad for a wrestling school run by old-school grappler Les Thatcher. Ambrose reached out to Thatcher right away.
"[Thatcher] was like, 'You gotta be 18 and get on the weights and get on a training program and get your degree' and everything," Ambrose said. "I didn't want to hear any of this. So I just showed up [at Thatcher's school]. I initially lied when I first got there. I was like 'Yeah, I'm 18.'"
Ambrose bluffed his way into the building long enough to watch some wrestlers in training. Before long, Ambrose confessed his fib.
"It was the coolest thing I had ever seen, just people doing drills," Ambrose said. "I was mesmerized. And he was going on his spiel, talking about what goes into it and so forth, whatever. Then, you know, [Thatcher said] 'Would you want to pay up front?' or whatever. I was like 'Oh, well uh, yeah, I don't have any money and I'm not 18.'"
But Ambrose refused to go away, hanging around the school until they put him to work doing odd jobs like selling popcorn and working on the ring crew. Inevitably, Ambrose became a trainee himself. When he wasn't at the school or working, he was often home, immersing himself in wrestling footage.
"I'd been studying wrestling from all over the world, going through stacks of tapes," he said. "I'd get off work at 7 in the morning, come home, and be like just watching wrestling for hours, then go to training later that day and try to implement what I learned that weekend."
By 2004, Ambrose -- then working under the name Jon Moxley -- was a real-life pro wrestler on the independent circuit. He became one of the most successful indy wrestlers in the U.S., but it was a far cry from the glorious life he had imagined when he was a teen. The paychecks were modest. The travel was brutal. Instead of performing in spacious arenas in big cities, he sometimes wrestled in high school gymnasiums in the middle of nowhere. Ambrose's tenacity and refusal to quit saw him through.
"A lot of it is just learning to eat crap and just deal with it," he said. "If you're a spoiled person coming into the business the way I did, you won't last very long. It was very easy for me to just kind of slum my way up through the dredges of wrestling until I got here. That's just the kind of person I am. It's where I come from. Just not being spoiled, not being too good, and just being ready to accept that you're gonna have to deal with a lot of crap to get success."
Ambrose had a few WWE tryouts during his indy run. None of them resulted in a contract. Sometimes he was advised to gain weight. Sometimes they just didn't have a spot on the roster. That might have convinced other wrestlers to trade in their spandex for a desk job in the real world, but Ambrose kept moving forward.
In 2011, Ambrose finally made it to WWE via a developmental contract, going to work in Florida Championship Wrestling, WWE's pre-NXT training ground. By late 2012, Ambrose made it to the main WWE roster along with Seth Rollins and Roman Reigns as part of a three-man faction called The Shield. Their act was an immediate hit with fans and Ambrose was the group's early standout performer.
Fast forward to 2016. For the most part, Ambrose enjoys all of the perks he once dreamed the wrestling lifestyle would entail. He has enough money to eat well and to not split a hotel room with five different people. The arenas are more spacious, the cities much bigger. And the most curious part of it all? That kid that admittedly wasn't the happiest or friendliest guy in his neighborhood suddenly has no problem gaining fans in WWE. Ambrose believes it's because his character is true to life.
"People can see through crap pretty easily," he said. "Just go out there and be comfortable. Be you. Be authentic.
"If you're the real you, people can feel like they know you a little bit. I think that's why a lot of people kind of invest in me. They don't know me, but they feel like they know me a little bit, because I'm not putting on a front."
Ambrose admits there are parts of WWE life that don't come easily to a guy with his personality. He's one of the few WWE talents that isn't active on social media (his Twitter timeline contains exactly one tweet, a retweet from 2012, and the following bio: "They made me get a twitter.....Fine....Enjoy"). There are times when having his every move documented on film grates on his nerves.
"There's cameras everywhere," Ambrose said. "There's friggin' behind-the-scenes cameras in gorilla, there's friggin' Total Divas cameras following you around. You're constantly ducking and dodging, trying to not be caught on camera. I feel like the only time I need to be on camera is when I'm in the ring, you know?"
That antisocial attitude is one of the only things Ambrose has in common with his WrestleMania opponent, Brock Lesnar, who in constrast to Ambrose didn't seek out a pro wrestling career. Lesnar was recruited into pro wrestling because he was a physically gifted amateur champion. He once walked onto an NFL practice squad with no real prior football training. He won the UFC heavyweight championship with relatively little MMA experience.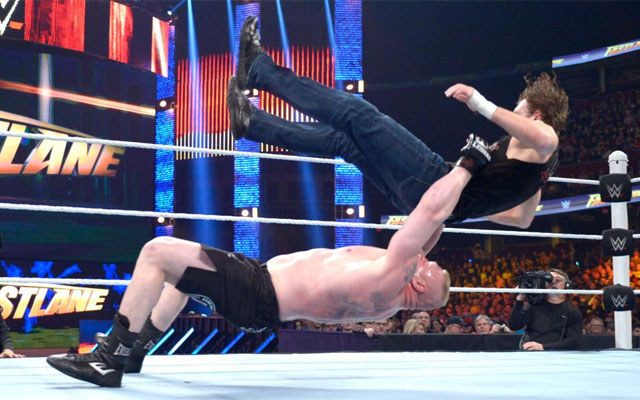 Brock Lesnar is a genetic anomaly and a life-long winner. While he's a crowd favorite, Lesnar works limited dates for WWE, unlike Ambrose, who is a regular on virtually every tour. They're both tough, main-event level WWE stars. Otherwise, Ambrose and Lesnar might as well be from different planets.
"There's a difference between a prizefighter and a guy fighting for his life and a guy fighting just on animal instinct," Ambrose explained. "They call me the iron man of WWE because I'm the workhorse of WWE. I'm wrestling every single night in any kind of situation against any kind of opponent. I just keep on plugging along. We couldn't be coming from more polar opposite places."
Even when Ambrose delves into kayfabe (wrestling parlance for staying in character in real-life situations) while cutting a pro-wrestling promo on Lesnar, you get the sense his comments are rooted in his own version of reality.
"I've been through everything from fire to glass to thumbtacks to barbed wire," Ambrose said. "I've had body parts chopped off of me and sewn back on. There's really nothing on a pain level, physical endurance level, that I haven't had to deal with, you know? How long is he gonna be willing to try to keep me down before he starts getting frustrated?"
Like Mick Foley or Brian Pillman before him, Dean Ambrose's appeal doesn't lie in championship reigns or a spotless win-loss record. He can be decisively beaten and still give audiences confidence that he's just warming up for an epic comeback the next night. Nothing is ever final with Ambrose. There's inspiration to be found in that type of resilience.
"We'll find out if there's any quit in Brock Lesnar," Ambrose said. "If the chips are down, will he just go 'Aw, screw this,' because he's already been there, done that. He's got nothing to prove and he's rich. He's not fighting for personal pride and preservation and survival."
When he arrives at AT&T Stadium for the highest profile match of his career on April 3, the now 30-year-old Jonathan Good will put on his Dean Ambrose hat. He might listen to music or joke around with other wrestlers just to keep the nerves under control. WrestleMania is where career-defining performances take place in front of record-setting crowds. It can be a lot of pressure for the performers, the select few pro wrestlers who not only made it to WWE -- via recruitment, sheer refusal to fail or other means -- but earned a spot on the biggest show of the year. The plan, Ambrose says, is to relax and take it all in.
"I'm only going to get that, whatever it is, 30 minutes in the ring, it's only going to come through my life once," he said. "So I want to enjoy it. I'm not gonna stress too much. I wanna go out there and really enjoy the moment, have fun, and try to hurt Brock Lesnar."
CBS Sports will offer live coverage of WrestleMania 32, which will take place this Sunday, April 3 live on WWE Network beginning at 7 p.m. ET. WWE is offering WrestleMania 32 for free to new subscribers.
With a 16-9 win, Irish Rugby takes its first home victory over the All Blacks in 31 all-time...

The 39-year-old assistant and 18-year-old gymnast were caught in an apartment complex parking...

Five Maryland teens are charged with attacking four teammates in the school's locker room
Jonah Keri breaks down the midterm Election Day with Daily Beast political writer Sam Stei...

Anthony Butler and Jessie Rix have one of the best stories of this year's NYC Marathon

News, notes and final results from Saturday's action at Churchill Downs