Kentucky finally plays to its potential, but can Cats keep it up?
Kentucky, in its lopsided SEC tourney win over LSU, shows why it was a preseason No. 1. But nothing it has done this season gives reason to expect a deep NCAA tourney run.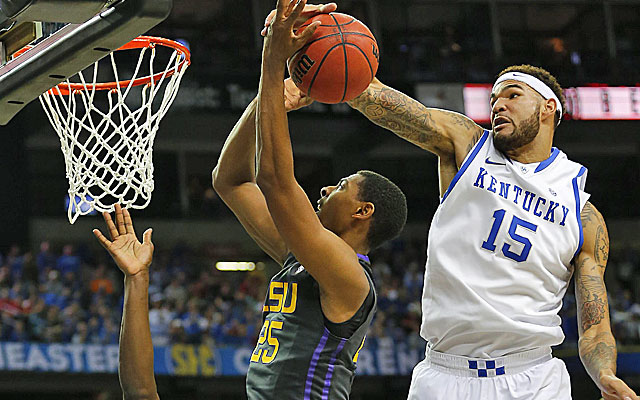 Latest in hoops: Top 25 (and one) | Bracketology | Bubble Watch
This is the Kentucky that people fell for in the fall. The Wildcats were the preseason No. 1 team in the country for a reason -- and this was it, this unleashing of hell against LSU on Friday night in the SEC tournament.
Kentucky beat LSU up one side and down the other, having too much size for LSU's big frontcourt and too much speed for its tiny backcourt. Kentucky was deeper, hungrier and better. Lots better. Eighteen points better according to the scoreboard, which showed Kentucky as an 85-67 winner, although this felt more like a 25-point beatdown, probably because LSU started fast -- the Tigers hit their first three shots from the floor, all 3-pointers -- and raced to a 22-14 lead.
After that, reality landed on LSU in the form of wave after wave of future NBA players: Power forward Julius Randle spinning and muscling and missing more than he was making and still finishing with 17 points and 16 rebounds. Seven-footer Dakari Johnson toying with a double-double (nine points, 10 rebounds). Enormous guards Andrew and Aaron Harrison swarming the LSU backcourt on defense and playing under control on offense. James Young burying early 3's to keep LSU within range, then scoring more and more until Kentucky was pulling away.
And 7-footer Willie Cauley-Stein rewiring the whole game in the first half by blocking shots and dunking and basically playing like the NBA lottery pick he will be, not the missing man he has been.
After that 22-14 opening salvo by LSU, Kentucky outscored the Tigers 71-45 the rest of the way. And that's how lopsided this game felt. That's how good Kentucky looked.
That's how people like me got fooled in the preseason.
Yeah, fooled. Kentucky is this good, or can be, but it won't be this good every single time. Maybe won't be this good again. Would it surprise anyone who has paid attention to the Cats if they lost on Saturday to Ole Miss or Georgia? Would it then surprise anyone who has been watching Kentucky if it lost its NCAA Tournament opener to a No. 13 seed?
Wouldn't surprise me if that's what happened next. Wouldn't totally surprise me if the Wildcats went to the Final Four, either, though that's not going to be the pick in my bracket. Doesn't matter who else is in their region, or who they might play -- I can't pick this team to go deep into the NCAA Tournament. It's too inconsistent, and by that I mean wildly so. Infuriatingly so.
I've seen enough of this Kentucky team to know that Friday night against LSU was its best game of the season, definitely present tense and maybe future, though I'll allow for this: Maybe it happens again. Maybe it happens eight more times -- twice more in the SEC tournament, then six times in the NCAA Tournament. Florida got hot like that in 2006 with a bunch of sophomores, and sophomores aren't a lot older than the freshmen Kentucky is playing with.
More likely, Kentucky eventually disappears against a veteran team that takes its punch better than LSU took it on Friday night. LSU started strong -- it hit three straight 3-pointers to open the game and led 22-14, remember -- and then just evaporated once it realized Kentucky wasn't going away. That's why this LSU team with some pros in its frontcourt and some shooters in its backcourt has no shot at an NCAA Tournament bid. The bodies, it has. But other stuff is missing.
Kentucky has all the stuff it needs to make a deep NCAA run, which is why some idiot went on Kentucky Sports Radio in the preseason and said this was going to be the team to go 40-0. That idiot was me, and you can't be a lot more wrong than that. From zero losses to nine? That's pretty impressively wrong, but if you saw this game on Friday night, you saw the possibility. A pro at every position, a couple of pros off the bench, even if Alex Poythress and a Harrison twin or two needs a passport someday. Whatever the case, this Kentucky team is loaded, and it's scary, and LSU got the full treatment on Friday night.
Does that mean Kentucky is peaking at the right time? Maybe so. Or maybe not. Because Friday night wasn't the right time to peak -- and if that's the best Kentucky we see all year, well, what a shame that would be.
Catch Miami University (Ohio) take on Colorado College on Jan. 27

ABC is looking to revive the popular '90s hockey film franchise

Patrick will drive the No. 7 Premium Motorsports Chevrolet in her final NASCAR race
Patrick plans to call it a career after running at the two most iconic U.S. auto races

Let the truth set you free, sir

The poor kid never even saw it coming