Not easy for Grinnell gunner to score 100-plus, till coach makes it so
Jack Taylor scores 100-plus points for Division III power Grinnell and it grabs headlines. It's no accident. In fact, a deeper look reveals it's pretty carefully orchestrated.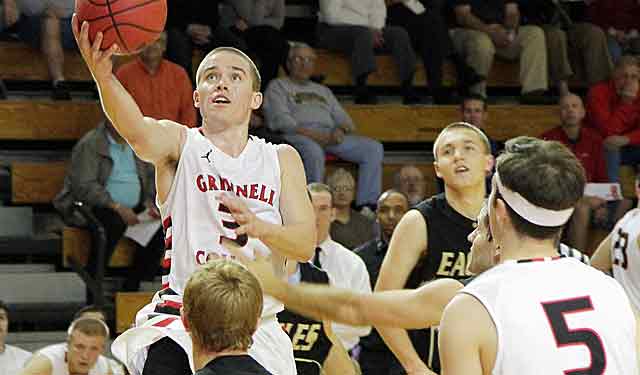 EDITOR'S NOTE: Quotes in this column originally attributed to Grinnell College head coach David Arseneault are from David N. Arseneault, a Grinnell assistant coach and son of the head coach. Reached Tuesday, the elder Arseneault said David N. Arseneault often handles media requests, with the elder Arseneault adding, "I trust what my son's going to say. I trust him to speak for me."
The headline is astonishing, and that's what the coach is counting on. He's counting on all of us being blown away by the headline from Sunday, so staggered by the sheer preposterousness of it all -- Grinnell College player scores 109 points! -- that we don't look beyond the obvious.
And to his credit, Grinnell coach Dave Arseneault is right. Most of us don't look past the astonishing headline, the preposterous number. Go to almost any media website, local or national. Plug "Grinnell" into the search engine. Add the number 109 and the name of the kid, Jack Taylor, who scored all those points on Sunday. See what you get.
What you won't get? An explanation of how it happened. Why it happened. You won't see the way those 109 points were scored, the way the game came together, the unseemly way the whole headline came to be.
Dave Arseneault is counting on that, too.
What he isn't counting on is you being right here, right now, and reading about the way Grinnell College sold its sporting soul for name recognition and a few seconds on SportsCenter.
Keep reading, please. I suspect Dave Arseneault is hoping you won't.
•••
A.J. Carson remembers it was weird. Arseneault called him more than a year ago wanting to schedule a game this season, but Arseneault didn't call in the summer, when scheduling usually happens. He called much later, closer to the actual 2012-13 season. Whatever, Carson figured. As the athletics director at Crossroad College, he was in no position to be picky.
"For us having just 100 students and maybe 40 on campus, we're a really small school," Carson told me. "We rely on these games. It is what it is -- a money game for us."
Arseneault was offering a guarantee of $1,400 for Crossroads to drive four hours from Rochester, Minn., to Grinnell, Iowa. Grinnell isn't a big school by any means, with an enrollment of about 1,700, but it's a Division III basketball powerhouse that can offer academic scholarships, which helps schools at that level lure athletes. Crossroads College? It's in the National Christian College Athletic Association, which is a step below NAIA, which is a step below Grinnell.
This was going to be a mismatch, but Crossroads has bills to pay and its athletes have clothes to wash.
"We don't have a washing machine," Carson told me.
How, um, do the players get clean clothes?
"They wash them in the dorms," he said.
That $1,400 check from Grinnell was going to come in handy, Carson figured when he agreed to the game, but he started to get a bad feeling a few weeks later when Grinnell made international headlines. One of its players -- the aforementioned Jack Taylor -- scored a national record 138 points against another NCCAA member, Faith Baptist Bible College.
All of a sudden, the timing of Arseneault's call made sense.
"If I'd known that's the way they played," Carson said, "I'm not sure I'd have said yes."
•••
Grinnell didn't always play exactly like this, but then, its coach didn't always have a book to sell.
Make no mistake, Grinnell has always played hard and fast and furious. It has run up and down the court and pressed and scored more than almost any team in the country. Arseneault got there in 1989, and since then his team has led the country in scoring 17 times. There is nobility in playing that hard, that unconventionally, that well.
But nobility has its limits. Grinnell hasn't always played like this, playing as if its coach has a book to sell. Which he does. According to Grinnell archives, an Arseneault player first erupted for a headline-grabbing day in 1998 when Jeff Clement scored 77 points. Arseneault had been at Grinnell since 1989, so why did this happen in 1998? Possibly because that was the season he released a book on "The System," his high-scoring offense. A game like Jeff Clement's 77-point outburst gets attention. If Clement's coach has a fresh book to sell, well, that could be a coincidence.
I asked assistant coach David N. Arseneault on Monday why he plays the way he plays, setting up certain games to let one player score so much, and he didn't mention the book.
"We're trying to win the conference. We're trying to lead the country in scoring," he said. "I honestly believe our best hope of winning a conference title is our best player playing at a high level."
Grinnell continued to win after Clement's 77-point game and "The System" continued to score points at country-leading levels, but it wasn't until 13 years later when another of Arseneault's players had another of those crazy games. Arseneault scheduled a school called Principia -- a school of 526 students that bills itself as an educational institution for Christian Scientists -- and unleashed Griffin Lentsch for an NCAA Division III record 89 points. Around the same time, Arseneault was coming up with another book idea, one that was going to require contributions from coaches around the country. Was he generating more attention for his book by unleashing Lentsch on a bunch of Christian Scientists? David N. Arseneault says no, telling me "that's just the way we play."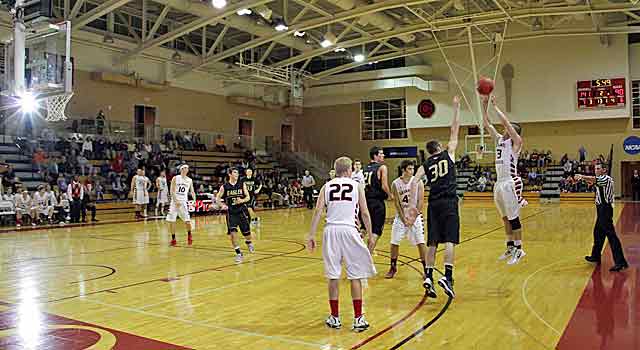 Last season Arseneault unleashed Taylor on Faith Baptist Bible College for 138 points, generating immeasurable attention. His second book was released in August of this year, and three months later he unleashed Taylor for 71 points against Finlandia. That was Friday night. Taylor's outburst generated very little buzz.
Two days later, the school without a washing machine came to town.
•••
Crossroads was in trouble before it started. A rash of injuries reduced the team to nine available players, dangerous for any game but untenable against a team that runs up and down the court for 40 minutes and has the manpower to do it. Grinnell has used 19 players this season, with 13 averaging double-figures in minutes.
"I talked to their coach beforehand," the younger Arseneault said. "He said they had a little bit of a limited roster."
Grinnell pressed from the opening tap, and Arseneault stationed Taylor atop the press to defend the inbounds play and double-team the recipient of the entry pass. Once the ball passed the free throw line Taylor stopped defending, crossing the midcourt stripe only once during a 11-minute stretch on Sunday -- and as soon as he realized where he was, he stopped. At that moment Crossroads had a two-on-one fast break; Taylor was the one. When he stopped, it was two on none.
Most times when Crossroads was able to get past midcourt, it was a layup. Crossroads senior Andy Carson -- younger brother of the athletics director -- scored 50 points on 25-of-27 shooting. Some of those shots were contested, but others looked like something out of pregame warm-ups.
On offense Taylor kept shooting until he scored or Crossroads got the defensive rebound. Taylor scored 49 consecutive Grinnell points in one stretch -- I watched video of the game Monday -- taking three shots on several possessions, including one where teammate Cody Olson grabbed an offensive rebound of Taylor's miss and saw nobody between himself and the rim, eight feet away. Olson looked like he might have no choice but to shoot until he saw Taylor cut to the basket. Crisis averted, Olson passed to Taylor for the layup.
This is a circus and Arseneault is the ringmaster, making it as easy as possible for Taylor to score by subbing out help in waves. While Crossroads had only four players on its bench, Arseneault had 14 reserves at his disposal and was sending in four players at a time -- Taylor stayed in -- every 60 seconds or so. With Taylor playing only one-third of the court, this was one fresh team from Division III against one exhausted team from the Christian subdivision.
In that second-half spurt, Taylor outscored Crossroads 49-32 all by himself.
"It was hard for us to guard him," A.J. Carson said. "They called ticky-tack fouls on him [Taylor went to the line 17 times], and we were shorthanded as it was. Last thing we'd want to do is finish the game with four players, knowing full well they'd probably press us with four."
David N. Arseneault said scheduling Crossroads was necessary because "Division III teams won't play us. We'll make hundreds of calls to fill a five-game non-conference schedule. A couple of years ago we played just four games because we couldn't fill it."
I asked him if that tells him anything about the way he conducts his business.
"I don't look at it like that," he said.
Arseneault sees what he sees and does what he does, dipping down into the NCCAA or Christian Scientist ranks for games -- and when he has a severely outclassed foe, he unleashes Jack Taylor for maximum search engine optimization. Taylor scored 138 on Faith Baptist Bible College last season, and Sunday he faced a Crossroads team that is 0-10 and allowing 107 points per game. He faced a Crossroads team that is several rungs below Grinnell and had only nine available players, one of whom played on a home-school team in high school. And he shot it 70 times to score his 109 Google-friendly points in a 173-123 rout.
You'd like to think Jack Taylor is embarrassed about what Arseneault keeps asking him to do, but who knows? As for Arseneault, I can tell you this: He feels no shame at all. Word for word, I asked him this on Monday:
At what point do you feel embarrassed about what you're doing to overmatched teams?
"At what point do I ..." David N. Arseneault's voice trailed off. "I'm not sure I understand your question."
Clearly.
What to know to catch a top-10 water polo matchup on Saturday

Everything you need to know to tune in for this week's critical Big East showdown

Everything you need to know to tune into this weekend's action
Justin Gallegos has a goal to finish a half marathon in under two hours, and Nike wants to...

Jody Demling cashed his trifecta and superfecta at the Pennsylvania Derby

Everything you need to know ahead of this weekend's run in the Windy City