Triple H discusses the future and fast success of NXT, WWE's minor league
NXT has transitioned from WWE training ground to must-watch programming, and WWE legend Triple H has been pulling the strings the whole time.
NXT has evolved from just another developmental territory into a full-blown professional wrestling brand over the course of a couple years. Its fans are loyal, vocal and growing in number -- internationally.
While it's still the place for WWE's raw talent to sharpen their skills before getting called up to the main roster, NXT has grown into so much more. It's a place to watch the often fascinating week-to-week progress of a wrestler slowly crafting his or her style and character through trial and error in front of a live audience. It's a show starring a full cast of wrestlers hungry to earn main-roster spots, performing not just to satisfy the audience but to get noticed.
Two nights before WWE WrestleMania 32 touches down at AT&T Stadium in Arlington, Texas, the NXT crew will put on its own big show, "NXT TakeOver: Dallas," exclusively on the WWE Network. It all goes down April 1 at the Kay Bailey Hutchison Convention Center in Dallas, a building that holds roughly 10,000 spectators and works for a particular subset of fans. While not nearly as publicized as other events in a weekend bursting with big-ticket wrestling shows, NXT TakeOver just might be the highlight.
Many talented people help guide the ship at NXT, but the guy in charge of the operation is also the reigning WWE world heavyweight champion, Paul "Triple H" Levesque. Outside the ring, Levesque serves as WWE's executive vice president of talent, live events and creative. As for NXT? That's his baby.
"In some way, I feel like a dad with that thing," Levesque told CBS Sports. "Seeing talent come in and knock it out of the park and get that opportunity on that platform with that crowd base, to just do what they do at that level, is just awesome."
Aside from true rookies, WWE has made a habit of hiring outstanding veteran talents -- from the independent circuit, less-popular domestic promotions and overseas organizations -- and giving them a stint in NXT first, even if they've already headlined pay-per-views or been involved with match-of-the-year candidate showdowns outside of WWE. From the first-year rookies to the 15-year veterans, Levesque said all NXT wrestlers share a common goal.
"If you get into this industry and your dream is not to make it to WrestleMania and to main event WrestleMania in some way, I'm not sure why you're in the business," Levesque said. "Is that realistic for everybody? Not really. But that's the goal of everybody in the industry, I believe, and it should be."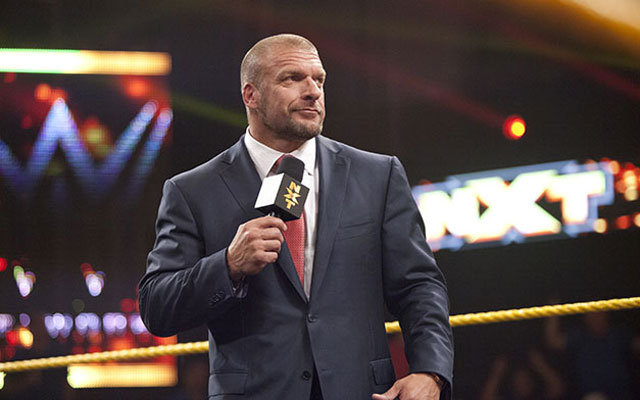 So far, that shared inspiration and the NXT platform -- along with a sprawling, state-of-the-art WWE Performance Center opened in Orlando in 2013 -- has paid off. Levesque pointed out that several top WWE superstars perfected their games in NXT first.
"This is a phenomenal brand unto its own," he said. "Some of the talent will absolutely, 100 percent make it to the main roster, will make it to the main event of WrestleMania at some point in time. You see that this year at WrestleMania. When you start to look at Roman Reigns, Dean Ambrose, Bray Wyatt, Charlotte, Sasha [Banks], Becky Lynch, all of these talent that have come through that system and more. I'm just sort of scratching the surface."
One of the tricky parts of cultivating talent in NXT is that the level of experience from one wrestler to the next can vary significantly. Some performers are so green that they still need to learn the basics, like how to take a proper bump or run the ropes. Others, like NXT champion Finn Balor and Samoa Joe, already have about 15 years of experience and have headlined shows worldwide.
Levesque said performers are separated into groups based on experience level at the Performance Center, but even so, there are benefits to that kind of experience gap among talent.
"To have that mix of experienced guys and inexperienced guys has always been one of the things that has worked best in this business," Levesque said. "When I started in the business and I came to WWE, one of the things I was most fortunate to have was there were all these amazing veterans in the locker room, you know. Bret Hart, the Undertaker, Razor Ramon and Shawn Michaels. Just all these guys that I worked with on a daily basis and was able to learn from and hone my craft from. It's the same in this."
But it's not just the rookies that have something to gain from their NXT stints.
"I guarantee all of them walking in the door -- and that's from Kevin Owens, who had 15, 16 years of experience, to Sami Zayn to Finn Balor to even [Samoa] Joe -- I guarantee you they learn something walking in the door," Levesque said. "Because WWE, it's a different level of television production than anybody else in the industry."
Ah yes, WWE television. The theatrics, the lights, the dramatic ring entrances and backstage interviews are all interlocked parts of any WWE wrestling program. A talent needs a skill set beyond simply knowing how to wrestle a five-star match.
"We're making television and movies," Levesque said. "And these guys, there's a lot about camera angles that you gotta learn and where they are. If the camera doesn't see you do it, it didn't happen. There's a lot more to it than just how to take a tackle or how to protect yourself in the ring or how to hit the ropes. There's a lot more to it than that."
Levesque recalled a specific example where Balor -- a highly regarded wrestler with well over a decade of experience before entering NXT -- felt a bit overwhelmed by the magnitude of it all.
"[Balor] had a lot of experience overseas in Japan," he explained, "but he wrestled in Japan. He really didn't do a lot of talking. One of the biggest shocks, I believe, in the system to him was television production.
"I remember having a conversation with him shortly after he started. We were gonna debut him on TV, and I was working with him on his entrance. We got done and he was outside. I saw him standing off to the side, and he looked like he'd been shot out of a cannon, you know? He was just frazzled. I went up to him and I said, 'You alright?' He's like, 'Yeah, yeah.' I said, 'What's going on?' He goes, 'Man, it's just a lot to absorb. I've never thought about any of this stuff because I never had to. [In] Japan, we just went to the ring and wrestled and they just pointed cameras at us. I never thought anything more about it beyond that.'"
Finn Balor remains a world-class wrestler, and now he's equipped with one of the best characters and ring entrances in the business. He's a big reason for NXT's success as its own brand. At NXT TakeOver: Dallas, he defends the NXT title against Samoa Joe, a gritty performer whose pre-NXT years included numerous outstanding matches in multiple promotions.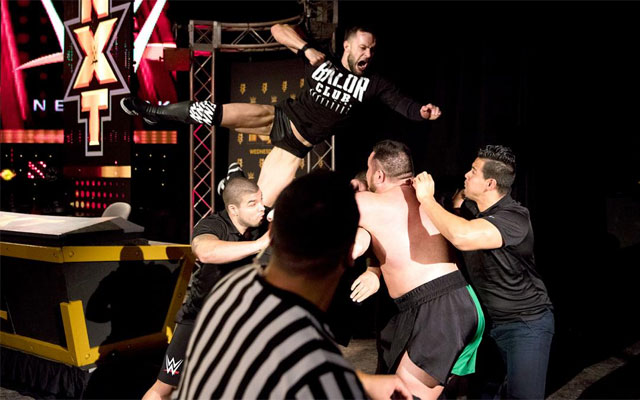 Showcasing matches like Balor vs. Joe in NXT has helped the brand by growing its fan base, creating a way for WWE to capitalize on the developmental brand beyond the obvious benefit of preparing wrestlers for the WWE stage.
"NXT allows us to, for lack of a better term, super-serve our most hardcore and passionate WWE fans," Levesque said. "I kind of felt like there was always room for that to happen. There's just that alternative and the opportunity to grow in a different direction. I think NXT has just kind of hit that niche in a perfect way."
It's easy to see that fans have bought in. Years ago, a recent call-up to the main roster might be completely unknown to the WWE audience. But in the past year, when top NXT stars like Kevin Owens or Sami Zayn have debuted on WWE programs, they get a positive reaction from the crowd on their first night. Those who follow Japanese wrestling or other U.S. promotions now get excited to see their favorites sign with NXT, just for the possible great matches it might yield.
NXT TakeOver: Dallas will mark the debut of longtime New Japan Pro Wrestling star Shinsuke Nakamura, "The King of Strong Style," who will take on Zayn in one of the most anticipated matches on any show during WrestleMania weekend.
Levesque is excited to see if Nakamura vs. Zayn can set the bar for the weekend.
"I think the whole world wants to see that match," he said. "I know I want to see it. I can't wait. Nakamura's an incredible performer. Sami Zayn, one of the best. It's gonna be amazing.
"I want those guys to strive to push the card at WrestleMania to want to perform better. I also am a part of the card of WrestleMania that is gonna be watching [NXT TakeOver] Dallas going 'Oh man,' and has to perform better. So it's great. It pushes everybody on every level. But that's one of the matches I think everybody will be watching to see just how hard they're gonna have to push."
Nakamura is a superb and uniquely charismatic wrestler. It's truly difficult to do him justice; he needs to be seen. He's that unique. Levesque says once he gets a feel for Nakamura's comfort level on the production side, he should be off and running in no time.
"[Nakamura is] one of the most talented guys in-ring in the business," Levesque said. "I'm anxious to get my hands on him in some way at the Performance Center, just from a learning television production [perspective]. I'm unsure, a little bit, of how much of that he knows and doesn't know, and it's gonna be an exciting thing."
Also on the NXT TakeOver: Dallas card is NXT women's champion Bayley defending against Asuka in a match that could find both of its participants at a crossroads.
Bayley had a breakout 2015. The ultimate babyface, the character she portrays is infectiously happy, freely gives out hugs and is nearly impossible to root against. In the ring, she's one of a group of NXT women credited with changing the way fans looked at women's wrestling due to the consistent quality of her matches.
Along with Charlotte, Becky Lynch and Sasha Banks, Bayley was part of a group unofficially dubbed the "Four Horsewomen," in a nod to Charlotte's father, Ric Flair's famous stable. Bayley is the only wrestler of the four that hasn't been called up yet.
Levesque says the philosophy behind who gets the call-up to the main roster -- and who doesn't -- is about more than just skill and experience.
"A lot of the talent, you can see they're ready [for the main roster]," he said. "They're ready to go, and they're as good as what you see on Raw or Smackdown or what you'll see at WrestleMania. It's a matter of timing and positioning. What does the WWE need and when?"
That means an excellent sports entertainer might still have to spend a little more time in NXT while WWE evaluates which performers fit best with their current plans.
"It really depends on the need of WWE," Levesque said. "If we're in a situation and we need a certain type of guy, or we see that there's a lack of a certain type of performer that we want, or somebody that we think, 'Wow, this person fits in perfectly with this story,' then the call-up is there."
Bayley's opponent, Asuka, has established herself as the bully of the NXT women's division. One moment she's smiling and everything is cool. The next, she's destroying some poor opponent with strikes too fast to counter.
"I think that's the split on [Asuka]," Levesque said. "She has this amazing ability to go from like mild-mannered woman to just ass-kicking machine on command. It's phenomenal. I just like her style. I think she brings something, you know."
Asuka's quiet-yet-violent persona concerned Levesque at first. "I was a little concerned because she seemed very, very tentative," he said. "She's very demure when you talk to her. She's very quiet and soft-spoken. Culturally, that is the way she is. So before the very first time I got to see her work [in NXT], I went to her and I said, 'Look' -- there was a translator there but she understood most of what I was saying -- I said, 'Look, I brought you here for a reason and it's not to hold back. Do what you do and everything will be great. Just don't hold back. Let loose and do what you do.'
"She went out there and she just went nuts."
Levesque couldn't believe what he had seen from Asuka, but he couldn't have been happier about it. "It was just this intensity and I was like, 'Oh my God,'" he said. "Then she came back right after and went right back from like this in-ring demon to walking back and being like (in a soft voice), 'Uh, was that OK?' You know, like very tentative and timid again. I was like, 'Yeah, no, that was more than OK. That was great.'"
Over time, Levesque thinks Asuka will be a big influence on the entire women's roster.
"It's kind of a game-changer, and I think you're gonna see a lot of girls shifting how they perform stylistically in the ring due to her being here," he said.
The matches rounding out the card for NXT TakeOver: Dallas include the in-ring NXT broadcast debut of Austin Aries, another popular veteran that finally made the WWE leap, taking on Baron Corbin. The Revival (Scott Dawson and Dash Wilder) defend the NXT tag team titles against American Alpha (Chad Gable and Jason Jordan). Apollo Crews vs. Elias Samson completes the lineup.
"I think that Friday in Dallas, as NXT has moved forward, every event we have done has seemed like another step forward in the evolution of this brand becoming more and more of a global sensation," Levesque said. "I think this one is gonna be not only a step in that direction, but a giant leap forward."
Beyond Dallas, Levesque said the plan is to keep pushing the NXT brand to new and exciting places. The closer NXT can approximate the whirlwind lifestyle of the main WWE tour, the better experience it will be for NXT's performers.
"[In 2015] we did shows in Japan," Levesque said. "We did a tour of the U.K. We did music festivals. We're gonna do more of them. We're gonna tour the U.K. again. We're in talks for all kinds of different things, Australia and different places.
"It's just continuing to grow the brand to where it doesn't evolve beyond itself. I don't want it to grow too fast that we can't stay with it. But at the same point in time, continue to have it grow, continue to tour it. I want the talent at NXT to be working just like they would if they were a WWE talent on Raw or Smackdown or anything else, and to have that experience. That's what this is really about at the end of the day, that experience, to ply their craft."
Along the way, some NXT talent are sure to get the call to join the main roster. Some will not. Either way, Levesque hopes the performers keep everything in perspective.
"For a talent that might not make it beyond [NXT], wow," he said. "It's a hell of a brand and you're making a hell of a living and are a global name now, having worked in NXT. That's a pretty special thing."
NXT TakeOver: Dallas airs live on Friday, April 1 on the WWE Network beginning with a pre-show at 9:30 p.m. ET followed by the main card at 10 p.m. ET. As with WrestleMania 32 on Sunday, April 3, NXT TakeOver: Dallas is free for new network subscribers.
SportsLine's Mike McClure, a DFS pro with almost $2 million in winnings, gives optimal lineup...

John Degenkolb takes the first Tour de France stage of his career during Sunday's action

SportsLine's Jody Demling has correctly predicted nine of the past 14 Preakness winners
SportsLine's Jody Demling has correctly predicted nine of the past 14 Preakness winners

Dan Cypra just locked in picks for the 2018 World Series of Poker Main Event final nine

SportsLine's Mike McClure, a DFS pro with almost $2 million in winnings, gives optimal lineup...