D-Backs, Dee, Blackmon and Brew Crew lead April MLB surprises
Arizona is the biggest surprise of of the month as it has played its way out already, to the point where Kirk Gibson is the first manager on the hot seat.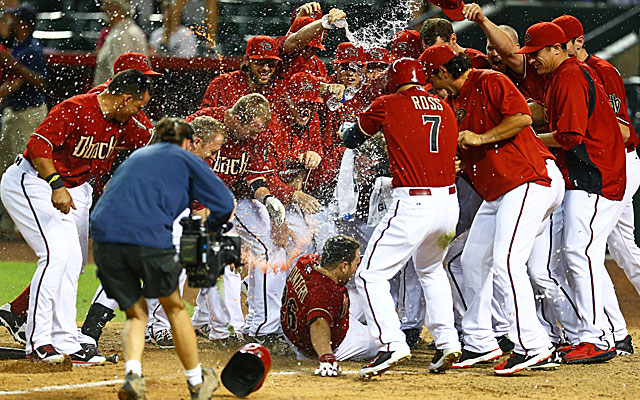 More MLB: Power Rankings | MLB Top 10s | Latest news & notes | Fantasy news
The Diamondbacks were displeased to finish exactly .500 (81-81) each of the last two seasons, so displeased in fact that over the winter they made significant changes in playing personnel and the coaching staff in hope of avoiding a third straight season of mediocrity.
Well, if April is any indication, the Diamondbacks will easily avoid that fate of being average. The D-Backs, with new big imports and a retooled coaching staff, are the worst team in baseball at least by record as we hit May. They are also easily the biggest surprise of April.
Their belief in themselves as a potential contender has to be a shot after a month in which their starters posted an unthinkable 6.29 ERA, leading to an MLB worst 9-22 record. At the moment, well, they seem a bit shellshocked.
Nobody expected the Diamondbacks to be close to the worst team in baseball (most folks figured it would be the Astros again, who are more realistically playing for 2016), but least of all the D-Backs themselves.
Arizona figured in spring that the presence of winter imports Mark Trumbo and Bronson Arroyo, a healthy Aaron Hill, two major-league-calibre shortstops and enough starting pitching to the point where Trevor Cahill and/or Brandon McCarthy could become trade bait (that won't happen now, as Cahill is in the pen and McCarthy is tied with another D-Backs pitcher Wade Miley for allowing the most runs in MLB) should make them a contender.
So far, though, they are the furthest thing from a contender; for now, they are just trying to avoid annihilation.
The D-Backs have tried a few things to get them out of their unexpected funk, but the ultimate decision as to whether to keep manager Kirk Gibson will at least be on the table if this keeps up much longer. Gibson, the sometimes irascible throwback, is quite obviously under the gun with the team off to an unthinkable start.
Club president Derrick Hall said in this space a few weeks ago he had seen improvement in Gibson's communication (there were definite issues in that area last year), but some other people inside the clubhouse are still questioning that aspect of the manager's leadership, at least in private. Gibson, the Tigers and Dodgers hero, is an intimidating presence, and that could work either way.
After a seeming early silence from the clubhouse, team leaders Miguel Montero and Eric Chavez publicly seemed to back Gibson, at least to the extent of saying this start is on the players. So that was good for the manager, even if it came a little later than expected.
Gibson and GM Kevin Towers are said by club insiders to have become very close, which potentially may buy a bit of time for Gibson, who like Towers was given an extension just before spring training of undisclosed length. Those extensions were done at least partly to foster the impressions Gibson and Towers are in full power, but at this point it's becoming apparent Gibson may still need some kind of a turnaround.
(While Towers is taking some heat locally for some moves that haven't worked so far, including the Arroyo signing, he's likely safer due to a longer GM track record; plus, a close relationship with higher-ups can't hurt, either.)
Regardless, this start is not to be believed.
Sure, the late-spring injuries to their ace Patrick Corbin and main set-up man David Hernandez, who both became part of the elbow epidemic and required season-ending Tommy John surgery, hurt them badly. But other teams have had similarly bad luck and no one could have foreseen this. Pitchers with career ERAs in the four range are well above 5, or even 7 in a couple cases, and their team starting pitcher ERA is 6.29, easily the worst in the NL.
Nothing has really gone especially right, though, as no one besides their great first baseman Paul Goldschmidt has been especially good. They've struggled right from their opener in Australia until the end, though Montero's game-ending, 10th-inning home run to beat the rival Rockies 5-4, which he understandably punctuated with a slide into home, did finish out the awful month in style.
No surprise, the D-Backs head our list of April (and March) surprises. Here's the full list of 30.
1. Diamondbacks: (See above.)
2. Charlie Blackmon, Rockies OF: He's one of six players with a 1.000-plus OPS, with the others being teammate Troy Tulowitzki, Jose Bautista, Justin Upton, Adrian Gonzalez and Mike Trout. Rockies people had a decent feeling about him, which is one of the reasons they felt comfortable trading Dexter Fowler.  But it still would be hard to predict a .374 batting average, a .616 slugging percentage or even the seven stolen bases in nine attempts.
3. Dee Gordon, Dodgers 2B: Gordon won the second-base job in spring training over the expensive Alex Guerrero plus Chone Figgins and others, but no one could have predicted the early .344 batting average, plus an early homer. He's 13 for 14 in steals and could be a fixture for years.
4. Brewers: At 20-8, the Brew Crew is building a decent-sized lead in a division where 60 percent of the teams made the playoffs last year, none of them being Milwaukee. The Brewers always have had a nice lineup, but the pitching seems to have caught up. Carlos Gomez continues to develop into a superstar (albeit one who gets under the opponent's skin), Ryan Braun is hitting like he did before his steroid days and thumb pain, Jonathan Lucroy continues to be one of the more under-rated players in the game (and Kyle Lohse one of the most under-rated pitchers), Yovani Gallardo is back to being an ace and Francisco Rodriguez has turned the clock back to 2002.
5. Jose Abreu, White Sox1B: The White Sox and at least three others (the Rockies, Red Sox and Astros also reported bid at least $60 million) had an inkling this fellow could be special. But after a mundane spring training, in which he showed some strength with opposite-field hits but nothing like this kind of power, the rookie records of 10 home runs and 32 RBI for April do qualify as a surprise.
6. Mets: GM Sandy Alderson's private 90-win hope looks like it might be a tad short based on the team's 15-11 April record. Who knew? We thought the Mets were playing for 2015 when Matt Harvey would be back, and Noah Syndergaard, Jacob deGrom, Rafael Montero presumably ready). Even without them, the Mets have a very presentable rotation (3.39 ERA, 10th best in baseball). The pen remains a work in progress, though veteran Kyle Farnsworth has upped his velocity from 90 to 95 since spring and taken over the closer role. Also, the team that had no outfielders will now henceforth be using a rotation of four decent one, so that situation is much better. While it would seem to be hard to keep up their 15-11 pace with a 29th-best .618 OPS, stranger things have happened.
7. K-Rod, Brewers RP: He has reinvented himself with an improved changeup and uncanny control. Through 16 immaculate innings, he has allowed no runs, seven hits and four walks, and has 23 strikeouts. He is 13 for 13 in saves, has a 0.68 WHIP and at 32 appears to be headed for an alltime great closing year.
8.Brian Dozier, Twins 2B: He has seven homers and a league-leading 25 runs going into Thursday despite a .216 average. The walk total (19) and fielding ability is also winning him admirers as the Twins' whole offense shocked folks.
9. Alexei Ramirez, White Sox SS: Like the rest of the revamped White Sox, he's outperforming expectations, batting .351 with four homers and 19 RBI. Dayan Viciedo (.348), Adam Dunn (.269) and Abreu also have been especially good.
10.Chris Colabello, Twins 1B/OF: The product of Team Rimini (Italy) and independent baseball has 27 RBI to place him among league leaders. It's a very nice early story for the player who was really first discovered as a fixture for Mike Piazza's Team Italy in the 2013 WBC. That 0.1 WAR doesn't do his start justice.
11. Melky Cabrera, Blue Jays OF: He's back to pre-roid numbers, hitting .342 with a .567 slugging percentage and .935 OPS. The four walks and 20 strikeouts aren't too good, but the performance is stellar enough that folks will naturally wonder whether it's all natural.
12. Bronson Arroyo, Diamondbacks SP: One of the most consistent pitchers in MLB over a decade has a 7.77 ERA.
13. Ian Desmond, Nationals SS: The multitalented Desmond has a stunning 36 strikeouts, and an even more stunning eight errors. I doubt he'll regret turning down the $90-million contract offer by Washington this winter, but it might be a question, at this moment anyway.
14. Jesse Chavez, A's SP: Oakland finds a way. They lost fine young starters Jarrod Parker and A.J. Griffin to Tommy John surgery, and Chavez has seemingly come out of nowhere to fill in the gap. The A's do a truly amazing job, and Chavez (2-0, 0.95 WHIP, 41 strikeouts) is yet another example.
15. Giancarlo Stanton, Marlins OF: The eight home runs and 31 RBI are very nice, but the real surprise is that opposing teams have only walked him 12 times. That might only make sense if he's surrounded by stars. As it is the Marlins' offense is a respectable and shocking tied-for-sixth in runs scored with 126.
16.Curtis Granderson, Mets OF: When he signed his $60-million, four-year deal no one could have foreseen a .136 average in his first month. Somehow he does have a 0.1 WAR. Is this better than replacement play?
17. Josmil Pinto, Twins C: Like a lot of the Twins offense, he is walking (17) and homering (five) a fair amount, making them one of the nice early stories. Despite an atrocious and AL-worst 6.08 starters' ERA, Minnesota is a solid 12-12, thanks to the lineup.
18.Jeff Samardzija, Cubs SP: It's not easy to have a 1.98 ERA into May and yet to earn a win. And apparently it's pretty historic. Samardzija is 0-3, a reminder of how unlikely it is he will remain long-term with the Cubs.
19. Jose Bautusta, Jays OF: MLB's leader for following folks on twitters (it might be hard to keep up with 200K tweeters, but somehow @JoeyBats19 tries) is also the leader in walks. The surprise isn't that Bautista is walking a lot -- he's always done that -- it's that he has six more walks than that other Joey, Votto, the champion of all walkers.
20. Jason Hammel, Cubs SP: The $6-million, one-year deal should give the Cubs a nice chance to enhance their farm system with a midseason trade, and Hammel is cooperating well beyond any hope. He is 4-1 with a 2.08 ERA, and his 0.69 WHIP is the best in baseball.
21. Tanner Roark, Nationals SP: Who would have thought that Roark, a virtual unknown and late bloomer from the University of Illinois, would be the best starter so far in the Nats' vaunted rotation. With a fastball in the 93-94 range and four-pitch repertoire, he is 2-0 with a 2.76 ERA and deserves to keep a spot once Doug Fister makes his Nats debut.
22. David Price, Rays SP: He has a pretty typical 3-2 with a reasonable 1.18 WHIP and 47 strikeouts (vs. five walks). But the perennial WAR leader is somehow at minus-0.1 thanks to a 4.75 ERA. With the Rays' rotation beset by injuries, potentially Price looks like the biggest trade bait this July.
23. Pirates SPs Francisco Liriano, Charlie Morton and Wandy Rodriguez have yet to win a game: The Pirates have done extremely well with pitching but the three rotation mainstays are a combined 0-8, accounting for their disappointing start.
24.Albert Pujols, Angels 1B: At 34, folks figured he was on the downside. If April is any indicator, not so fast. If not for Abreu, his nine home runs would lead the league. Looks like the old Albert, at least at bat, as the Angels lead the A.L. in runs, which is what folks have been waiting a couple years for.
25. Ubaldo Jimenez, Orioles SP: The late signee is 0-4 with a 6.59 ERA. He runs hot and cold, so one bad month may not be such a shocker. But the O's expect much better.
26. Max Scherzer, Tigers SP: He broke through with an amazing Cy Young season in 2013, and he's actually performing even better so far this year. While his win percentage is only a mere .750 so far (last year, he has seven wins for every loss, this year three), he has a league-leading 51 strikeouts to go with a 2.08 ERA and 3-1 record. Seems ready to obliterate the Tigers' $144-million offer as a free agent.
27. Prince Fielder, Rangers 1B: Most were expecting a boost in the switch in ballparks from Detroit to Arlington, Texas. But Fielder is hitting an uncharacteristic .206 with a poor .644 OPS.
28. Pablo Sandoval, Giants 3B: The .295 career hitter coming in is at .177, which may reflect some distraction by his free agency. He seeks $100 million plus, as was noted here first, and he surely knows he has to get back to career norms to be in that stratosphere. With his talent, he should.
29. Chris Davis, Orioles 1B: The slugger had just two homers and a .382 slugging percentage before going down with an oblique injury. Good news: The Orioles don't expect him to miss more than a few weeks.
30. Billy Hamilton, Reds OF: He's undoubtedly the most exciting sub-.250 player in baseball (he's at .245). The real surprise is that he's somehow been thrown out five times in 16 steal attempts. Doesn't seem possible. 
Gallardo spent the first eight years of his career in Milwaukee

MLB revenues are at a record high right now, but teams aren't spending it on players

Chicago added Tyler Chatwood earlier this offseason but might not be done adding to the ro...
The Dodgers and Braves pulled off a whopper on Saturday

Sabathia will reportedly spend a 10th season in the Bronx

Fowler suffered a knee injury at Chicago's Guaranteed Rate Field