For the second straight year, I've decided to comb through the promotions (mostly giveaways) for each of the 30 Major League Baseball teams for the season. These aren't necessarily the best 30, but instead I'm using what I've decided is the best one from each team.
Quick aside: Every ballpark honors groups of people such as veterans, cancer survivors and children with autism in promotions. Those are the most respectable ventures, but for our purposes we're focusing on "fun" giveaways. And no, this isn't my way of marginalizing those groups, as I have a daughter with autism.
Also important to note: All of those items look real cool, so being ranked low isn't a knock on the marketing departments. And, yes, there are a lot of bobbleheads because 1) I love bobbleheads and this is very subjective and 2) the bobbleheads are generally the best items teams give away. Compare them to a shirt with a corporate logo on the sleeve or a towel to wave. That's an easy decision for me to take the bobble.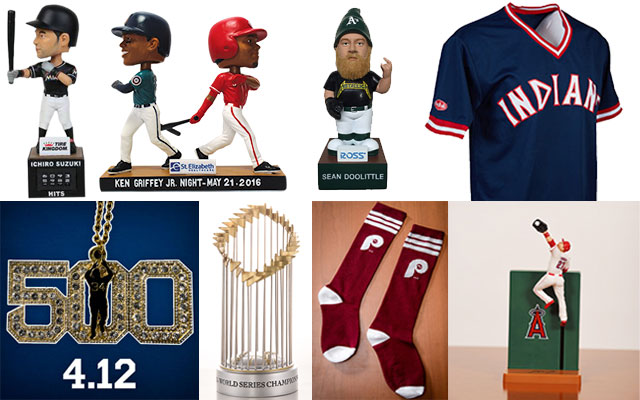 Onto the rankings! Make that the second annual CBS Sports promotional rankings:
[All pictures come from the individual MLB.com team websites' promotional calendars]
30. Padres, Padres logo earbuds
These are useful for most folks and look pretty nice. As noted, all of these items would be fun to snag, it's just that we had tons of good giveaways this season from which to choose. Get these in Petco Park on July 30.
29. Indians, 1976 road jersey
These are pretty cool. The giveaway is June 4.
28. Braves, Skip Caray and Pete Van Wieren "famous calls" bobblehead
For the sentimental Braves fans on April 23.
27. Orioles, Manny Machado garden gnome
It's the July 9 giveaway. Machado's one of baseball's best and most exciting players, but this is outclassed by the more creative items.
26. Diamondbacks, Paul Goldschmidt bobblehead
Same comment as the Orioles. Except the date here is July 2.
25. Tigers, Miguel Cabrera "Miggy Bank" piggybank
It's for kids 14 and under on August 7. There's no picture available yet, but I can't imagine it won't be fun.
24. Mariners, Taijuan "Sky" Walker bobblehead
It's actually part of a whole Star Wars weekend (Aug. 19-21), with Return of the Jedi airing after the game on the 20th. Generally speaking the Star Wars stuff has been done to death, but making Taijuan Walker a member of the Skywalker family is good enough for entry here.
23. Pirates, Raise the Jolly Roger bobblehead
Mascot bobbleheads are a good mix. This happens on May 21.
22. Phillies, Retro socks
Do socks sound like a cool giveaway? Probably not, but check these out:
Nice! It happens June 5.
21. Giants, Buster Hugs Mug
Are you a Giants fan who drinks coffee? I have to believe this is a must-have if that's the case. July 30 is the date to highlight on your calendar.
20. Angels, Mike Trout wall catch figurine
It's Trout, so you can't go wrong with this May 20 giveaway.
19. Astros, Mike Scott 1986 rainbow jersey
Those old Astros jerseys are either awesome or awful, depending upon who you ask. While wearing them, Scott won the 1986 Cy Young while helping lead the Astros to the NL West title. Here's a tiny picture of the giveaway for August 6.
t-17. Twins, 1991 World Championship stein
A stein is a huge beer glass and the July 27 promotion is sponsored by Budweiser. No picture is available, but this one is a can't miss, right?
t-17. Cardinals, 2006 World Championship stein
Maybe the Twins will be similar?
July 15 is the giveaway date in St. Louis.
16. Rockies, D.J. LeMahieu Ghostbusters bobblehead
An All-Star combined with a classic movie that has a reboot coming out this summer. That's a win-win, no? It happens in Coors Field on August 6.
15. Dodgers, 1981 Tri-MVP bobblehead
The Dodgers (along with the Reds, who we'll get to in a bit) are one of the best two in this department when taking the totality of the giveaways. They have a Hall of Fame pin series and some excellent bobbleheads. This selection, given away July 2, features Ron Cey, Steve Yeager and Pedro Guerrero.
14. Cubs, Ron Santo replica statue
The late, great Hall of Fame player and personality has his own statue at Wrigley Field, and now fans get their own replica on April 30.
13. Mets, 1986 weekend
From May 27-29, the Mets celebrate the 30-year anniversary of their last World Series championship team. This includes a replica jersey giveaway on Friday (27th) and a replica ring giveaway on Sunday.
12. Yankees, Mariano Rivera monument park plaque dedication day
This is the lone thing on the list that isn't a giveaway, but my hunch is Yankees fans would rather have the memory of being in the yard August 14 for this than getting some material item.
11. Red Sox, David Ortiz 500 HR necklace
OK, so obviously these aren't really expensive jewels or anything, but this is pretty sharp.
As noted in the picture, this giveaway is April 12.
10. Blue Jays, Josh Donaldson MVP bobblehead
April 24 is the date for this beauty:
9. Rays, Chris Archer K counter
It happens on April 30 and here it is:
He had 252 last season, so it should be busy.
8. White Sox, Chris Sale K counter bobblehead
Coming May 7 is the Sale version of the same thing. It's ranked higher because Sale had more strikeouts last season (274).
7. Marlins, Ichiro Suzuki hit counter bobblehead
The great Ichiro sits just 65 hits away from the hallowed 3,000 mark in the majors, so follow along with this:
Also, you could decide to lump in his 1,278 hits from Japan's NPB as well. Your choice. The giveaway is May 22.
Will these three "counter" bobbleheads start a big trend moving forward? I hope so. I think it's an awesome wrinkle.
6. Royals, World Series championship replica trophy
On April 23, fans can take home their own version of this:
5. Nationals, Max Scherzer bobblehead no-hitter bobblehead
This one seems like it has excellent potential, hence the lofty ranking without having seen the picture. That's because it's two different pieces, given away on separate days to commemorate Scherzer's two no-nos last season. The first piece is on May 23 with the second coming August 26.
4. Reds, Junior dual bobblehead
Overall, the Reds might have had the strongest promotional game. Just some excellent work throughout the season. These rankings are on individual items and this bobblehead of the newly-inducted Hall of Famer is outstanding.
The giveaway is May 21.
3. Rangers, Adrian Beltre removeable helmet bobblehead
Now this is how you set a bobblehead apart. Why a removeable helmet? Because Beltre has a thing about being touched on the head. Watch Elvis Andrus tempt fate a few times in this compilation:
So with your Beltre bobblehead, you can pretend to make him mad and get a death stare in return.
The giveaway is August 14.
2. Brewers, Bob Uecker talking alarm clock
The giveaway is July 10 and this is really self-explanatory, isn't it? The Ueck helped land the Brewers in second place last season, too, with his Harry Doyle ("Major League") talking bobblehead. Strong follow-up, Brewers marketers.
1. Athletics, Sean Doolittle Metallica gnome with sound
Did I mention these were subjective rankings? Metallica is my all-time favorite band, so this was an easy choice, especially once I saw the words "with sound." Check it out:
It happens on April 30. For those unaware at the connection ...
For Whom the Bell Tolls with the fans headbanging. That's what it's all about. And that gnome is the single best promotional giveaway in the majors this season, says me. And I'm right.