Stock Watch: Nationals getting most out of lineup with Span in center
The Nats stuck with Denard Span in CF and it's paying off. The Red Sox are riding with youngsters Xander Bogaerts and Jackie Bradley Jr. through their struggles.
More MLB: Power Rankings | Expert Picks | Latest news & notes | Fantasy news
Washington Nationals prodigy Bryce Harper is going to be a big star one day. But for now, he needs to leave the managing to Matt Williams.
Harper is a nice young man, by most accounts, and he didn't mean any harm, but sometimes he does seem the 21 years he is. And sometimes, even younger.
Upon his return from the DL at the end of Junes, Harper made the mistake of answering writers in Washington who asked him where he should be playing by suggesting a near-complete Nationals setup that omitted one starting veteran.
Harper moved himself from his usual spot in left field to center and filled out enough other spots that it became clear there wasn't one left for veteran Denard Span , the team's regular center fielder. Harper didn't specifically say he would bench Span in the lineup that had Harper himself in center, Ryan Zimmerman in left, Anthony Rendon at third and Danny Espinosa at second, but he didn't name a spot for him, either.
It's a tricky routine for actual Nationals manager Matt Williams with the talented team (especially before Zimmerman went out with a serious hamstring injury), but Harper needs to leave that chore to Williams, whose bigger issue lately has been answering the press. (Williams made his own trouble by goofing last week in suggesting on his radio show that he didn't think it would be crazy to think Harper could be demoted, then harshly chastising the written press for following up by asking that very same question; Williams did offer what seemed to be a sincere apology the next day.)
Anyway, on the more vital question, Williams scored big points by wisely sticking with Span, who had been so-so before Harper named his lineup and has been red hot since. The day Harper returned (and spoke) Span went 0 for 3 and walked, the second straight game he had reached base on his way to a 36-game streak, the second-longest such streak this season after Jose Bautista's 37-game streak. Span is 55 for 141 in the streak (.390).
Meanwhile, Harper is 26 for 118 (.220) since returning. Harper is still the second-youngest player in the National League (Cubs phenom Javier Baez is the youngest), and there's almost no way he won't become a big star. But he has a thing or two to learn, too.
Harper has turned out to be a very pleasant kid, as he isn't nearly as cocky as portrayed. But he has had an unreal life, where he has always been treated as special, and some people with the Nats have noticed a bit of an air of entitlement, meaning he doesn't quite know his place.
There's a pecking order inside a clubhouse, and a 21-year-old isn't at the top. And, in reality, no one who plays should be publicly suggesting lineups, anyway. It just isn't the right thing to do. Perhaps it's that unreal life that could lead a 21-year-old third-year player to think it's appropriate for him to name which players should playing, and which shouldn't.
And, in this case, he just looks like he didn't know what was best.
Here are all the Bulls and Bears of the Stock Watch.
1. Denard Span, OF, Nationals: He is 25 for 58 (.431) in his 14-game hitting streak and is back to the form of his first two years in the big leagues, helping the Nats forge a nice lead in an NL East that had been very tight until the past week.
2. Corey Kluber , SP, Cleveland Indians : Kluber should have made the All-Star Game. As if to prove it he has gone 4-0 with a 0.68 ERA and 0.65 WHIP since, striking out 45 batters and walking only four in 40 innings. Overall, he is 13-6 with a 2.46 ERA and his 187 strikeouts trail only David Price in the American League.
3. Caleb Joseph , C, Baltimore Orioles : Joseph, a 28-year-old rookie and recent revelation, became the first Orioles catcher ever to homer in five straight games last week. In fact, the only Orioles ever to homer in six straight are sluggers Reggie Jackson and Chris Davis. Joseph's OPS is up to .710 from .577 as he has secured the starting spot, with veteran Nick Hundley backing him up. Joseph, the less famous brother of Corban Joseph (coming into the season), was always seen as a very good hitter (he was Eastern League Player of the Year for Bowie in 2013), but the question was whether he could catch and throw. Turns out, he isn't bad there, either. Orioles pitchers who loved Matt Wieters, out with an elbow injury, aren't displeased at all with Joseph as the replacement.
Honorable Mention: Aramis Ramirez , 3B, Milwaukee Brewers ; Josh Harrison , UTIL, Pittsburgh Pirates ; Michael Brantley , OF, Indians; Chris Carter , 1B, Houston Astros ; Cole Hamels , SP, Philadelphia Phillies ; Tyler Clippard , RP, Nationals; Koji Uehara , RP, Boston Red Sox ; Vance Worley , SP, Pirates; Danny Duffy , SP, Kansas City Royals ; Joe Smith , RP, Los Angeles Angels ; Felix Hernandez , SP, Seattle Mariners ; Kyle Hendricks , SP, Chicago Cubs ; Doug Fister , SP, Nationals; Tyson Ross , SP, San Diego Padres ; Jon Lester , SP, Oakland Athletics ; Clayton Kershaw , SP, Los Angeles Dodgers ; Johnny Cueto , SP, Cincinnati Reds ; Francisco Liriano , SP, Pirates; Cody Allen , RP, Indians; Ryan Cook , SP, A's; Luke Gregerson , RP, A's; Logan Morrison , 1B, Mariners; Robinson Cano , 2B, Mariners; Jose Bautista , OF, Toronto Blue Jays ; Brayan Pena , 1B-C, Reds; Devin Mesoraco , C, Reds; Tommy Medica , 1B-OF, Padres; J.J. Hardy , SS, Orioles; David Peralta , OF, Arizona Diamondbacks ; Adam LaRoche , 1B, Nationals.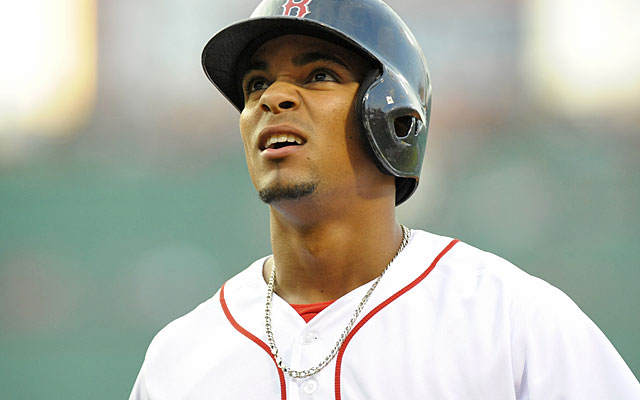 1. Xander Bogaerts , SS; Jackie Bradley , OF, Red Sox: Boston's grand experiment to go with three kids (with Will Middlebrooks) didn't work, as Middlebrooks got hurt and Bogaerts and Bradley struggled offensively. Bogaerts is 3 for 35 (.086) since Aug. 1, falling further into an offensive abyss. And Bradley, who has played Gold Glove-caliber defense with one highlight after another, is zero for his past 35 following a "golden sombrero" (four strikeouts in a game) that left him with 18 strikeouts in those 35 at-bats. While they are candidates to start for Boston next year, there aren't guarantees to do so thanks to their offensive struggles.
2. Mark Buehrle , SP, Blue Jays: Since starting 10-1 with a 2.10 ERA in 12 starts, Buehrle is 1-7 with a 7.04 ERA. Buehrle has been one of the most consistent starters over his terrific career, and his numbers this year are in line with his usual performance, it has just been quite a split season.
3. A.J. Burnett , SP, Phillies: There were rumors of talks with the Royals and others before the trade deadline, but those teams should be thankful not to have pulled the trigger on a deal. He is 0-4 since the break with a 6.66 ERA (and .327 batting average against), though he does still celebrate with a mean pie throw when others do well.
Dishonorable Mention: Josh Hamilton , OF, Angels; Chris Davis , 1B, Orioles; Alex Rios , OF, Texas Rangers ; Adam Dunn , DH, Chicago White Sox ; John Danks , SP, White Sox; C.J. Wilson , SP, Angels; Mike Minor , SP, Atlanta Braves ; Clay Buchholz , SP, Red Sox; Marcell Ozuna , OF, Miami Marlins ; J.D. Martinez , OF, Detroit Tigers ; Nick Castellanos , 3B, Tigers; Melvin Upton , OF, Braves; Brandon Moss , 1B, A's; Charlie Blackmon , OF, Colorado Rockies ; Bryce Harper, OF, Nationals.
Washington's right fielders have sputtered offensively since Harper went down

The good news? Wichita still has a chance to win the series Tuesday night

Soon more home runs will have been hit in 2017 than in any other season in MLB history
Ferrell somehow avoided going to the ground

Plus, we saw a possible AL Wild Card Game preview in the Bronx and lots more from around M...

The Pirates disappointed in 2017. Will 2018 be any different?