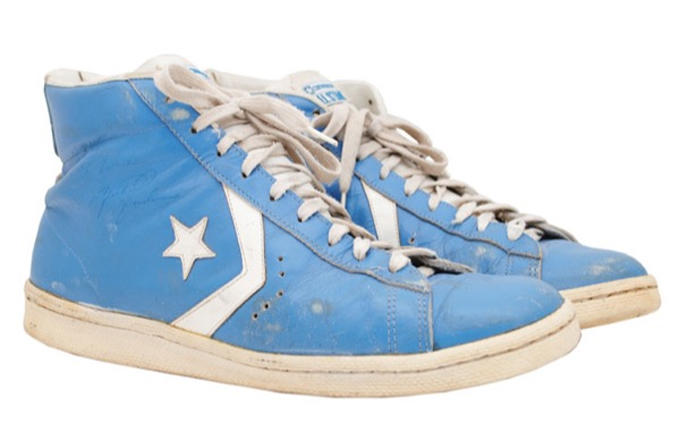 Complex Magazine shares the details of an amazing auction for a pair of shoes. Someone bought a pair of Michael-Jordan-worn Converse kicks from when he was at North Carolina for $33,387. I don't know about you, but that sounds like a mark-up to me. 
Grey Flannel auctions, known for game-worn and autographed memorabilia, put up a pair of autographed Pro Leathers that were worn by Jordan during his freshman year. If you're up on your basketball history, he wore the white pair of the Pro Leather model during the 1982 NCAA Championship game when he hit the game-winner against Georgetown.

According to Grey Flannel Auctions, Jordan himself gifted the sneakers directly to the consignor.
via Someone Spent Over 33K for a Pair of Sneakers that Michael Jordan Wore in College | Complex.
From Grey Flannel Auctions: 
The legend of Michael Jordan jump started as a Freshman at the University of North Carolina. With the 1982 NCAA Championship on the line, Jordan hit a mid-range jumper with 15 seconds remaining to secure the national championship for the Tar Heels. The clutch jumper was a preview into the career of what would be the best basketball player ever to step on the hardwood. On the tongue of each sneaker is a "CONVERSE ALL STAR" manufacturer's tag. The baby blue sneakers have a white Converse logo on each side of the sneaker. On the back of each sneaker reads, "CONVERSE" in white with the logo above. Jordan signed the right-footed sneaker in pen with the added inscription, "Best Wishes", and in our opinion rates a 5 overall as the signature is faded. Original lacing included. The sneakers show great signs of use with creasing throughout and signs of wear towards the front of the sneakers and near the ankle area. These sneakers are properly tagged, were presented to us as game-used during Jordan's freshman year at UNC and in our opinion show excellent use. Our consignor was a high school teammate of Jordan and visited Jordan during his freshman year at UNC. There is a newspaper article documenting the event. These sneakers were personally signed and gifted to our consignor from Jordan after a postseason workout in Chapel Hill. They are a much more rare version of North Carolina University's "Converse" pro leather sneakers because of their Tar Heel blue color. Accompanied by photos of the two as teenagers in Jordan's dorm room, along with a Christmas card Jordan sent to our consignor and his family. This is the earliest known, fully documented pair of Jordan sneakers that exist. Accompanied by a full JSA LOA as well as a detailed letter from our consignor.
via Lot Detail - 1981-82 Michael Jordan University of North Carolina Tar Heels "Freshman Year" Game-Used & Autographed Sneakers (Full JSA • Impeccable Provenance • Gifted By MJ Directly To Our Consignor •....
Jordan signed with Nike before his rookie season in the NBA. He actually had to be convinced because he was ready to go ahead and sign with behemoth Converse at the time. In fact, in the David Halberstam book on Jordan, "Playing for Keeps," it was revealed that Jordan wasn't even planning on taking the meeting with Nike, and that his mom had to berate him into getting out of the house to make it to the airport in time for his flight to meet with executives. 
Pretty cool piece of memorobilia, even, if you know, $33,000 is kind of a lot with some shoes on it.