Sale of Clippers to Steve Ballmer closes; Donald Sterling out
The sale of the Los Angeles Clippers to Steve Ballmer closed Tuesday, the NBA announced, ending a nearly four-month effort to oust Donald Sterling as owner of the team.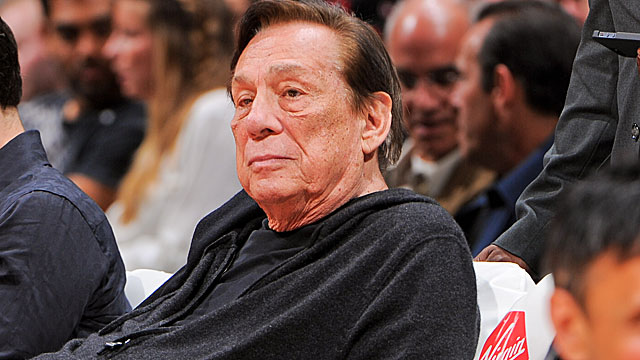 Berger: Burden lifted with sale | Rivers to talk extension| Latest from Ken Berger 
Donald Sterling is officially out as owner of the Los Angeles Clippers, ending a nearly four-month effort to oust him after racially insensitive comments were made public.
The sale of the team to former Microsoft CEO Steve Ballmer for $2 billion closed Tuesday, the NBA announced in a news release. The purchase agreement closed after a California court issued a written order affirming that Sterling's wife, Shelly, has the legal authority to sell the team on behalf of the Sterling Family Trust, the league announced.
The $2 billion sale price is by far the highest in NBA history, and the sale marks the end of an emotional, combative showdown between Donald Sterling, his fellow owners and commissioner Adam Silver. 
Silver, not even 90 days into his term as David Stern's successor, banned Sterling from the NBA for life and fined him $2.5 million on April 29 after audio recordings of the owner's insensitive comments about blacks and other minorities were aired by the celebrity gossip outlet TMZ. Silver at that time also urged the Board of Governors to initiate a forced sale of the team under the league's Constitution and By-Laws.
Sterling, 80, challenged the league at every turn, including a last-ditch effort to block a California probate court's decision to pave the way for the deal. Shelly Sterling's ownership transfer agreement with Ballmer called for the deal to close by this Friday.
The NBA approved the sale of the team to Ballmer in May, and the Board of Governors ratified the deal electronically by a unanimous vote of 29-0 on Monday, a league source told CBSSports.com.
"I am humbled and honored to be the new owner of the Los Angeles Clippers," Ballmer said in a statement released by the Clippers. "Clipper fans are so amazing. They have remained fiercely loyal to our franchise through some extraordinary times. I will be hard core in giving the team, our great coach, staff and players the support they need to do their best work on the court. And we will do whatever necessary to provide our fans and their families with the best game-night experience in the NBA."
Clippers coach and president Doc Rivers, who has expressed doubt about whether he'd honor the two years left on his contract if Donald Sterling remained the owner, called it "an amazing new day in Clippers history."
"I couldn't be more excited to work together with Steve as we continue to build a first-class, championship organization," Rivers said. "I am already inspired by Steve's passion for the game, his love of competition and desire to win the right way and I know our players and fans are going to be inspired as well."
There was no immediate comment from Donald Sterling or his legal representatives. A league source confirmed a Los Angeles Times report Tuesday that the NBA has filed a counterclaim against Donald Sterling, asserting that the former owner has caused "devastating and incalculable harm" to the league.
The counterclaim, filed Monday in U.S. District Court in Los Angeles, seeks damages and expenses related to the league's investigation of Sterling and its defense of the former owner's federal lawsuit. It also calls for enforcement of two separate agreements indemnifying the NBA against losses and litigation costs. One was signed by Donald Sterling in July 2005, the league asserts in its counterclaim. The other was signed by Shelly Sterling when the NBA dropped its pursuit of a forced sale and agreed to allow her to pursue the deal with Ballmer.
The ordeal was a test of Silver's leadership, and also a test of Sterling's resolve. The deposed owner still has a $1 billion lawsuit pending against the NBA, and he is expected to continue pursuing any and all legal appeals, a person familiar with the matter said. NBA lawyers are confident that the language in Tuesday's court ruling insulates the transfer of ownership to Ballmer from legal challenges. This means that Donald Sterling's only recourse at this point is monetary damages -- which, in essence, would be paid by the Sterling Family Trust based on Shelly Sterling's indemnification agreement.
Even after saying he would drop his lawsuit, Donald Sterling fought his wife's authority to sell the team in a case that called Donald Sterling's mental capacity into question. A Los Angeles Superior Court ruled in Shelly Sterling's favor last month after combative testimony in which Donald Sterling vowed that he would "never, ever sell" the team. He bought the Clippers in 1981 for $12.5 million.
CBS Sports HQ Daily Newsletter
Get the best highlights and stories - yeah, just the good stuff handpicked by our team to start your day.
Please check the opt-in box to acknowledge that you would like to subscribe.
Thanks for signing up!
Keep an eye on your inbox for the latest sports news.
Sorry!
There was an error processing your subscription.
Stephen Curry had the most embarrassing sequence of his career on Martin Luther King Day

The NBA has a full slate of action on Monday

SportsLine's advanced computer model simulated Monday's Lakers vs. Warriors game 10,000 ti...
SportsLine's advanced computer model simulated Monday's Sixers vs. Rockets game 10,000 tim...

Smart let his emotions get the best of him on Saturday night and it cost him big time

Doncic had 18 points, 11 rebounds and 10 assists on MLK Day, but wasn't too pleased afterward:...