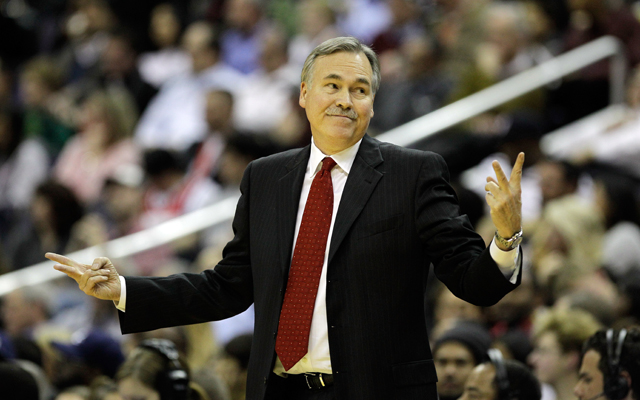 Mike D'Antoni will likely have a number of options if he decides to coach in the NBA next season.
(Getty Images)
They just couldn't leave it alone.
See, coaches always talk about a process. They have a vision in mind, and every day they're working towards that. It's a players league, it always has been. You play, and focus, your best players. But if you're a coach, you also look to coach players who fit how you coach the game. Run a lot of ISO's? Maybe coaching Chris Paul isn't your bag. Want to run the pick and roll or work the post extensively? Maybe Kobe Bryant isn't a good match for you.
Mike D'Antoni had a process going. Last year's Knicks team pre-Melo wasn't perfect. It was just two games over .500 and many people weren't impressed. Look at them now. Mike D'Antoni parted ways with the Knicks
as part of a "mutual decision" over the team's future Wednesday
, and it reeks of a scapegoating at the highest levels.
They took away his control, they took away his team, they saddled him with a player that doesn't fit his system, a system he has won consistently with, and then they scapegoated him when it didn't work out. Yup, sounds about right for the James Dolan era in New York. So now D'Antoni is free, walking away from the ruins of the house CAA built on top of what Donnie Walsh and D'Antoni had started to build. So what's next?
D'Antoni has coached teams to consecutive seasons of 50-wins before joining the Knicks, but many give Steve Nash all the credit there. (In reality, it was both together, a perfect fit, or, the opposite of D'Antoni and Melo.) He brought the Knicks back up from nothing and even had terrible teams competitive and entertaining. His wide open "seven seconds or less" style rubs many purists the wrong way, but it also produces results and ticket sales. The fact remains that D'Antoni is a quality coach in this league with the ability to turn around a lottery squad but who brings questions about his winning potential in the playoffs (despite multiple WCF appearances and the fact that he primarily lost to two of the greatest teams of the last decade in the Spurs and Mavericks, often in long series). 
Before we get started, the talk of D'Antoni's teams never playing defense? The Knicks are currently a top ten team in defensive efficiency. So there's that.
There's already talk of some of his options. Here are some ideas, should D'Antoni decide to return to coaching next year and not spend a year throwing darts at a picture of James Dolan or Leon Rose. This is all speculative to begin with, we're just trying to give you some indications on what factors he could consider for his next gig.
Charlotte Bobcats:
The Bobcats have gone with Paul Silas during this rebuilding process, but bringing in D'Antoni, offering him the relative peace and quiet of Charlotte could change the mode of the franchise. With Kemba Walker and D.J. Augustin he'd have his pick of point guard to run the offense, a freak of nature in Bismack Biyombo, and a top pick to select his next dynamic power forward. But the Bobcats are so bad and so many years away, and playing with a restricted salary in the Charlotte market under Michael Jordan could be a turnoff.
Washington Wizards:
This is a pretty tremendous fit. Exceptional young distributing point guard in John Wall able to run his fast-break system. Young players with versatility like Trevor Booker, Chris Singleton, and Jan Vesely. There's no telling what, if anything he'd be able to do with Andray Blatche, but it's at least worth a shot. And while JaVale McGee is unlikely to gain basketball IQ points defensively playing under D'Antoni, he might flourish in a fast-pace system. Owner Ted Leonsis likes to make big moves, and this would be a big one.
Sacramento Kings:
The Kings have verbally committed to interim coach Keith Smart for next season, but have not formally picked up his option. This might honestly be the best situation for him. It's a small market, but on the West coast in nicer weather. It gives him a versatile wing to develop in Tyreke Evans, a devastating power forward in DeMarcus Cousins who he can turn into an All-Star, and shooters galore. The Kings play fast and loose now, they just would play a better brand under D'Antoni. The Kings might honestly become the most entertaining team in the league under D'Antoni. Then again, we said that about this year's roster.
Portland Trail Blazers:
Not to get too ahead of ourselves, here, but Nat McMillan has been on the hotseat for weeks now with little sign of slowing the train wreck. D'Antoni would likely get an improved payroll compared to the other small-market spots, but be able to avoid a huge media freakout like in New York. Plus, you know, ownership will sell off pieces but won't be trading the house for a temperamental star any time soon. He'd have shooters, LaMarcus Aldridge, and a cleaner slate than most once some money comes off the books. It's a bad situation in Portland right now, but D'Antoni might enjoy a lot more control there at the same time, with the way ownership has backed MacMillan and continually fired GMs.
New Jersey Nets:
If the Nets swing out on Dwight Howard and Deron Williams, they could be mortgaging everything, including Avery Johnson. A clean slate would provide him a tremendous amount of resources. And wouldn't Mikhail Prokhorov enjoy beating out the Knicks for the division with the coach they fired because of the star the Knicks won over the Nets? Plus, D'Antoni wouldn't have to get a new place, which is always a bonus.
Los Angeles Clippers
: Not a lot of people have faith in Vinny Del Negro, especially with the Clippers struggling so much. An up and down team with the athletes in L.A. could thrive with Chris Paul working with the best point guard coach in the league. But Paul knows the importance of grinding it out in the playoffs an might not respond well to D'Antoni's style. But in terms of talent and market, this would be a great gig. 
The year off:
A lot of coaches elect to take the year off after a firing and after New York, D'Antoni's probably got years of his life to try and recover. He can work broadcast and wait for an offer in the right spot. This is the most likely position, only because after working for James Dolan trying to coach Carmelo Anthony, you need a year off.