NHL odds: Bruins, Pens, Blackhawks, Kings favored in new divisions
Odds are out for the upcoming NHL season under the new alignment and the Bruins, Penguins, Blackhawks and Kings are tabbed favorites.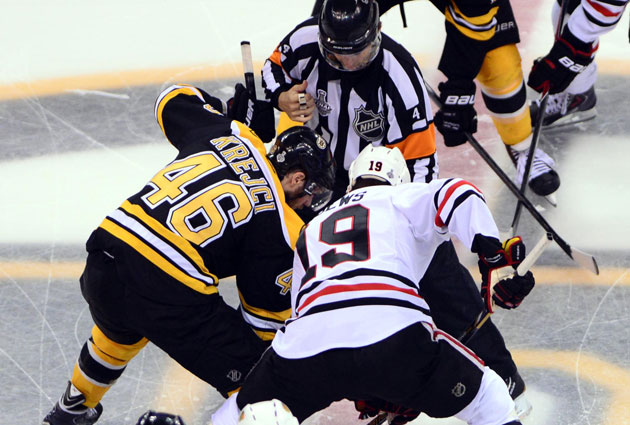 More NHL offseason: Rumors | Top 50 Free Agents | Buyout Tracker | Trades | Transactions
It's time for another round of odds on the upcoming hockey season. This time it's our first look at the odds for division winners in the new alignment with four, bigger divisions.
You probably just want to see the odds from Bovada so here you go. A couple of thoughts afterward.
Atlantic Division
Boston Bruins 11-5
Detroit Red Wings 7-2
Montreal Canadiens 9-2
Toronto Maple Leafs 9-2
Ottawa Senators 13-2
Tampa Bay Lightning 15-2
Buffalo Sabres 30-1
Florida Panthers 50-1
Metropolitan Division
Pittsburgh Penguins 4-5
Washington Capitals 13-2
New York Islanders 7-1
New York Rangers 7-1
Philadelphia Flyers 10-1
Columbus Blue Jackets 14-1
Carolina Hurricanes 15-1
New Jersey Devils 18-1
Central Division
Chicago Blackhawks 5-8
St. Louis Blues 13-4
Minnesota Wild 6-1
Dallas Stars 12-1
Nashville Predators 18-1
Colorado Avalanche 20-1
Winnipeg Jets 22-1
Pacific Division
Los Angeles Kings 3-2
Vancouver Canucks 3-1
Anaheim Ducks 9-2
San Jose Sharks 19-4
Edmonton Oilers 7-1
Arizona Coyotes 16-1
Calgary Flames 30-1
The division favorites shouldn't come as a surprise, ach of those four have established themselves as stalwarts.
But man, there are some tantalizing odds out there if I were a betting man (I'm not, I've never made a bet outside of wagers with friends in my life). My favorites on the risk/reward platform are the Sens at 13-2, the Rangers at 7-1 and the Sharks at 19-4. I could see any of those teams moving to the top of the division this season, good enough to at least take a flyer on some favorable odds.
Meanwhile I wouldn't touch the Panthers at 50-1 even with your money.
The University of Denver star and Hobey Baker Award winner is drawing interest

Intrigue is high in Arizona after a wild offseason, but expectations should still be tempe...

Players are set to give personalized messages for Adidas' former hockey equipment brand
The 40-year-old center is returning to the Wild after a successful run in Pittsburgh

Edmonton locks up its 21-year-old RFA a month after McDavid's historic extension

Even with a new coach and added veteran help, the Canucks have a long road ahead