The University of Notre Dame announced Wednesday that it is joining the Big Ten Conference as an affiliate member for men's ice hockey starting in 2017-18. The Fighting Irish hockey team will continue playing in Hockey East, where they've been since 2013-14, through the 2016-17 season before making the move.
The Big Ten has six full-time members that sponsor hockey: Michigan, Minnesota, Michigan State, Wisconsin, Ohio State and Penn State. However, a six-team conference never seemed like it would be beneficial to any of the member teams in the long-term. With no other schools looking close to sponsoring hockey, the move to bring in sport affiliate members seemed like the next logical step for the conference's hockey arm.
Following the Big Ten's affiliation agreement with Johns Hopkins University for men's lacrosse, the door was open for that to happen in other sports. Hockey always seemed like the sport most likely for that to happen in next.
The somewhat surprising move could have significant implications in terms of further realignment throughout college hockey just three years after the significant overhaul the landscape went through when the Big Ten's hockey conference was formed.
Notre Dame was one of the teams caught in the middle of that previous realignment in college that took effect in the 2013-14 season. Their own conference, the Central Collegiate Hockey Association disolved amid the creation of the Big Ten's hockey league and the formulation of the National Collegiate Hockey Conference. Notre Dame was one of the last dominoes to fall.
The Fighting Irish only had two options then: Hockey East or the fledgling National Collegiate Hockey Conference which included ex-CCHA teams Miami University and Western Michigan, among others. They chose Hockey East despite the notable travel disadvantage the Irish faced with the rest of the conference located primarily in New England, making for easy bus trips for everyone else.
It was never a great long-term option, even if it made all the sense in the world from a competitive standpoint for Notre Dame to be in a conference that included some of the elites of college hockey like Boston College and Boston University.
Now the Irish will be reunited with more natural rivals like Michigan and Michigan State. They'll also have a better travel situation, which helps on a number of fronts.
"While we have enjoyed our affiliation with Hockey East, the opportunity to participate in Big Ten hockey is a compelling one from the perspective of our student-athletes. The move will significantly reduce the time our team spends traveling, increase the broadcast exposure for our program and allow us to take advantage of the natural rivalries that exist with the Big Ten schools that participate in hockey," Notre Dame athletics director Jack Swarbrick said in a statement.
As Swarbrick noted about TV exposure, Notre Dame currently has a broadcast agreement with NBC Sports Network that includes their hockey program. That is believed to be continuing despite the new conference agreement, meaning Notre Dame will also likely have additional games on the Big Ten Network. 
This move is going to have a ripple effect, the size of which remains to be seen. We can seemingly expect more movement as college hockey continues to chart a new path for itself coming out of the massive realignment in 2013.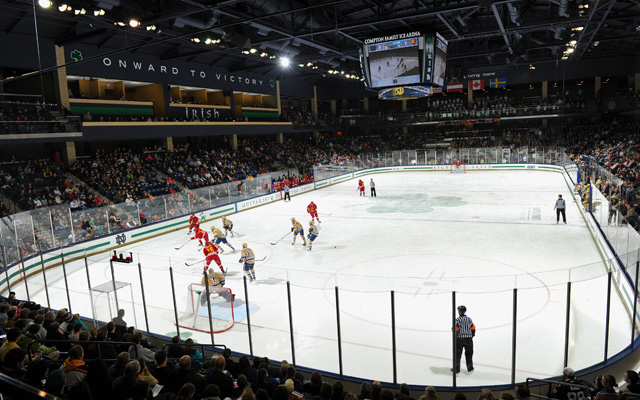 1. Over the years, Notre Dame's relationship with the Big Ten has been… unique
One of the reasons this move surprised me as a longtime observer of college hockey is the Big Ten's relationship with Notre Dame over the years. While Notre Dame has rivalries in other sports with Big Ten teams, particularly in football, changes over recent years in realignment across the college sports landscape has made it more difficult for them to work together.
Notre Dame's desire to keep the football team independent of any conference plays a role in this as well. The Irish joined the ACC for many of its sports aside from football and new scheduling agreements have made it harder for Notre Dame to extend their non-conference rivalries with Big Ten schools.
As a result there has been at least the appearance of some tensions between the two sides.
This relationship for hockey either shows that the frostiness between the two sides has been overstated or that this just makes good business sense. It could be both, but the latter is definitely true. 
2. College hockey is still searching for its identity in the post-realignment era.
When Penn State decided to build a Division I program, the college hockey world got turned on its head a bit. PSU became the sixth Big Ten school to sponsor hockey, that allowed the conference to sponsor hockey and be able to hold a conference tournament. But that started a domino effect that has been difficult to recover from.
Steeped in tradition, the WCHA and CCHA conferences were gutted when the Big Ten also sparked the formulation of the NCHC, which took away top programs from both conferences. The NCHC has been thriving as it was able to keep many conference rivalries intact without some of its big-name programs. The Big Ten still seems to be finding their way as rivalries in football and basketball between Big Ten schools doesn't always translate to hockey considering that Minnesota and Wisconsin were in the WCHA and Michigan, Michigan State and Ohio State were all in the CCHA.
Fans have been very slow to warm to the Big Ten. Attendance at games for national powers like Minnesota and Wisconsin have waned. The Big Ten tournament can't come close to filling NHL buildings' lower bowls, let alone the whole stadium. Fans just aren't engaging with it like they did in the old WCHA and CCHA.
Part of that has to do with the stale matchups a six-team conference breeds, but a lot more of it has to do with the fact that traditional hockey rivalries between Big Ten teams and those outside of the conference have been diminished. The current set-up still allowed Big Ten schools to play broader non-conference schedules, but that hasn't done much to ease the transition.
Adding Notre Dame is not going to fix that problem totally. It helps Michigan and Michigan State a bit, but Minnesota and Wisconsin's old WCHA rivals are still in the NCHC. Many college hockey fans are still sour about the changes, but this walks things back just a little bit. It will be interesting to see what other steps are taken to bring the Big Ten conference to prominence in the hockey world.
3. The Big Ten probably isn't done adding affiliates for hockey
While adding Notre Dame is the big get for the Big Ten hockey conference, there is more they'll have to do. A seven-team conference isn't a ton better than a six-team conference. That's why we might see another addition prior to the 2017-18 season when Notre Dame's affiliation begins.
The most likely candidate at this point appears to be the brand new program at Arizona State University. The Sun Devils just completed their first year as a Division I independent and are reportedly weighing two options for their conference affiliation.
Just spoke to coach Powers at Arizona State. They are close to a final decision on conference. Working out final details. Down to two.

— Adam Wodon (@CHN_AdamWodon) March 22, 2016
There are challenges to adding Arizona State. The travel is obviously one element, but the fact that ASU still does not have a Division I caliber arena of its own is another. They currently play out of the same rink they did as a club program, while they have also played some games at Gila River Arena, the Arizona Coyotes' home rink (for now) in Glendale, Ariz.
There is talk of the Coyotes and Sun Devils partnering on a new arena for both teams to use, but that hasn't been green lit yet. 
The Sun Devils are also so new that it is going to take them a few years to build their program up. They won't do much for competitive balance in a league that will send only one team to the national tournament this year. Long-term, however, things could improve. You also could say that, as a major Division I program in other sports, Arizona State is a "like-minded institution" compared to other Big Ten schools. That kind of thing seems to matter.
Seeing as the Big Ten added a school like Johns Hopkins for lacrosse, however, one wonders if the conference tries to poach one of the established hockey powers from the NCHC.
There's no guarantee any of those programs would leave their current situation for the Big Ten, but if the conference wanted to make a move to goose attendance at conference tournaments and reestablish years-old rivalries, the University of North Dakota best fits the profile. There are few programs in the country as supported by its fanbase the way North Dakota is. It makes them enticing, but them leaving the NCHC -- a league they were a driving force behind -- seems like a longshot.
That said, money is king in big-time college athletics. If there's a financial benefit, anything can happen. 
It will be very interesting to see what the remaining fallout of this landmark agreement between the Big Ten and Notre Dame will bring. Hockey East suddenly has a spot to fill, so there could be a trickle-down effect out east, too. One thing appears certain, though, more movement will be coming in the not so distant future.