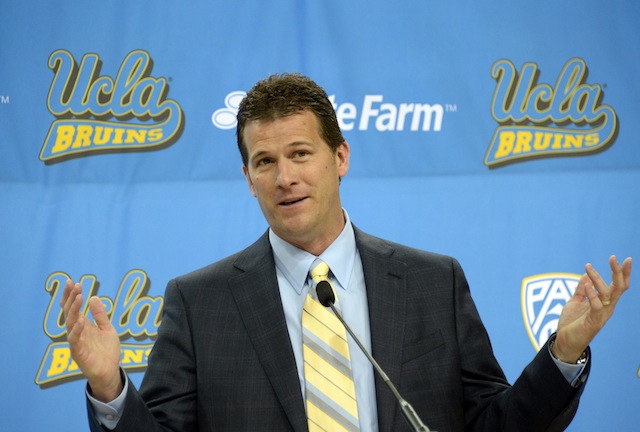 As Steve Alford gets settled at UCLA, the biggest issues that should be facing him are making inroads to recruit Southern California and looking at the 2013-14 Bruins roster.
Yet, while new USC head coach Andy Enfield gets plenty of attention and appears on The Tonight Show with Jay Leno, Alford hasn't had the easiest couple of weeks.
Back in 2002 when coaching at Iowa, Alford defended former player Pierre Pierce when Pierce was accused of sexual assault. He publicly proclaimed Pierce's innocence on multiple occasions, despite suspending him and Pierce pleading guilty to misdemeanor assault.
Alford has been criticized for the past decade for the way that he handled the Pierce case, and it came to a head when UCLA hired him. 
At his introductory press conference, Alford defended his actions -- and past comments.
"All I can tell you with that situation is that I followed everything that the University of Iowa, the administration, the lawyers that were hired, I did everything that I was supposed do at the University of Iowa in that situation," he said. "I followed everything that I was told to do."
On Thursday afternoon, though, Alford and athletic director Dan Guerrero both released statements about the incident.
And Alford's tune is completely different than what he said less than two weeks ago:
Over the past week, questions have arisen about my handling of an incident involving a charge of sexual assault made against a student-athlete in 2002, while I was coach of the University of Iowa men's basketball team. At that time, I instinctively and mistakenly came to his defense before knowing all the facts. I wanted to believe he was innocent, and in response to a media question, I publicly proclaimed his innocence before the legal system had run its course. This was inappropriate, insensitive and hurtful, especially to the young female victim involved, and I apologize for that. I have learned and grown from that experience and now understand that such proclamations can contribute to an atmosphere in which similar crimes go unreported and victims are not taken seriously. It's important for me personally and professionally to make sure Chancellor Block, Athletic Director Dan Guerrero, all of my student-athletes and the entire UCLA community, including our fans, understand that today I would handle the situation much differently, with the appropriate regard and respect for the investigative process and those impacted by it. I look forward to being a Bruin and leading a program that everyone will take pride in, both on and off the court.
Guerrero followed up:
I appreciate and respect Steve Alford's statement on this issue. Everyone has regrets in their past, but acknowledging them and learning from them shows true character. I was aware of this situation when we hired Steve and concluded that although he made an error in judgment 11 years ago, he had learned and grown from that experience. Our evaluation was based on his entire career, both on and off the court, and that is what led us to make our decision that he was the right coach for UCLA. Steve came to us with a tremendous reputation and record in New Mexico, and I am excited to see how he can build on and grow our men's basketball program at UCLA. I expect all of our coaches to serve as an example to our student-athletes and the entire Bruin family, displaying true character and strong values. Working with Steve over the last two weeks I am confident that he will demonstrate the leadership we expect of all our coaches.
Alford was named the new UCLA coach in late March, replacing Ben Howland. Before arriving in Westwood, Alford had spent six seasons at New Mexico, eight seasons at Iowa and four seasons at Southwest Missouri State. Alford played for four seasons in the NBA after starring at Indiana.