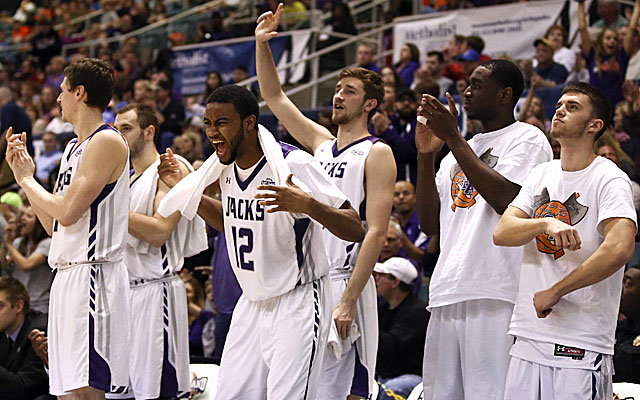 More: Updated bracket projection | Bubble Watch | Live Blog Updates
On Friday night, more eyes than expected were on the Southland tournament semifinal. Stephen F. Austin was losing to Northwestern State late in the second half. In most years, people would maybe raise an eyebrow (if that) and then move on. But not this year, and not with this year's Stephen F. Austin team. The Lumberjacks had won 26 in a row to end the regular season, and were heavy, heavy favorites in the Southland.
And they showed why, pulling out a win against Northwestern State and then dominating Sam Houston State in the championship game, 68-49.
Thomas Walkup led the way with 19 points, while Jacob Parker had 10 points and 12 rebounds up front. Deshaunt Walker had four 3-pointers and 12 points off the bench.
The Lumberjacks will enter the NCAA Tournament on a 28-game winning streak -- one of the quietest 28-game winning streaks we've seen in awhile, I would add. It's been a terrific job by first-year head coach Brad Underwood, who took over for Danny Kaspar and made sure Stephen F. Austin didn't miss a beat.
They're experience, they're balanced, and they know their roles. The Lumberjacks will be a tough out in the Round of 64.
Player to know: Desmond Haymon. He was held to seven points in the title game, but he's been the best scorer for the Lumberjacks. Haymon had four 3-pointers and 27 points in the semifinal game, which followed up a 20-point, eight-rebound performance in the season finale. He's an effective scorer, getting to the rim and drawing contact, while also being used as a playmaker who takes care of the ball and gets other guys involved. 
The Vitals:
Record: 31-2 overall, 18-0 in the Southland
Most recent tournament appearance: 2009. Lost to Syracuse in the Round of 64 as a 14-seed.
Jerry Palm predicts: 12 seed
RPI: 60
KenPom ranking: 65
Sagarin ranking: 87
Best wins: vs. Towson, vs. Sam Houston State (x3)
Worst losses: at East Tennessee State
Notable stat: Stephen F. Austin shares the ball as well as anyone in the country, and the Lumberjacks also take care of it pretty well. They are ninth nationally with 16.5 assists per game, while also ranking among the top 70 in turnover percentage. On the other side, SFA is fifth in the country in defensive turnover percentage. Basically, the Lumberjacks create extra possessions and then take time looking for an open shot.  
Closing quip: This is going to be a team to watch in the NCAA Tournament -- and not just because Stephen F. Austin has won 28 straight games entering Selection Sunday. They play disciplined offensive basketball, getting opponents to play at their tempo, and then grinding teams through long, patient possessions. They have a number of weapons offensively and are playing with a ton of confidence. I have a feeling the Lumberjacks are going to be a popular upset pick in the Big Dance.