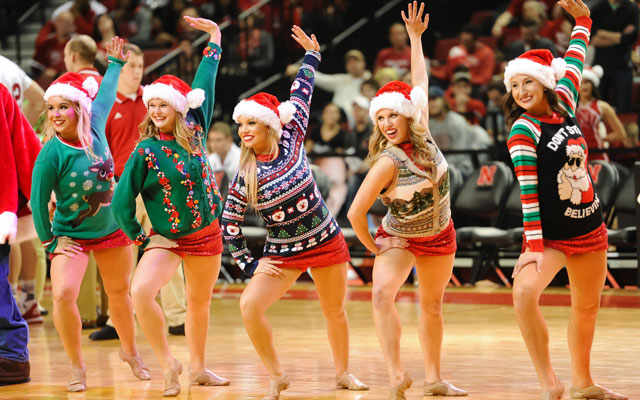 It's tough to get everyone on the same page in college athletics, but when it comes to Christmas season fun, it's hard to find to detractors, particularly when it comes to social media. 
On Thursday night, which was also Christmas Eve, numerous official school Twitter accounts joined in on a meme using the lines of the famous seasonal poem, "Twas the Night Before Christmas." 
We've collected as many as we believe were sent and will continue to add more (when necessary). They may not have gotten all the way through the poem, but it's a pretty great effort all things considered.
Happy holidays to you and yours!
'Twas the night before Christmas… #GoBlue pic.twitter.com/oOZczeknHA

— Michigan Athletics (@UMichAthletics) December 25, 2015
.@GTAthletics when all through the Haas (Pavilion)... pic.twitter.com/9Awugk3a8b

— Cal Bears (@CalAthletics) December 25, 2015
@UWAthletics @UMichAthletics Not a creature was stirring... (except for @TheTiger_CU... he's a little excited) pic.twitter.com/w5NQhgzcoE

— Clemson Athletics (@ClemsonTigers) December 25, 2015
@ClemsonTigers @UMichAthletics @UWAthletics ... Not even a mouse (#TBT @OfficialWilbur) pic.twitter.com/TPxXuGd3yD

— Arizona Athletics (@AZATHLETICS) December 25, 2015
@AZATHLETICS @UMichAthletics @ClemsonTigers @UWAthletics The stockings were hung by the chimney with care... pic.twitter.com/Gt2T2SQldb

— Stanford Athletics (@GoStanford) December 25, 2015
.@GoStanford with hopes that the big man in red soon would be there. pic.twitter.com/MTKxT4FOkV

— Nebraska Huskers (@Huskers) December 25, 2015
.@Huskers The #Sooners were nestled all snug in their beds, While visions of oranges danced in their heads. pic.twitter.com/EISX7KdglR

— Oklahoma Football (@OU_Football) December 25, 2015
.@OU_Football And Mama in her 'kerchief, and I in my cap... pic.twitter.com/2mHJfOsisj

— Wake Forest Sports (@DemonDeacons) December 25, 2015
.@DemonDeacons had just settled our brains for a long winter's nap. (Bears know all about hibernation) pic.twitter.com/0vkzG7PSLE

— Baylor Football (@BUFootball) December 25, 2015
. @BUFootball @DemonDeacons when out on the lawn there arose such a clatter... pic.twitter.com/mKHPPF6o8m

— Purdue Athletics (@PurdueSports) December 25, 2015
. @PurdueSports I sprang from my bed to see what was the matter. pic.twitter.com/yxiZCCYNBM

— GoDucks (@GoDucks) December 25, 2015
.@GoDucks @PurdueSports Away to the window I flew like a flash, pic.twitter.com/qiI1yEoXD6

— Air Force Falcons (@AF_Falcons) December 25, 2015
.@AF_Falcons tore open the shutter and threw up the sash ... pic.twitter.com/6lDtcdTSSm

— Georgia Bulldogs (@UGAAthletics) December 25, 2015
@UGAAthletics: The moon on the breast of the new fallen snow.. pic.twitter.com/ado7NUIVIT

— UNC Tar Heels (@GoHeels) December 25, 2015
.@GoHeels @UGAAthletics @UMichAthletics Gave the lustre of mid-day to banners below... pic.twitter.com/CRKzfFRHC0

— Indiana Basketball (@IndianaMBB) December 25, 2015
.@IndianaMBB @GoHeels @UGAAthletics @UMichAthletics But what to my wondering eyes should appear.... pic.twitter.com/tm3kpjcfyz

— Northeastern Huskies (@GoNUathletics) December 25, 2015
.@GoNUathletics @IndianaMBB @GoHeels @UGAAthletics @UMichAthletics But the Cradle of Coaches who all coached here... pic.twitter.com/ORh7cvD4Tf

— Miami Football (@MiamiOHFootball) December 25, 2015
@GoNUathletics @IndianaMBB @GoHeels @UGAAthletics @UMichAthletics but a miniature sleigh and eight tiny reindeer. pic.twitter.com/oNKBvSUla7

— Valpo Athletics (@valpoathletics) December 25, 2015
.@MiamiOHFootball @IndianaMBB @GoHeels @UGAAthletics @UMichAthletics With a little old driver, so lively and quick, pic.twitter.com/zs1tbwrJh5

— Georgetown Hoyas (@georgetownhoyas) December 25, 2015
.@georgetownhoyas @CBSSportsCBB @UMichAthletics I knew in a moment it must be St. @17NickHill pic.twitter.com/RM13ji3QaE

— Saluki Athletics (@SIUSalukis) December 25, 2015
@SIUSalukis @CBSSportsCBB @georgetownhoyas @UMichAthletics More rapid than eagles his coursers they came pic.twitter.com/45mr58DqlY

— American U. Eagles (@AUeagles) December 25, 2015
@AUeagles @CBSSportsCBB @SIUSalukis @UMichAthletics And he whistled, and shouted, and called them by name! pic.twitter.com/dzYYvhcL40

— CyclONE Nation (@istatenation) December 25, 2015
.@istatenation @AUeagles @CBSSportsCBB @SIUSalukis @UMichAthletics Now, Aaron! Now, Isaac! Now, Thomas! Now, Bryce! pic.twitter.com/NHDJbBU7Of

— UCLA Athletics (@UCLAAthletics) December 25, 2015
.@UCLAAthletics On Matt! On Grayson! On Amile (TBA)! On Brandon! An Marshall! pic.twitter.com/LkMnsjA8hv

— Duke Basketball (@dukeblueplanet) December 25, 2015
@dukeblueplanet @UCLAAthletics to the top of the Brick Breeden Fieldhouse to the top of the wall pic.twitter.com/FaPQPbcUeM

— Bobcat Athletics (@msubobcats) December 25, 2015
@UMichAthletics @macsports On Nate! On Weber! On Franko! On, Bo! To top of porch, to top of wall...dash away all! pic.twitter.com/c9H1Wb3pub

— @bsusportslink (@bsusportslink) December 25, 2015
@UMichAthletics As dry leaves that before the wild hurricane fly when they meet w/ an obstacle mount to the sky pic.twitter.com/p2TI9RyPky

— Michigan Football (@umichfootball) December 25, 2015
…And to all a good night!! #GoBlue pic.twitter.com/2o80r6zfzj

— Michigan Athletics (@UMichAthletics) December 25, 2015