Be careful, college football recruits. As you decide where to sign next week, just understand the head coach or assistant you're really close to on National Signing Day is unlikely to stick around for your entire college career.
Of the 650 head coaches and assistants who were coaching at current Power Five schools in 2011, 66 percent of them left the staff by 2015, according to a CBS Sports analysis of team rosters. Northwestern is the only Power Five team to keep its entire coaching staff intact from 2011-15, a period that represents the typical length of a college player's career.
Forty-two percent of Power Five head coaches changed jobs within those four years. For the head coaches who stayed in place between 2011-15, 48 percent of their assistants left during that period.
A recruit is basically flipping a coin on signing day that the assistant who recruited him will be around for his entire college career. Assistants tend to have the tightest bonds with recruits. Players get wooed for months and years and forge relationships that strongly help determine where they sign.
Not surprisingly, the SEC -- with its enormous salaries and expectations -- had the largest turnover among all head coaches and assistants (72 percent) between 2011 and 2015. ACC schools changed 69 percent of their coaches, followed by the Big 12 (67 percent), Big Ten (61 percent) and Pac-12 (60 percent).
We live in a recruiting world now where even Nick Saban does the dab, where Jim Harbaugh conducts sleepovers and climbs trees at recruits' homes and where Notre Dame assistants visit a recruit accompanied by the program's equipment truck. There have always been recruiting stunts because 17- and 18-year-old young men are highly impressionable. Their age makes that connection with specific coaches all the more important.
Should a coach be such a critical reason a player signs with a school? Of course not. Players are better off picking the school, not the coach. But it would be naive and out of touch not to acknowledge how much relationships matter in the recruiting process, just like any other walk of life.
In a recent NCAA survey, 58 percent of Division I football players agreed or strongly agreed with the following statement: "I would have attended this college even if a different coach was here." That's still a high number -- 42 percent -- not agreeing with that statement, though not as high as in men's basketball (59 percent) and women's basketball (58 percent).
The NCAA survey also asked players if they agree or strongly agree with the statement: "If my current coach left this school, I would consider transferring." Thirty-seven percent of Division I football players agreed or strongly agreed they would consider leaving. The numbers for other sports: 46 percent in men's basketball, 23 percent in baseball, 20 percent in women's basketball, 20 percent for all other men's sports, and 11 percent for all other women's sports.
The incredibly high rate of coaching turnover shows why it's misleading for coaches to get so upset when players transfer. Yes, the transfer rate is high. So is the coaching turnover rate. When a coach leaves, he can immediately coach somewhere else. When a player leaves, he must usually sit out a year before playing again.
There's not even a consistent way for a recruit to get out of his letter of intent if a coach leaves before the player even shows up on campus. Now, some schools will provide releases to the player in such a case. But there's no consistency to it. Unless the recruit signed scholarship papers instead of the letter of intent, the player is usually stuck.
Coaching changes naturally happen. Coaches get fired or find better jobs. Inevitably, some assistant coaches will leave right after Feb. 3, causing some recruits to understandably feel betrayed.
In reality, if the coaches don't leave now, they're likely going to depart at some point. Choose wisely, recruits.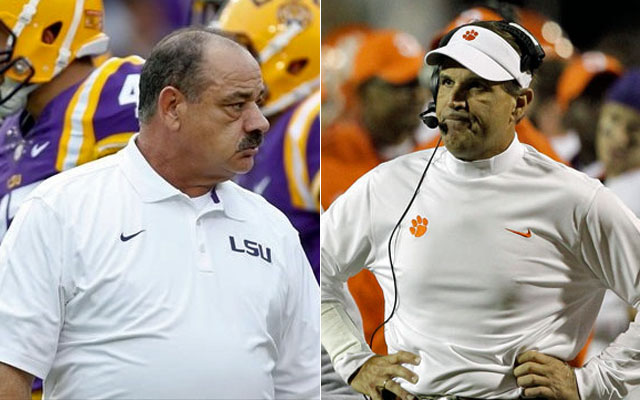 How much of a voice will SEC athletes have?
The SEC has created a nine-person working group to review NCAA compliance issues and effective operation within the new NCAA governance process. Clearly, the Power Five conferences need to get on the same page to pass meaningful reform for players. No athletes are part of this new SEC working group.
Greg Sankey's first football season as SEC commissioner saw Missouri players threaten to boycott a game due to perceived racial discrimination on their campus. The protest ended when the university system president, Tim Wolfe, resigned. Wolfe wrote a scathing letter recently that criticized Missouri athletic director Mack Rhoades and former coach Gary Pinkel for failing to tamp down anger expressed by football players.
"There's a lot of rhetoric around the idea that student-athletes aren't engaged in campus circumstances, yet here we have the team fully engaged in campus circumstances," Sankey said in a December interview. "That part seems healthy with young people being attentive and involved. I would hope, though, that we can have conversations that can alleviate issues rather than saying we're not going to play. Clearly, athletes are influential. But with great power comes great responsibility."
One of Sankey's first hires was Misty Brown for the newly created position of director of student-athlete engagement. Sankey envisions Brown, a former Florida women's basketball player, working more effectively with athlete councils and committees on SEC campuses. Sankey wants to create SEC player councils by sport, and even an alumni council, to discuss player experiences.
Athletes in the Power Five conferences now vote on NCAA autonomy issues. Pac-12 athletes have voting power within their conference. Will the SEC give players voting rights within their conference?
"We'll see," Sankey said. "It's a shift. We have institutional representation in our voting, not positional representation. We have a student-athlete council and we'll have more student-athlete councils that can provide input. So we'll see the most appropriate model."
Tyler Sash had alarmingly severe CTE in brain
The news that former Iowa safety Tyler Sash suffered from a degenerative brain disease when he died brings sobering questions again about football. It's not just that the 27-year-old Sash had chronic traumatic encephalopathy, a degenerative brain disease caused by repeated head trauma. It's also how severe the CTE was in Sash, who died last September due to a mixture of two powerful pain medications, methadone and hydrocodone.
Dr. Ann McKee told the New York Times that the severity of Sash's condition was similar to former NFL star Junior Seau, who committed suicide in 2012 at age 43. Seau played 268 regular-season NFL games over his 20-year career; Sash played 23 regular-season NFL games.
Sash was suspended for four games by the NFL in 2012 for testing positive for Adderall. "My son knew something was wrong, but he couldn't express it," Barnetta Sash, Tyler's mother, told the Times. "He was such a good person, and it's sad that he struggled so with this -- not knowing where to go with it."
A recent study by Boston University showed former NFL players who began playing tackle football before the age of 12 had a higher risk of altered brain development. Increasingly, more doctors and researchers are advocating for children to not play tackle football until around high school age. A longtime youth tackle football league in suburban Boston recently announced it's changing its format from tackle to flag football.
Alabama A&M gets postseason ban in all sports
It's not every day an entire athletic department is banned from the postseason. Alabama A&M faces a postseason ban in all sports for 2016-17 due to documentation problems with the school's Academic Progress Rate scores. APR tracks players' progression toward a degree, and the NCAA must validate the data provided by the school.
According to Alabama A&M, the NCAA determined that documentation submitted by the school couldn't verify the APR scores and academic eligibility of athletes over a three-year period. Athletic director Bryan Hicks said in a statement that the ban can be lifted if the university corrects and resubmits necessary data by Aug. 15. In the most recent APR rankings, Alabama A&M had two of its 16 teams (softball and men's golf) score lower than the 930 four-year average required to avoid NCAA penalties. Hicks did not respond to an interview request.
Southern University had all of its teams given postseason bans in February 2014 because of unusable data for APR scores. The NCAA lifted the ban in May 2015 and cleared Southern for postseason play in 2015-16.
Knight Commission adds Arne Duncan, Paul Tagliabue
The Knight Commission on Intercollegiate Athletics, which promotes education in college sports, is typically ignored by most of the public. Its reform ideas could soon carry more weight. Arne Duncan, who recently stepped down as U.S. Secretary of Education, and ex-NFL commissioner Paul Tagliabue have been appointed to the Knight Commission.
"I'm delighted to join the Knight Commission, which has done so much to foster and protect athletics and academics," Duncan said in a statement. "But we have a lot more to do to protect the integrity of college sports and strike a better balance between athletics and education. The Knight Commission must continue to help lead that urgent work."
Read 'Em
Each week this space in Inside College Sports will highlight some excellent recent work by college sports media on difficult topics to report.
• Former college basketball player Luke Bonner figured there was nothing he could do about the NCAA system as a player. In hindsight, he wrote a first-person essay for Vice Sports about what he could have done and the power that college athletes have.
• Colleges raised $1.2 billion in donations for sports in 2015, reported Brad Wolverton of the Chronicle of Higher Education. Texas A&M reported the most donations with $67 million in 2015.
• Rachel Axon of USA Today reported Florida State agreed to pay Jameis Winston's accuser $950,000 to settle her Title IX lawsuit against the university. Also, did Florida State overstate attorneys' fees in announcing the settlement?
• In case you missed it, I wrote about a federal judge's preliminary approval of the NCAA concussion settlement with conditions attached. The NCAA must still approve the settlement, which would still allow class-action lawsuits to be filed against individual schools over how they managed head injuries, just not on a national basis.
Quote of the Week
"The Ivy League has lost its virginity. What it shows me is there is no more amateurism. I would love to know where Jim Delany is going to go that's pure." -- Former shoe marketer Sonny Vaccaro on Yale's 10-year, $16.5 million deal with Under Armour.
It's believed to be the Ivy League's first all-sports apparel deal. Delany, the Big Ten commissioner, said in 2013 that if the Ed O'Bannon lawsuit resulted in athletes sharing TV revenue, the Big Ten might revert to the Ivy League model with no athletic scholarships.
Follow and read more from Jon Solomon on Facebook and Twitter.