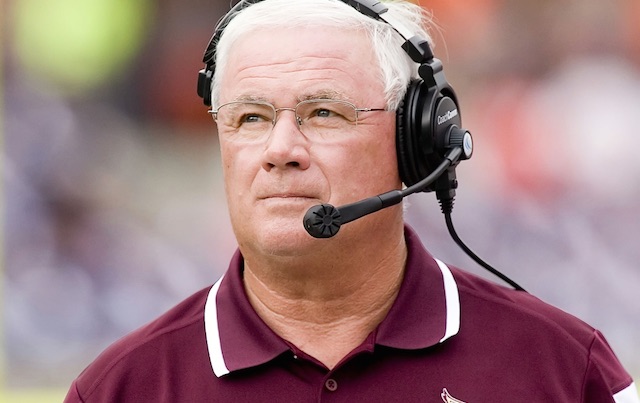 Dennis Franchione's second run at Texas State has come to an end.
Multiple reports, including one from Fox Sports' Bruce Feldman, point to Coach Fran stepping down from his post as the Bobcats' coach hours before his message to players was released, via Keff Ciardello.
"I wish that it was possible to be talking to you in a team meeting rather than this email," Franchione said in his message to players. "After a great deal of evaluation, starting with myself, I have decided that you and our team are in need of a new leader of this program.
"I have decided to step down as head football coach. I hope that you feel that I have always tried to put your academic, athletic and personal goals as our priority. I want to thank you for our time together. I have truly enjoyed being your head coach. If I can ever be of help to you in any way, please don't hesitate to contact me. Good luck and Go Bobcats." 
Franchione's letter to the team. #TXST @txredzonereport pic.twitter.com/6ez5SWPfNk

— Keff Ciardello (@Keff_C) December 22, 2015
Franchione returned to Texas State in 2011 as the program was in the process of an FBS transition, leading the team to 39-43 record through FCS independence, one season in the now-defunct WAC and three years in the Sun Belt.
The 2015 season was Fran's worst finish yet, including his first tenure with Southwest Texas State in 1990-91, as the Bobcats ended up 10th in the Sun Belt standings with a 3-9 record overall. 
Many remember Franchione from his turbulent time at Texas A&M, an era notable for mixed on-field results and a scandal stemming from a private newsletter distributed to boosters. Before arriving in College Station, Franchione had two very brief stops, and even faster exits, at Alabama (2001-02) and TCU (1998-2000).