America's Cup: Where does Oracle's win rank among all-time comebacks?
After Oracle Team USA stormed back from an 8-1 deficit to claim the America's Cup on Wednesday, it became appropriate to ask where it ranks among the greatest comebacks in sports history.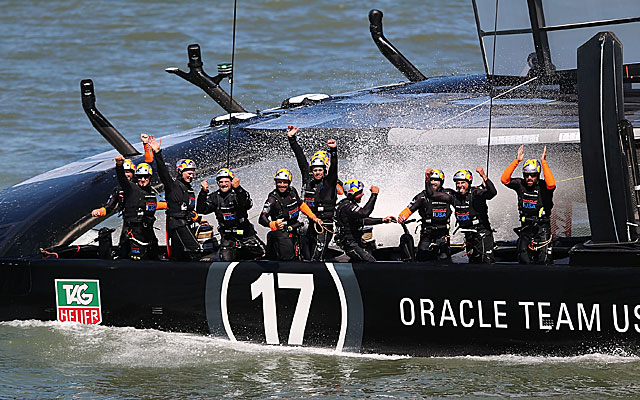 On an otherwise ho-hum Wednesday afternoon, Oracle Team USA completed one of the greatest comebacks in sports history, clawing back from an 8-1 race deficit against Emirates New Zealand to win the America's Cup in San Francisco. 
The America's Cup, which rarely (sorry) makes waves on a national scene, became riveting television as this year's version marked the closest chase for the Cup in the past 30 years. In fact, it was just the third time in 162 years that the final race decided the Cup's winner.
Just as remarkable as the comeback itself, Oracle, bankrolled by American billionaire Larry Ellison, had to overcome a two-point penalty – a result of excessive weight on the catamarans in preliminary events last year.
Still with me?
Oracle had to win 11 races (of the 19), while New Zealand needed just nine, if the Americans wanted to defend their title.
"The Cup has never seen anything like this," Bob Fisher, an America's Cup historian, told The New York Times.
Ultimately, Oracle won Wednesday's winner-take-all race against New Zealand by a comfortable 44 seconds, capping the most stunning comeback in Cup history.
With that said, where does Oracle's triumph rank among the greatest sporting comebacks of all-time?
Does it top the 2004 ALCS, which famously saw Boston storm back from a 3-0 deficit to New York?
How about when the Cleveland Indians, facing a 14-2 deficit to Seattle in 2001, plated 12 runs in three innings to tie the game and ultimately won 15-14 in 11 innings?
What about when the Philadelphia Flyers overcame a 3-0 deficit to the Bruins in the Eastern Conference semifinals in 2010?
Should it rival the Bills' improbable 41-38 OT victory over the Oilers in the 1993 playoffs after Buffalo had trailed 35-3? How about when Michigan State rallied from a 35-point second-half deficit against Northwestern to beat the Wildcats 41-38?
What about what Reggie Miller did to the Knicks in 8.9 seconds?
Or when Liverpool scored three goals in the second half (throughout a six-minute span, no less) to tie AC Milan in the 2005 Champions League final and then go on to win the shootout?
The point is, Wednesday's outcome was remarkable, whether you appreciate it or not.
Did we miss an obvious one? Let us know. Should a yachting race ever merit consideration for the greatest sporting comeback of all-time? That's for you to decide. 
New England native will start from the rear of the field in Sunday's playoff race

A playoff driver could join Martin Truex Jr. in the Round of 12 with a win on Sunday

Denny Hamlin and Kevin Harvick will look to build off momentum in order to catch Martin Truex...
The team of children agreed among themselves to follow Colin Kaepernick's stand against in...

Did Elliott cheat to finish second in the NASCAR playoff opener? You be the judge

Kahne has been with Hendrick Motorsports since the 2012 season and is currently in contention...