At 20-0, Ohio State is a special team -- why can't you see it?
Urban Meyer is in rarefied air, winning his first 20 games at Ohio State, yet the masses seem unimpressed for no good reason.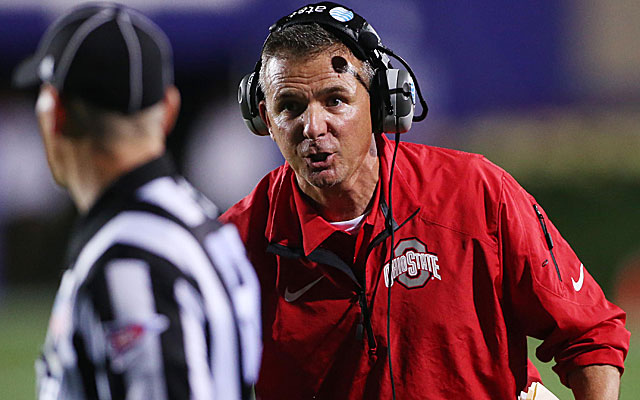 You know what we should do with Ohio State? We should ignore what's happening there. The undefeated season last year, the 8-0 start this year. Add that up, carry the one, and that's a 20-0 run the Buckeyes are on since Urban Meyer became head coach before the 2012 season.
That's interesting, but way too much has been made of that. What hasn't been done nearly enough around these parts -- these parts being the media, the radio waves, Twitter and the two vocal chords in most of our throats -- is to let the Buckeyes know how unimpressed we are with them. So let's do that here.
Let's remind Ohio State that it won't be playing in the BCS title game, not if we have anything to say about it. And since the human element remains a part of the BCS equation, and the human element is weak and easily influenced by mob hysteria, we as a mob do have something to say about it.
We're going to point out that Ohio State's undefeated start isn't as good as Alabama's or Oregon's or Florida State's undefeated start, and might not be as good as Baylor's undefeated start, though we're willing to wait a few weeks before making that one official. And even if Ohio State finishes the regular season undefeated, that wouldn't be as impressive as Alabama with one loss. Might not be as impressive as Oregon with one loss, either.
So what we're saying, Buckeyes, is this: Nice run you're on, we guess, but it's not good enough to get to the BCS title game so it really doesn't matter. You know that tree that falls in an empty forest? That's your perfect run since 2012, Buckeyes. We can't hear you.
That is what we've been saying, you know, as I ratchet the tone of this story down from sarcasm -- you realized the previous was written as sarcasm, I hope -- and into something more comfortable for all of us college football fans:
Hysterical whining.
That's what we do in the BCS age as we try to make sense of too many undefeated teams for too few BCS title-game slots. We combat confusion and speculation with volume, whining hysterically about YOUR TEAM'S SCHEDULE or MY TEAM'S DEFENSE.
And so this is me, hysterically whining about the magic that is happening at Ohio State and the refusal that is happening everywhere else by people who just don't want to acknowledge it. The polls don't respect what's going on in Columbus; since the start of the 2012 season, Ohio State has won every game it has played and still been jumped in the polls by 13 different teams, which is somewhere between silly and sad.
The people on Twitter, the tail that wags the dog of public opinion, don't care. Try to talk up Ohio State for just a minute on Twitter -- note that the Buckeyes have won a game to improve to 17-0, then 18-0, etc. -- and you get shouted down by everyone and their cranky mother, letting you know that the Buckeyes haven't really beaten anybody (#weakschedule) and that the Big Ten ain't what she used to be (#getarealconference).
Up to a point, sure, the Big Ten is down and the Buckeyes' non-conference schedule is weak. Last season Ohio State beat Miami (not the good one), UCF, California and UAB by a combined 151-69, which means the Buckeyes were in control but didn't exactly torch those teams like Oregon would've done. This season the Buckeyes have beaten Buffalo, San Diego State, Cal (which wasn't lousy when these games were scheduled) and FAMU by a combined 210-61. That's better, not that we're counting margin of victory. Because we're not. Unless Baylor does it.
Well, that's not true. When Ohio State beats Penn State 63-14, as it did on Saturday, we do count margin of victory. And we count it against Ohio State, because the Buckeyes actually tried an onsides kick ahead 42-7, and they challenged a spot on fourth down ahead 56-7.
There are additional facts but they don't seem to matter, even if the fact is the Buckeyes' "onside kick" with three seconds left in the half was actually a mis-hit squib kick -- they didn't want the ball back; they wanted to prevent a long kickoff return before halftime -- and if another fact is that the referees made an obviously incorrect spot on Penn State's fourth-down play and Ohio State challenged the call to get its defense off the field, which is allowed. Only, it's not allowed when the team doing it is Ohio State. Better to ignore the bad call and give the other team charity, because charity isn't insulting to a fellow Big Ten football school. Challenging a bad spot is insulting. Or something.
I can't make sense of that, but I can make sense of the negativity toward Ohio State. People don't like Ohio State because of the Jim Tressel scandal or because Terrelle Pryor traded his fame for tattoos or because whatever other baggage people have about Ohio State.
And people don't like Urban Meyer because of his lax discipline at Florida or his one-day retirement in 2009 or because he looks smug or because, I don't know, he's really good at coaching football and people like to throw stones at whoever's sitting on top of the hill.
And Urban's sitting up there. He has company, but if the hill were a dining room it would be a table for two: Urban Meyer and Nick Saban, and no, not in that order. Saban's the very best, and there's no need to debate that. But Meyer's body of work, and what he has done at Ohio State -- 20-0; that's like going 18-2, only two games better -- catapults him past every other great coach in the country. Ohio State is a traditional football power, but Meyer is turning it into an offensive juggernaut like something out of the SEC, averaging 517 yards and 47 points per game.
Meyer has now uncorked three different 20-game winning streaks (involving three different schools: Utah, Florida, Ohio State), the only coach to do that. He has won two national titles, and might have played for a third last season had pollsters not written off Ohio State because of its NCAA sanctions.
Oh, right. The NCAA sanctions. Ohio State went 12-0 last season and is now 8-0 this season -- Urban Meyer still has not lost at this school, do you realize that? -- despite being down three scholarships. From 85 to 82 isn't a huge deal, but it's a small wind in the Buckeyes' face, and they've ignored it.
Kind of like what we've done to Ohio State's winning streak, longest in the country -- we've ignored it. Only four coaches have gone more than 20 games before suffering their first a loss at a school, and three of their names are Fielding Yost, Pop Warner and Walter Camp. Urban Meyer has done it, and we've ignored it. We're ignoring it still.
Why? Ask yourself why. I'm not the one ignoring it.
High school football games featuring De La Salle are coming to CBS Sports Digital this fal...

SportsLine's Mike McClure, a DFS pro with almost $2M in winnings, gives optimal lineup adv...

Keep up with the latest scores and schedule from Williamsport right here
Everyone's favorite baseball player talked about the origins of his 'Big Al' nickname to Jimmy...

'The Queen of Soul' died in Detroit on Thursday

The veteran third baseman opens up on his son, youth camp, the Mets and his key to loving...