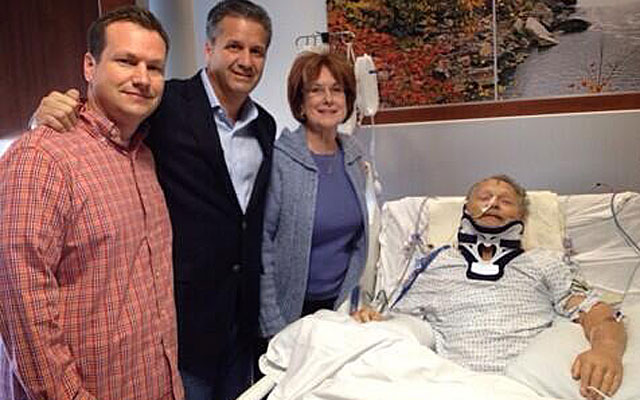 This is a love story, but it's more than that. It's a tragedy and a heartbreak, uplifting and crushing, and it has tears of sadness and joy from several of the people being written about, and maybe some from the writer. Not sure I'll be able to get through this without crying on my keyboard. Maybe you'll feel the same way.
This is a story about Kentucky basketball and the Kentucky fan base and the powerful connection between the two. It's a story about the coach at Kentucky, John Calipari, who makes wonderful gestures of kindness and asks me to keep them quiet. I'll betray that request in a few minutes.
This is a story about 10 or 12 Kentucky basketball players, most of them teenagers -- half of whom could be millionaires in the coming months if they choose to enter the NBA Draft -- being reduced to silence in the presence of a shy, 73-year-old fan.
And this is the story of that fan. His name is Dick Gregory. He's paralyzed from the chest down.
The injury happened a week ago.
At Rupp Arena.
Where this love story begins.
• • •
Dick Gregory wanted his wife to experience it for herself. If you can believe it, Mary Alice Gregory had been married to Dick Gregory for nearly a half-century and never accompanied him to Rupp to watch the other love of his life.
As a Wildcats fan, Dick Gregory is unremarkable in that Kentucky basketball is his passion and his obsession. That makes him like, oh, a million other people in the state, maybe more. They are one, all of these Kentuckians bound by a love for Wildcats basketball, whether they grew up on Adolph Rupp as Dick Gregory did, or whether they were introduced to the team under the guidance of coaches like Joe B. Hall or Rick Pitino or Tubby Smith or John Calipari. However they got here, whenever they got here, they got here.
Only, Mary Alice Gregory had never been here. Never to Rupp, although her husband went all the time. As a boy Dick Gregory listened on the radio to games played by all those great teams under Rupp, teams like Rupp's Runts, the Fiddlin' Five, the Fabulous Five. As a young man he attended Morehead State, but when Kentucky had a game he'd come home and go to Memorial Coliseum, where the Wildcats played in those days. He got in with his student ID. Times were different.
Over the years Dick and Mary Alice had a son, Scott Gregory, and Scott went to the University of Kentucky and majored in political science. Today he's an assistant principal at an elementary school in Louisville. Through friends, Scott has tickets to five or 10 games a year. So many times he took his dad. They sat in the upper bowl of Rupp, in Section 238. Row J.
Mary Alice never went to Rupp, and nobody in the family really knows why. Dick Gregory was wearing Kentucky sweatshirts around town, even when the family settled in Louisville. He had a Kentucky golf bag. His love for Kentucky basketball was absolute, and it was unremarkable. This is how Kentucky fans are.
Last week, Scott Gregory got his hands on two tickets for a Kentucky exhibition game at Rupp. He couldn't go. He offered the seats to his father, and Dick Gregory decided it was time to take Mary Alice to her first game at Rupp.
This is a love story. But it's about to take a turn.
• • •
They were early, because this was a special moment in their marriage and Dick Gregory wanted Mary Alice to take her time and soak it up. They were at Rupp Arena before most fans, so they had no problem climbing the steps to Section 238, Row J. They were closing in on their seat when Mary Alice tripped.
Dick Gregory saved his wife from falling by grabbing her and leaning between her and the hard wooden chair she was about to hit. Mary Alice was OK.
Dick Gregory fell instead.
Gregory hit the row below and kept falling, bouncing really, until he came to a stop six or seven rows down. Because they were early, Rupp was mostly empty. Had there been fans sitting in those seats, who knows? Maybe Dick Gregory lands in someone's popcorn, and everyone shares a giggle. Instead, Gregory hit one empty chair and bounced to another, then another. By the time he stopped, his neck was broken in three places.
This was Friday night. A week ago.
In the locker room afterward, John Calipari was told of the accident. He called the hospital to visit this man, this stranger named Dick Gregory, but was told by a nurse in the Intensive Care Unit that Mr. Gregory was unconscious, and that nobody was in the room with him. What Calipari found out later was that Mary Alice wasn't there because she was looking for her husband's car. She couldn't remember exactly where he had parked it, and was being driven around campus in the middle of night, her husband unconscious in a hospital bed, kept alive by a ventilator.
Mary Alice Gregory was being driven around campus by the Kentucky athletics director, Mitch Barnhart. They found the car, not knowing that Dick Gregory was never going to drive it again.
• • •
Dick Gregory got his hands dirty for a living. He was a welder at International Harvester, then worked his way up to handling the machine presses. He helped make farm equipment, then 18-wheelers. When International Harvester changed its name to Navistar and closed the plant in Louisville, Dick Gregory was transferred to Springfield, Ohio, three hours away. He kept his house in Louisville and came home on weekends. Scott, attending Kentucky, did the same.
"We'd both come home on the weekend like a couple of college kids," Scott says.
If Kentucky was home that weekend, they'd go to the game together. Eventually Dick retired and remained in Louisville, where he stayed active. He plays golf, walking the course. He drives a hearse for a funeral home. He climbs ladders around the house and fixes what needs to be fixed.
On Tuesday morning, doctors told Dick Gregory what three days of tests had confirmed: He would never use his arms again. His paralysis, his quadriplegia, was permanent.
"His spirits were down," Scott Gregory says. "I came to visit him and asked how he was, and he said, 'Well, I'm kind of depressed. I'm feeling depressed and have a lot of anxiety, and doctors told me I'm probably not going to be able to move my arms ever again.'
"He had the weight of all that on him."
A few minutes later Scott Gregory and his mom were down the hall, in a waiting area, trying to compute what had become of their father, and their lives. And then a door opened, and enormous people were walking toward them, and wait a minute. Isn't that 7-foot Kentucky center Willie Cauley-Stein?
Is that John Calipari?
Calipari doesn't want a pat on the back for this. He defuses that idea right off the bat when he says the University of Kentucky's Chandler Medical Center is not two miles from his house, and even closer to his office. Visiting Dick Gregory wasn't just the right thing to do. It was easy.
"It's no big deal for us," Calipari tells me. "We got in a bus and came over."
They came because Calipari had to meet this man, and he needed his players to meet this man too. And his players, bless them, were on board. Calipari told them they would give up time on the court to spend time with a stranger in a hospital, and his players wanted to go now. Let's do this, and let's do this now. That's what his players, his future millionaires, told their coach.
Scott Gregory saw them first. He wasn't exactly stunned, because Mitch Barnhart had been there several times and had told the family that Calipari had tried to come the night the accident happened. But still, sitting in that waiting room, digesting what his father had just said, and then seeing Cauley-Stein and Calipari and Julius Randle and the Harrison twins and -- well, look. Scott Gregory is his father's son. He loves Kentucky basketball too.
"They're celebrities," says Scott, shy like his father but now the family spokesman. "You see them and recognize them and know exactly who they are because you've seen them 100 times. Seeing all of them, you knew who they are. And we knew they were there to see my dad."
Dick Gregory was tethered to his hospital bed by wires and plastic hoses, with a breathing tube. Oxygen was being pumped into his lungs, but he couldn't speak with the tube in his mouth, so when the door to his room opened and John Calipari walked inside, Gregory got antsy.
"He wanted them to take off the oxygen so he could speak," Calipari says, his voice starting to break. "I'm sorry, but he's got his neck and his head, and that's it. Literally makes me want to cry. So he made them move him around, take the mask off, and it made me cringe -- the thought of it; his neck's broken in three places -- because it had to be painful but he wanted to speak. And he said, 'It's not so bad. I can move my shoulders.'"
Talking was a struggle, and soon no sound was coming out of Gregory's mouth. But players came into the room in groups of three and four, and every time a new group walked inside, Gregory recognized them on sight -- he's a Kentucky fan -- and silently mouthed their names in greeting.
There's Randle.
Hi, Willie.
Andrew and Aaron Harrison.
Calipari prayed with Dick Gregory. Several of the players did, too. They didn't know what else to do -- he couldn't talk -- but they could tell this man was appreciative of their presence. And so they prolonged their visit by shutting their eyes and saying a few words with this man who loved Kentucky basketball maybe even more than they did.
Watching all of this, Scott Gregory was crying. Emotions were everywhere. This was the worst thing that had ever happened to his father, but this very moment was something special. Was Scott Gregory crying tears of despair, or were they tears of joy?
Yes.
• • •
When it was over, doctors checked on Dick Gregory and found something they didn't expect. Scott Gregory says "it's not a miracle, but it is amazing," because what doctors found was that Dick Gregory was somehow better. Earlier that morning, after being told of his quadriplegia, Gregory had failed the swallow test. He was still being fed by a tube because he couldn't drink water or eat soft foods, but after the visit from Calipari and the team, he wanted to try the test again.
And he passed.
"It's one of those things where you don't know how much something like that means to a fan," Scott says. "You don't know what that little bit of boost can do, but my dad's spirits after that visit -- after getting the horrible news that morning -- it was like talking to a different person. He was so down that morning, but later that evening, everything's positive. He was happy that the players and coach cared that much to come see him, and then he passed the swallow test. It got the food rolling. Today he's eating some pudding and smaller foods."
At his next meeting with the team, Calipari started with an update of Dick Gregory.
"They're hearing what it was like for him, how uplifting it was for Dickie and his family," Calipari says. "The one thing you try to tell these guys: Fame is fleeting and money has wings. The question is, when you have it, what do you do with it? How do you help others, how do you pick people up, change lives when you're in this position? I think they're beginning to understand that being a player here carries weight and you have to respect that."
Dick Gregory will have to learn how to live this new life, one without walking or even the use of his arms. The logistics are overwhelming, and Calipari knows it. He talks fast on the phone, loose and relaxed and unguarded, and he says things and follows that by saying, "Don't print that." He has told me that all the time over the years, and every time I have honored it. But not this time, because this time when I asked Calipari if he knew what came next for Dick Gregory, he blurted out that there were questions of insurance and wheelchairs and making the house accessible and so many things that were just too much for Dick and Mary Alice Gregory to deal with emotionally or financially. And Calipari said he was going to help with that. He didn't know how or what, but he said he was going to dig into his own pocket and help the family cope with what comes next.
"Don't print that," he told me.
I'm going to print that, I told him.
I'm going to print this whole story, as awful and uplifting and emotionally wrenching as it is. This is a love story, after all, and after all those years of aiming his love at Kentucky basketball, Kentucky basketball is returning the love to Dick Gregory.
His hospital room is filling with tins of cookies and cellophane-wrapped sandwiches, cards and flowers and desserts dropped off at the nurses' station by Kentucky basketball fans, strangers but family members who want Dick and Mary Alice Gregory to know they are not alone. Big Blue Nation is heartbroken, but it is strong and it is united with the Kentucky coach and players in support of the man whose life changed Friday night in Section 238, Row J, of Rupp Arena.