Dana White pulls the most Dana White thing ever
Thursday was a day the UFC needed an adult as its leader. Instead it has Dana White.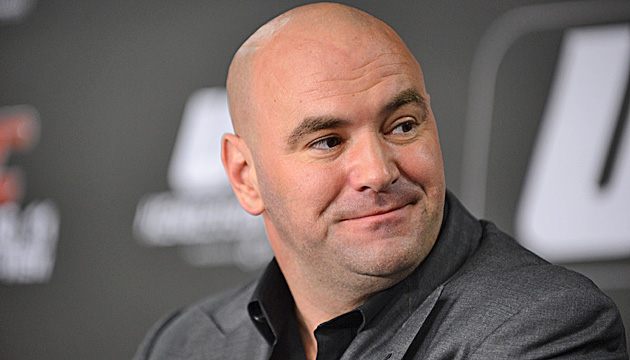 Dana White blames the cancellation of UFC 151 on Jon Jones' refusal to fight stand-in Chael Sonnen. (US Presswire)
There are days the UFC is lucky to have Dana White as its president. Most days, really, starting with the day in 2001 when he convinced his richest friends to purchase the Ultimate Fighting Championship for $2 million, saving the sport of mixed martial arts in this country.

Today the UFC is said to be worth at least $2 billion, and that's because of Dana White. He's charming, persistent, persuasive and magnetic. He is Midas, and the UFC is his pot of gold, and fans of MMA -- I'm one -- are the richer for it. So it's like I said: There are days, most days, the UFC is lucky to have Dana White as its front man.

And then there's Thursday, when the UFC needed an adult.

See, in addition to all those lovely adjectives I used to describe White two paragraphs ago, there are others that fit too: immature, profane, irrational, irresponsible.

White was all of those things on Thursday when he announced the cancellation of the UFC 151, scheduled for Sept. 1 in Las Vegas, because of a knee injury to Dan Henderson -- who was set to challenge light heavyweight champion Jon Jones in the main event.

Only, White didn't blame the cancellation of UFC 151 on Dan Henderson's knee.

He blamed it on Jon Jones' heart.

White basically called Jones a coward -- and he did call Jones' coach, Greg Jackson, an "[expletive] sport-killer" -- for refusing to fight emergency stand-in Chael Sonnen on eight days' notice.

Sonnen is similar to Henderson, only younger, fresher, quicker, more relentless. Better, now. And different enough -- no two fighters are identical -- to have required a whole new set of game-planning for Jones. And with just eight days to switch his training, his focus, his career from Dan Henderson to Chael Sonnen, Jon Jones took his coach's advice and said no.

And Dana White crucified him for it. Laid the blame for the entire card being canceled on Jones and Jackson during a conference call with the media. Hell, he was proud of it. After tearing into Jones and Jackson spontaneously, he had his company issue a press release with the most damning quote:

"UFC 151 will be remembered as the event Jon Jones and Greg Jackson murdered," White said.

Sigh.

Jones has his belt, his career, his future to think about. White has a company to run, a roster of fighters to manage -- and the responsibility to find a replacement for a main event if the one he scheduled falls through. And "find a replacement" is not the same thing as assuming one of his champions would fight a new challenger on eight days notice for the good of the company.

It's every man for himself at the UFC, and has been since Day 1. It's a Darwinian sport, and Jackson advised Jones to act accordingly and look out for himself.

Jones and Jackson don't deserve crucifixion. They deserve what everyone in the UFC deserves on a hard day like Thursday: They deserve a company president with class.

But they got Dana White.


Patrick plans to call it a career after running at the two most iconic U.S. auto races

Let the truth set you free, sir

The poor kid never even saw it coming
The burglars that Childress fired at were carrying military-grade weapons on them, the cops...

'Kong Infinity' and 'Happy Ending' headline two additions to the ultimate endurance course...

Nik Kayler's body has been found after going missing last week during a fishing tournament