Dealing Wiggins' potential for Love's game right now is right move for Cavs
Andrew Wiggins likely is a top-five player in a few years, though the the Cavs can deal him for a current top-five guy, Kevin Love, who helps LeBron before his two-year deal ends.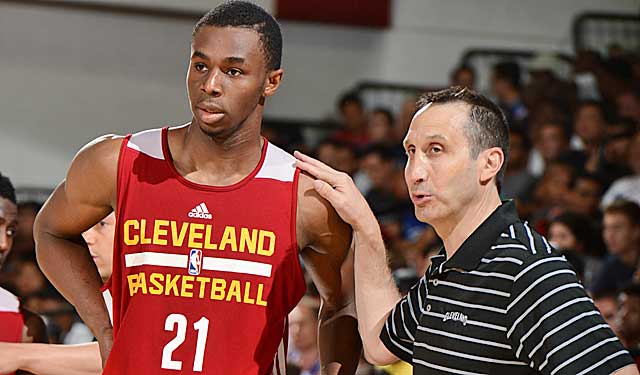 More: Blatt: Wiggins staying with Cavs | Free Agent Tracker | Latest news
I love Andrew Wiggins as a prospect, as a concept, even as a player. He's 6-foot-8 and explosive in a way that will make most NBA players, even the explosive ones, look lethargic. He's not a great shooter, but how many players are at age 19? He's a great athlete who's about to start working on his game like a pro. If Channing Frye and Josh McRoberts can become legitimate perimeter threats, so can Andrew Wiggins.
My point? That it wouldn't surprise me -- I mean, not even a little bit -- if Andrew Wiggins is one of the NBA's best five players in a few years.
And still if I'm Cleveland, I'd trade him to Minnesota for Kevin Love.
Because Love is one of the NBA's best five players -- right now. And LeBron James is 29 years old. And his contract expires in two years. And if I'm Cleveland, and I was very much Cleveland a few days ago when LeBron came home, my No. 1 goal would be to maximize the present to ensure LeBron stays in Cleveland the rest of his career.
Look, maybe LeBron stays a Cavalier until he retires regardless. The two-year deal he signed with Cleveland doesn't necessarily mean we're in for The Decision 3.0 in July 2016. It means LeBron understands the NBA's television deal will be renegotiated after the 2015-16 season, and that salary limits probably will change -- for the better, for max-contract players like LeBron -- and therefore it's in his best interest to be able to renegotiate after the new TV deal is hammered out.
LeBron's future? He's probably a career Cav, just like Andrew Wiggins is probably a future superstar. And "probably" makes for some good odds, when probably is the best you can do.
But the Cavaliers can do better than probably. They can go for definitely -- put a definite superstar alongside LeBron James, and put a definite NBA championship contender on the floor for both of LeBron's two years under contract -- by trading for Kevin Love.
So if you're Cleveland general manager David Griffin, you do it. You apologize to new coach David Blatt for giving him the wrong impression earlier that Andrew Wiggins was untradeable, which is why Blatt said last week that "Andrew's not going anywhere." If you're Griffin you apologize to Wiggins himself for giving him those same assurances, as Griffin reportedly has.
But you don't apologize to Cleveland fans for trading one of the most exciting talents to hit the league since LeBron himself in 2003, because in return for Wiggins -- in return for the probability of future greatness -- you would be acquiring the actual, verifiable thing right now. Kevin Love rated third in the NBA last season in win shares, and third in player efficiency rating. The only players ahead of him in either category: Kevin Durant, and LeBron.
Kevin Love is great in a way we've never seen. Did I just call him the greatest player ever? No, of course not. That would be the guy he'll be playing alongside, if Cleveland does the smart thing and acquires Love. But last season Love did something that has never been done in NBA history: He averaged 26.1 points, 12.5 rebounds and 4.4 assists, and he made 190 3-pointers.
Nobody's ever done that.
Hell, nobody's come close. So let's remove assists from the equation. Just forget about the passing part of Love's game, which is like saying "just forget about the leaping part of Wiggins' game." The 6-10 Love passes as well as any big man today -- but still, for the sake of finding someone who can do some of the other stuff he did last year, let's drop the assists and see whose names pop up.
Now then. In terms of scoring, rebounding and shooting, let's see ...
Huh. Zero players in NBA history -- other than Kevin Love last season -- have reached 26.1 ppg, 12.5 rpg and 190 3-pointers.
Only one other player has averaged at least that many points and that many rebounds and made any 3-pointers: Moses Malone in 1981, when he averaged 27.8 ppg and 14.8 rpg and made, um, one 3-pointer.
Kevin Love is historic, is what I'm saying. Andrew Wiggins could be, and probably will be special. Kevin Love is already there, and Kevin Love is only 25 years old. He has reportedly indicated that he would sign a long-term deal with Cleveland if traded there -- the Cavs can't trade Wiggins without that assurance -- which means Cleveland could be looking at a Big Three of LeBron, Love and Kyrie Irving for the next decade.
Irving is injury prone but he's only 22 years old and has career averages of 20.7 ppg and 5.8 apg -- yet he's the third member of that trio. He'd be their Bosh.
You picking up what I'm putting down?
This isn't a putdown of Andrew Wiggins. This isn't about Andrew Wiggins at all. He can go to Minnesota and average 20 ppg as a rookie before becoming a more efficient scorer who will someday average 27 ppg in a down year and contend for league scoring titles once Kevin Durant gets tired of winning them. Wiggins can do all of that and Cavs fans can watch it happen with a smile and wish him well on his road to the Hall of Fame -- while understanding that without Andrew Wiggins, those multiple NBA titles between 2015 and 2020 wouldn't have happened for the Cleveland Cavaliers of LeBron, Love and Kyrie Irving.
CBS Sports' Bill Reiter shares how he thinks the superfight could play out

Rowdy is the only driver in NASCAR history to accomplish the feat and he has now done it t...

Rowdy took to Twitter after winning Friday night's NASCAR Xfinity Series race
Rowdy will go for the sweep Saturday night after winning both the Xfinity and Truck races.

Truex's Furniture Row Racing teammate Erik Jones will lead to field to green on Saturday n...

Rowdy swept all three stages en route to his eighth NASCAR National Series victory of the...