Gold Cup triumph shows U.S. has -- dare we say it? -- depth
The U.S.'s run to the CONCACAF title showed that Jurgen Klinsmann has given the program something it's rarely, if ever had -- actual depth.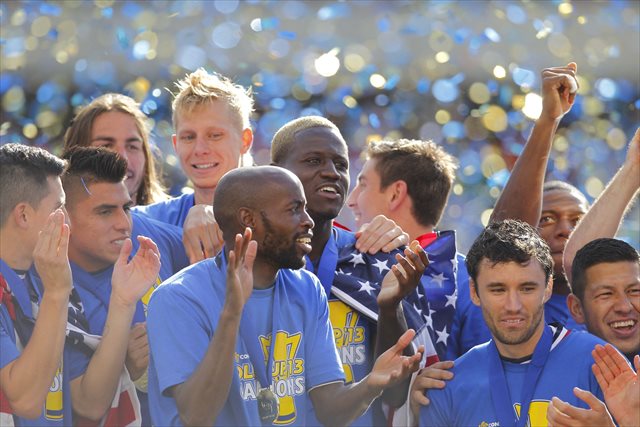 For the clearest illustration of the typical gulf in talent between the U.S. Men's National Team and the world's top sides, look no further than the 2009 Confederations Cup final. Down 2-1 to the underdog Americans, Brazil brought on Barcelona right back Dani Alves, a terrorizing attacker many would argue was the best player at his position in the world. Bob Bradley countered by bringing in ...
wait for it ...
Jonathan Bornstein! Yes, Jonathan Bornstein, the player universally reviled among USMNT fans as the walking embodiment of Bradley's maddening preference for familiar mediocrity over unknown potential.
If there's one lesson to be learned from the U.S.'s thrilling run to the 2013 Gold Cup championship, one capped by its hard-earned 1-0 victory against Panama on Sunday, it's this: the U.S. will not be taking any Jonathan Bornsteins to the World Cup next year. As Rick Pitino would say: Jonathan Bornstein is not walking through that door, thank the soccer gods.
Or, more accurately, thank Jurgen Klinsmann. The U.S.'s favorite German import since the Volkswagen van has the U.S. sitting pretty (and convincingly) atop the Hex. But as that same 2009 Confederations Cup team helped show, a healthy, focused first-choice American 11 has been able to play with anyone in the world for nearly 20 years*. The problem is that between 1. injuries 2. that unfortunate habit of international soccer to give teams three substitutions per game, the U.S. will almost certainly need some depth to go with that starting 11 to succeed in Brazil 2014. And for most of the USMNT's recent history, the word "depth" has mostly translated to, well, Jonathan Bornstein.
The evidence of the Gold Cup is that Klinsmann has changed all that. The U.S.'s tournament roster featured only four or five players with any realistic shot at starting at the World Cup, and still won its first five games by a combined score of 19-4 before dispatching Panama. If the team's skeptics will point out that the rest of CONCACAF's top teams also sent "B" teams and the U.S. opposition might best be described as a misdemeanor jaywalkers' row, it's also worth remembering that the last time the U.S. sent a "B" team to the Gold Cup, it scraped its way to the final before being annihilated 5-0 by Mexico in the final.
Among the players that appeared ready in the Gold Cup, should the World Cup spotlight happen to shine on them:
Clarence Goodson: Goodson wasn't always sharp on set pieces, but by and large he outperformed central defensive partner Matt Besler and kept Omar Gonzalez stapled to the bench -- those being the two players Klinsmann has recently preferred in the U.S.'s first-team defense. After bottling up the dangerous Blas Perez in the final, he has a claim on a first-team nod in the U.S.'s next World Cup qualifier.
Mix Diskerud: The 22-year-old Oslo native shone in the final after coming on for the injured (and snake-bitten) Stuart Holden, providing both defensive bite and incisive offensive passing in the second half. Diskerud still has to improve his possession skills and positioning, but with another year of seasoning it's not difficult to see him as third-choice in the 2014 U.S. defensive midfield behind Michael Bradley and Jermaine Jones.
Alejandro Bedoya/Joe Corona: There's a long line for playing time at the U.S.'s crowded wing midfield positions, but both Bedoya and Corona proved they'll be considered going forward after flashing great effort and final-third vision (in Bedoya's case) and finishing touch and help in central midfield possession (in Corona's). That Bedoya got the call over Corona in the semifinal and Jose Torres in the final -- and delivered three total assists, including a pair of game-winners -- suggest Klinsmann is very happy with what he's seen from the Sweden-based attacker.
Nick Rimando: It'll take a catastrophe for the third goalkeeper to see any time at the World Cup, and with Tim Howard and Brad Guzan firmly entrenched in front of him, Rimando's not going as anything better than third-string. But the MLS veteran looked like a lock to be that third-stringer in the Gold Cup, fiercely claiming any and all available crosses, offering excellent distribution, and displaying composed shot-stopping on the rare occasions it was called for. It didn't hurt that he showed the first two of qualities in abundance against Panama.
Go past those five players, and there's still Eddie Johnson cementing himself as a viable center forward should anything happen to Jozy Altidore; Kyle Beckerman being his usual steady-eddie self in midfield; Holden taking some positive first steps in his attempt to come back from another major knee injury  (which, sadly, will only matter if his departure Sunday isn't due to another major knee injury); Brek Shea scored the game-winner in both the U.S.'s 1-0 wins; and even the player Most Likely To Be Compared To Bornstein when the tournament started, right back Michael Parkhurst, turning in a positive performance in the shutout of Panama.
The refrain from U.S. soccer watchers entering the Gold Cup was that the stakes were higher for the Americans on an individual, every-man-for-his-own-World-Cup-roster-spot level rather than the team level; after all, this is a tournament that offers as its grand prize** a playoff spot for a 2017 tournament (the aforementioned Confederations Cup) that itself isn't treated with any excess of reverence. And it's arguable that's how it played out, that the biggest development for the U.S.'s World Cup chances in the Gold Cup wasn't any across-the-program improvement -- that it was Landon Donovan returning from his self-imposed sabbatical with five goals, seven assists, and the kind of form that has U.S. fans drooling over the prospect of pairing him with the current versions of Altidore and Clint Dempsey.
(An aside: the next time Donovan heads off on a vision quest, here's a suggestion that USMNT fans skip the withering criticism and volunteer to pay for his Guatemalan insanity peppers themselves.)
But as good as Donovan was -- and his entire tournament seemed to be one loud, angry response to anyone wh oforgot he's nothing less than the greatest U.S. soccer player of all-time -- he can't get out of a World Cup group by himself. He can't get out of a World Cup group even with his 10 best friends. It's going to take a whole roster, 1-22, as it did in 2002, when Bruce Arena mixed and matched his lineup to perfection and took the U.S. within a goal of the semifinals.
Klinsmann wasn't handed the luxury of that kind of depth. But it looks like he's earned it for himself, and even moreso than Donovan's brilliance, it's one more reason for American soccer fans to look forward to Brazil with optimism.
*Going back, we'd argue, to the 1995 Copa America team--one that thumped Argentina 3-0, eliminated Mexico, and made Brazil legitimately sweat in the semifinals. Some USMNT fan will argue that squad remains the most purely talented one the U.S. has ever put together. 
**Also, it offers a trophy whose ratio of physical size-to-figurative importance has to be further out of whack than any other trophy in the known sports universe. They should call it the Overcompensation Cup and be done with it.
John John Florence and Gabriel Medina will look to catch the wave to a championship

How to watch the Professional Rodeo Cowboys Association's 2017 National Finals Rodeo event

Froome was found to have double the legal limit of an asthma drug in a September doping te...
Flanagan, after winning the New York City Marathon, is out to win her 'hometown race'

It's probably better to just buy your shoes online these days