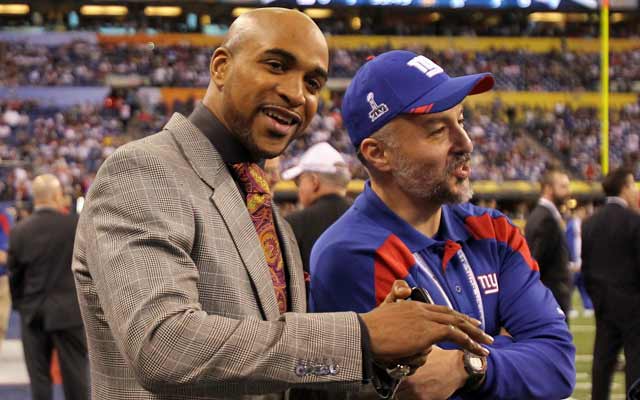 One of the greatest moments in David Tyree's life came on a football field. Third-and-5, to be exact. A minute or so left. Destiny and history doing a dance. Tyree made what was the greatest catch in Super Bowl history. But there was another moment in Tyree's life, bigger than what happened on that field, and it occurred in a first grade classroom.
A short time after Tyree made the football-stuck-to-helmet catch that was a key play in the New York Giants upsetting the undefeated New England Patriots in Super Bowl XLII, Tyree's son had become a star of his own.
"It was funny," Tyree said in an interview, "my son was in first grade when I made the catch. That moment was actually the first time the lights turned on for him that I was a football player."
Tyree laughs: "He became a star in that first grade classroom because everyone then knew he was my son."
"Every now and then my kids will be watching SportsCenter and it will get mentioned," he said, "and they get so excited."
Most of all, all these years after that catch, after the hypnotic effect of fame has dissolved into the normalcy of retirement and diaper changes and preschool, and the hustle and bustle of kids and their activities, Tyree's children get excited about one thing. It has little to do with that catch or his seven-year career in the NFL.
They get excited because he's their dad. That's it. That is all.
Tyree is the father to six children ages 1 to 11 (including two twin girls) and there is a seventh on the way -- a girl who will be born in August.
By all accounts, Tyree is an excellent father, but his journey to reach this point is as fascinating as his catch. It includes a once-in-a-lifetime play, the fame that followed, the low point of an arrest which included a scared-straight moment in prison, followed by a conversion to born-again Christianity. Tyree now works for the NFL, helping current and former players manage their benefit packages.
When Tyree became a father, his fame meant nothing, and he was like a legion of other fathers, each of whom faced that pivotal moment. When the decision is made that little else matters except your family.
"All of this has been a whirlwind," Tyree said, speaking of his catch, and the life that followed. "I guess the big thing is now I want to be known as a dad and husband more than I want to be known as the guy who made that catch."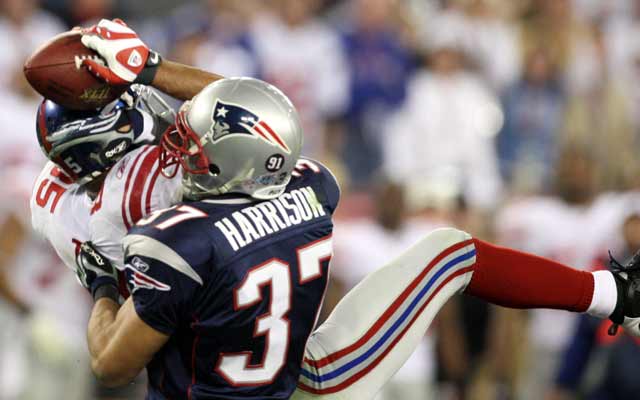 That catch. Tyree became a Super Bowl legend after quarterback Eli Manning evaded two Patriots defenders and heaved a pass long and high. It was caught by Tyree 32 yards downfield. He pinned the ball against the side of his helmet as safety Rodney Harrison tried to yank the football loose.
"That play was God's way of showing me the right path," Tyree said.
Tyree is a genuine and breathtakingly straightforward person who also possesses noticeable depth. All of that is around a core of someone who has used religion to overcome a troubled past.
Some will agree with certain aspects of his Christian views while others will abhor them. An example of that is how Tyree doesn't shy away from his thoughts on what is now one of the most topical issues in sports: gays in the locker room.
In 2011, on the same day the New York State Assembly approved a same-sex marriage bill, Tyree, speaking for the National Organization for Marriage, an anti-gay marriage group, said the country would be plunged into "anarchy." (The bill passed and the Republic survived.)
Tyree hasn't changed his opposition to same-sex marriage. He said he agreed with the words of Minnesota running back Adrian Peterson, who recently said in a radio interview: "I'm not biased towards them (gay people). I still treat them the same. I love 'em. But again, I'm not with that. That's not something I believe in. But to each his own."
Peterson later added to those comments saying a gay teammate "really wouldn't bother me that much." When asked to explain what he meant by "that much" Peterson said, according to The Oklahoman: "Simple things, as far as showers and things like that, you know, of course, anyone would be uncomfortable. But you know, I'm a grown man. There's things that I can deal with. I'm comfortable in my skin. I'll still high-five them. Pat them on the butt when he's doing (well), and go about my business."
"I think Adrian Peterson expressed his sentiments very well," said Tyree. "I don't agree with (gay marriage) because God doesn't agree with it. As a Christian, I don't agree. Society may be changing but God is not.
"This is not personal. I could still be in a locker room with a gay man and still love him as a teammate. I can be tolerant, but the problem is people aren't tolerant of the views people like me have. If you don't agree with that lifestyle, you're a bigot. I'm not a bigot. I have different viewpoints."
Tyree has come to believe strongly in faith because in many ways it saved him and enabled Tyree to become the father and husband he is today.
Tyree came into football as a rookie in 2003. He was, to put it mildly, a partier. He had a relationship with his then-girlfriend and now wife, Leilah, and the couple had a son, Teyon, who is now 11.
In March of 2004, Tyree was arrested for marijuana possession after police say they found a half-pound of the drug in his car. Tyree had planned to sell the marijuana as a way to gain back money from being fined by Giants coaches after Tyree was late for a series of team meetings. At that point, Tyree had been smoking marijuana once a day and drinking, the latter habit starting when he was 14 years old.
Tyree was later released from prison and Leilah told Tyree she was again pregnant. She pleaded with Tyree to examine his life. He did. The transformation into the responsible father he is now started with a return to a New Jersey church and hard look at Christianity, which later became a full conversion.
Tyree remembers how, early in that process, he sat in a pew for some 15 minutes and cried.
At that moment a new David Tyree had been forged.
Identical twins Sophia and Hannah, now 5, were born two weeks after their father's catch. The family would grow. In totality there is Teyon (11), Josiah (8), Sophia (5), Hannah (5), Solomon (3), Samuel (1) and their daughter who will be born in August.
"So much credit goes to my wife, who is a tremendous mother," he said. "Sometimes it's overwhelming but it's great joy. I didn't come from a large family and neither did my wife. It's fun to watch.
"When I tell people I have six children, they act like they almost feel sorry for me," he laughed. "I always say, 'This is the life I chose.'"
Would Tyree have any qualms about his kids playing football with all of the knowledge we know now about the possible risks to the brain?
"I would have no problem whatsoever with them playing football," he said. "I'm fortunate to have a healthy family and my kids have a great mom and they have a father.
"What football has become to a lot of families is a surrogate to a fatherless home. Football provides great value and structure. I'd want them to play football for all the benefits it can provide."
Tyree sees that catch in different terms than the ordinary fan. To them, it was a great football play. To Tyree, it was a divine mechanism to help him persevere in his own life, and provided a platform for him to help others.
"I want people to know my story because it can help people see what they're capable of," Tyree said. "You can always turn your life around. You can do great things."
Tyree's story now is a simple one. He made the greatest catch in Super Bowl history but it's not the catch that defines him. It's being a father.