UFC 165: Jones' road to greatness goes through Gustafsson
Jon "Bones" Jones faces Alexander Gustafsson at UFC 165 on Saturday, September 21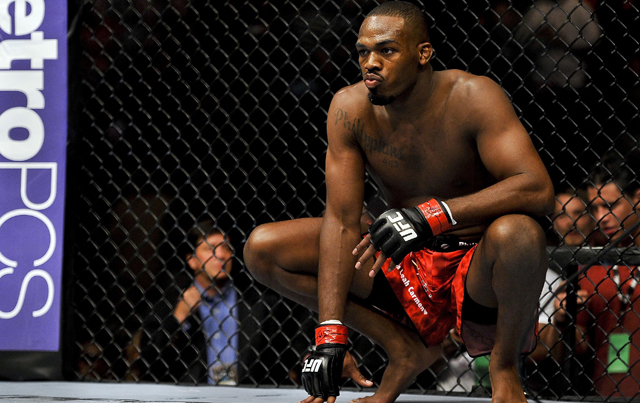 When Jon Jones faces off against Alexander Gustafsson on Saturday night in the main event of UFC  165, he will be fighting for more than just his light heavyweight  championship. He will be fighting for his spot as the top pound-for-pound fighter on the planet, a title that might drive him just as much as the one he wears around his waist. 
"It's really motivating to me to have that rank," Jones said during a media conference call. "After this fight, after this win, I'll feel like the ranking is a little more justified."
Jones' claim to the top spot on the pound-for-pound ranks was made possible in part by long-time pound-for-pound king Anderson Silva's stunning knockout loss to Chris Weidman at UFC 162 in July.  However, even before Silva's loss, Jones' impressive résumé had him in the conversation for best in the world along with Silva and UFC welterweight champ Georges St. Pierre.
Since winning the title from perennial contender Mauricio "Shogun" Rua in 2011, Jones has defended his belt five times, four of those wins coming over former UFC champions. Jones' five consecutive title defenses have him tied with Tito Ortiz for most in UFC light heavyweight history, a record Ortiz set more than a decade ago.
"Becoming the greatest light heavyweight record-wise is definitely a goal of mine," Jones said." Seeing guys like Anderson Silva with 10 title defense it just motivates me a lot. This record means everything to me." Silva's ten consecutive title defenses are a UFC record.
Standing tall in the way of Jones and his run at history is the imposing figure of Gustafsson (15-1). The 6'5'' challenger from Sweden has won his last six fights since being submitted by light heavyweight contender Phil Davis back in 2010. On the surface Gustafsson's size appears to pose a unique challenge for Jones, who many have claimed is "too big for the division" (Jones, who is 6'4'', hasn't faced a fighter taller than 6'2'' since beating 6'3'' Jake O'Brien in Jones' UFC debut in 2009). However, as far as Jones is concerned Gustafsson's size and reach are not a threat.
"I use my reach better," said Jones when asked about Gustafsson's height and reach. "If you watch my fights and watch his fights, he gets hit a lot. I use my timing, my rhythm, my distance a lot better than him. The proof is in the pudding."
According to Gustafsson, his reach is 81.2'' as opposed to the 76.5'' it has been measured at in the past. Whether his reach has been measured incorrectly or Gustafsson's arms have somehow grown five inches in the nine months since his last fight, his reach is still less than Jones' 84.5''.
At the end of the day, reach likely won't matter. Like Jones said, the champ uses his reach exceptionally well, he throws strikes (often devastating ones) from unique angles and backs up his great standup with very high-level wrestling. All this combines to make Gustafsson a heavy underdog going into Saturday night (Jones is a -675 favorite as of Monday). The challenger's best shot of winning this fight appears to be standing up, but a cursory glance at Jones' record shows wins over fighters like Rua and Lyoto Machida who were thought to be superior strikers. Jones disposed of both rather easily.
---
In the co-main event Renan Barao (30-1) will defend the interim UFC bantamweight title against Eddie Weinland (20-8).
Barao beat Uriah Faber for the interim title at UFC 149 in July 2012 after champion Dominick Cruz suffered an ACL tear, creating the need for an interim champ. UFC President Dana White said in a conference call that he hopes this will be the last interim bantamweight title fight as Cruz, who hasn't stepped into the Octagon since October 2011, is aiming for an early 2014 return to the cage. 
Things escalated very quickly and both drivers were detained by police

Junior revealed on Instagram that his first child will be a girl

What does it take to compete at the CrossFit Games? Check out 'Fittest on Earth' on CBS Sports...
Keselowski passes Ryan Newman on the final lap to claim the checkered in a wild, crash-filled...

Three of our four picks have yet to win a race this season

Dale Earnhardt Jr. will be making his final ride at Talladega Superspeedway this weekend