Domestic violence.
It's the great American lie, our eternal confusion of victory and virtue. In truth, we use winning as more than a badge, or a shield, or an emblem. We use it to cloak our worst vices, deceptions and diseases.
The NFL had its butt kicked up and down the PR gridiron last year for virtually ignoring Ray Rice after he literally knocked his wife out cold in an Atlantic City elevator. Only after the media and masses expressed universal indignity did the NFL finally change its decision and discipline. But it took way too long -- and the release of a video of the assault -- for the league to snap to attention.
Ray Rice is just the latest in a conga line of luminaries who have seen the soft side of the law just because they're great on game day.
Enter Floyd Mayweather Jr., whose big bout with Manny Pacquiao on May 2 has been barely interrupted by his past, with only a thin shadow cast by his robust rap sheet.
Many in the media say they condone the boxer but condemn the man. They say they will watch the fight with one eye open, the other gazing upon his transgressions. Media members have an out, a trap door, an excuse. We can just say it's our job to cover Mayweather, and whatever debris we must scale to reach the ring is just incidental. We don't decide who is important and who isn't.
So while it's up to you, the consumer, to say you've had enough, you won't. If you're not tired of Mayweather's conduct outside the ring by now, then your fatigue is forever tolerable.
A wonderful piece from ESPN's Outside the Lines goes deep into Mayweather's history of domestic violence, taking a jeweler's eye to police reports and court papers. They found five convictions related to domestic violence. Some were dropped because the victims changed their stories, but there was too much smoke to ignore the inferno.
It may be inelegant to say, but the truth is that Floyd Mayweather has made a habit of hitting women.
And the other inelegant truth is that we're all complicit. Even if we don't hit, cheat on, or even swear at the women we love, we're implicitly saying it's not that bad because we do watch these athletes, and write about them, and in this case jam the PPV button that will further inflate Mayweather's already obscene bank account.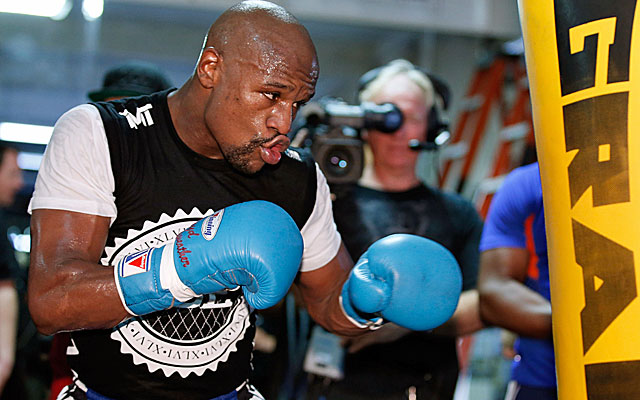 In a recent "We Need to Talk" segment on CBS Sports Network, four women mused profoundly over Mayweather's past. Laila Ali, the daughter of Muhammad Ali, said she was unaware of the extent of Mayweather's malfeasance.
"I do believe he gets a bit of a pass," Ali said. "I wasn't even aware that he had [up to] seven domestic violence cases."
There isn't one scapegoat, hence the reality that it takes a permissive culture to keep the truth in the dark. "I didn't know the whole background," Ali said. "and I think that was by design."
Maybe. But Floyd Mayweather doesn't control his entire image or the message of domestic violence. "People come up to me all the time, and ask me questions," Ali said. "And nobody ever brings any of this up. Lucky for him."
Luck? Or a society that so savors success that certain crimes are just an adjunct of brilliance. We love to paint gifted people in abstract shapes. The idea of the twisted genius is a longstanding, American collaboration. Sure, he's a little flaky, but that comes with his success, just part of the acceptable baggage of the athletic savant.
"I don't think people would embrace him as much as they do," Ali closed. "If they really knew what [Mayweather] had going on outside the ring."
It must be particularly poignant for Ms. Ali, whose father Mayweather has favorably compared himself to. And particularly appalling. Beyond his time as boxing titan, Muhammad Ali was also an emblem of progress, reform, civil rights, and the de facto voice of the oppressed. Ali is on every symbolic Mt. Rushmore of the greatest athletes of the 20th Century because he transcended athletics.
But the gentle giant is often a fictional character. And no matter how badly an athlete performs after the whistle, we still watch. "I want to see his fight," said Dana Jacobson, who hosted the roundtable. "Even though I know I don't like what his past represents."
So even women admit they're somewhat culpable.
Why? Why do we tolerate pretty people when they are so ugly outside the arena? Is success so singular, so dominant, that it trumps the long-held verities of decency?
Our fathers teach us to respect women, to hold doors, to bring flowers, to watch our mouths, to be gentlemen. Most normal humans find domestic violence rather repugnant. But it doesn't stop most of us from watching the very people we allegedly loathe.
"I'm the first to admit I do this," said Amy Trask, former CEO of the Oakland Raiders. "I engage in a kind of cognitive dissonance, where we dislike the things that we learn about the National Football League and what it went through, to Mayweather...and yet we still watch."
One of the problems is there's no smoking gun, so to speak. The Ray Rice incident didn't transform into a national saga until we saw the video, the actual footage of his fist connecting with a woman's face. But it shouldn't take a veritable horror film like that to turn us off.
This all paints a haunting montage, not just of criminal conduct from otherwise admired men, but also our reaction to it. It's like looking at ourselves in a funhouse mirror: we see how distorted we are, yet we do nothing to change it.
Was Charles Barkley right? Is it unfair to think of athletes as role models? Or is that just a convenient assertion for celebrities to make, and a pretext for any transgression?
"Can we be OK with not liking this person?" said Jacobson. "Not liking anything Floyd Mayweather does outside the ring. But liking him [as a boxer] and wanting to watch him fight?"
Evidently, we can. You can decide what that says about us.