Inside Baseball: Trade market for top closers is hot; more from GM meetings
Big-name closers could be on the move this winter. Find out who is available plus more news from the MLB GM Meetings in Boca Raton.
BOCA RATON, Fla. -- While the relief market is unusually thin in an otherwise star-studded free-agent market, conversely, the trade market for closers is heating up like never before.
Not only is Reds star closer Aroldis Chapman still eminently available and Padres star closer Craig Kimbrel out there as well, there are a few more star relief entries on the block. The Yankees are willing to entertain trade ideas regarding their excellent reliever Andrew Miller, as was reported Monday on CBSSports.com, and it doesn't end there. Not even close.
According to two rival GMs, the Pirates' Mark Melancon, the top closer in the National League this year and winner of the Trevor Hoffman award, is also out there for the taking, meaning four of the best ninth-inning guys in the game are being talked about in trade here. And possibly more.
"Everyone's closer is available," one GM said. "People, especially the young GMs, have no fear of trading their closer."
Beyond that vaunted foursome, the Rangers have fielded some interest in their closer, Shawn Tolleson, who came out of nowhere to have a special season in 2015. Even the Phillies' hard-throwing young closer Ken Giles is said to be available, though that may be more about a team looking to change as much as they can coming off their disastrous season. And as we know by now, the Nationals are considering deals for both their back-end guys, Jonathan Papelbon and Drew Storen, who has asked to be traded, bringing to seven the number of available closers in trade. Which is probably seven more than are on the free-agent market, where Darren O'Day, one of the game's best set-up men, is the best reliever, and Tyler Clippard may be second best.
Chapman and Kimbrel naturally would require a haul of young players, while the Yankees presumably would only consider trading Miller if they could get back an ace or big-time star, making that one the least likely of deals to happen. To trade Miller, it would probably take an offer of the ilk of Stephen Strasburg from the Nationals, who are considering a total remake of their bullpen (though Nats GM Mike Rizzo pointed out that Papelbon has made up via phone with Nats superstar Bryce Harper, his dugout choking victim and the certain NL MVP). The reality, of course, is that Papelbon has a very limited market due to character/clubhouse issues, and even fewer teams may be interest after the dugout incident.
Anyway, as Yankees GM Brian Cashman told CBS Sports regarding Miller's possible availability, "We're open to all ideas -- as always. It doesn't mean I do anything, but if the Dutch never asked the Indians for Manhattan, you'd be living in New Jersey."
The Garden state aside, either Chapman and Kimbrel would require a haul, though Chapman's value is mitigated a bit by being only one season from free agency. The Reds should be in a clear rebuilding situation following back-to-back disastrous seasons and as things stand they enter 2016 with zero proven starters. The Padres are said more likely to try to build around a nucleus they like than do a major rebuild, but they do have Joaquin Benoit in tow should they trade Kimbrel.
The Diamondbacks, Nationals, Blue Jays and Yankees were among teams that talked about Chapman at the deadline, and there are said to be "seven or eight" teams showing interest now in Kimbrel. The aforementioned four teams, plus the Braves, Red Sox and Tigers are seeking back-end relief help, with the Cubs and relief-strong Royals among many others looking at late-inning help. Atlanta still loves Kimbrel, but word is a deal to return their beloved son home is "probably not realistic" at this time.
Six teams are in pursuit of the top free agent O'Day: the Red Sox, Nats, Tigers, Dodgers, Cubs and Royals. O'Day has been a set-up man extraordinaire for the Orioles, but some teams may consider him to close. The Orioles like O'Day but could wind up being priced out.
The Yankees are an interesting one since they considered both Chapman and Kimbrel at the deadline as they weighed forming a super pen, the kind that might even top the Royals group that's been seen as the best in baseball and helped them to two straight World Series appearances. At the same time, the Yankees, a team that will consider anything, say they will listen on Miller (and just about anything else). It's possible they could wind up trading a star reliever, and acquiring a different star reliever, as they aim to enhance their rotation. They may best exemplify this wild closer's market.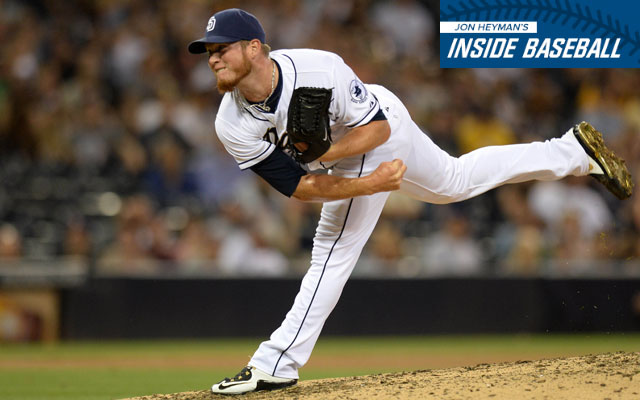 Around the Majors ...
Team
News
An Orioles person joked that Chris Davis has lowered his demand to "rights fees." On a serious note, they would like to keep him.
Ryan Raburn may be a good buy for someone after the Indians surprisingly didn't exercise his $3-million option. Among players with at least 200 plate appearances in 2015, his OPS plus was 149, good for 10th, one spot behind Edwin Encarnacion and one behind Jose Bautista ... The Indians feel fortunate Michael Brantley had his shoulder re-checked now, after feeling a little ping in workouts. He's out five to six months, so had he waited for spring training, he might have missed the bulk of the season.
Detroit has its sights set on two starters and also aims to rebuild its pen. While the Tigers are looking at O'Day as a set-up guy they are most interested in obtaining a closer ... Joe Nathan is expected back a month or two into the season, and the Tigers would be happy to take him back on a minor-league deal. Nathan is said to be feeling good now and expecting to begin throwing soon.
Houston seeks a righty and lefty for the pen, a starting pitcher, some help at first base and maybe a left fielder, assuming Colby Rasmus rejects the $15.8-million qualifying offer ... Congrats to them and the Nats on breaking ground on the new spring facility down the road at West Palm Beach. As of spring 2017, they will no longer be in Kissimmee and Viera, respectively.
The whispers about Johnny Cueto's elbow are a disservice to him. The Reds did an MRI in May and found no structural damage. Plus he ws throwing up to 95 mph in the postseason, when he spun two gems ... KC will seek a starter, a corner outfielder or two and perhaps a second baseman ... Dayton Moore, the World Series winning GM, isn't at the GM meetings.
RIP Tommy Hanson, gone too soon at 29. I recall interviewing him in the visitor's locker room in Port St. Lucie nearly a decade ago and thinking about what a great future he had ahead of him.
Howie Kendrick, 32, is looking for at least a four-year deal. Besides the Dodgers, the Angels Yankees, Royals and Diamondbacks are among teams that could consider a second baseman ... The Dodgers higher-ups are great admirers of Joe Maddon, and you can see that in their managerial candidates. Bud Black and Ron Roenicke were with Maddon on Mike Scioscia's early coaching staffs in Los Angeles/Anaheim, Darin Erstad played on those Angels teams, Gabe Kapler played for Maddon in Tampa and Davey Martinez is Maddon's righthand man in both Tampa and Chicago. All those are candidates, as is Padres coach Dave Roberts. Bench coach Tim Wallach, who will likely end up in Miami as Don Mattingly's bench coach, plus Dodgers hero Kirk Gibson, are seen as less likely to win the job among interviewees.
The Twins' surprise winning bid of $12.85 million for Korean first baseman Byung Ho Park would boost their offense if they're able to get him signed within the 30 days allotted to do so ... MLB people were surprised the bid more than doubled the $5-million winning bid for Jung Ho Kang last year. But Park will benefit from Kang's success. Word is, the sides have already touched base. He is seen as likely to get about double the $11 million Kang received, with a deal of perhaps $20 million, or more. ... Park is a possible DH for the Twins, with Miguel Sano possibly moving to the outfield. Folks have called the Aaaron Hicks, Eddie Rosasio, Byron Buxton triumvirate the outfield of the future, but the reality is, Buxton may still be a year away from real productivity.
No surprise, assistant GM John Ricco said the team has fielded interest in their young vaunted starting crew. The belief is, as they've said, they are not all that likely to break up the excellent group ... Best wishes to GM Sandy Alderson, who is missing the GM meetings here after recovering from an undisclosed procedure.
Pittsburgh could look to improve their first-base situation, as Pedro Alvarez is said to be on the block again. He probably needs a change of scenery.
The Cardinals are planning to non-tender Steve Cishek since he's been paid at a closer rate and is no longer a closer.
San Diego is not likely to rebuild, and will most likely instead seek a shortstop, a lefthanded bat and back-end starters ... Jimmy Rollins could possibly fit them ... San Diego will give Brandon Maurer, who did a very nice job for them, a chance to start ... Wil Myers could wind up in left field or at first base ... The Padres have a possible center field platoon including Melvin Upton. But they will peruse the center field market ... Justin Upton will be gone, and some close to him believe it will do him good not to have to play with his brother at a time Melvin is trying to resurrect his career. Understandably, it hasn't been easy for Justin Upton to watch his brother struggling ... I lean "yes" on the question of Trevor Hoffman and the Hall of Fame. Shoo-in Ken Griffey Jr. and Hoffman are the biggest new names on this year's ballot, with Billy Wagner and Jim Edmonds two more who may have a case.
San Francisco may try for one big starting pitcher such as Zack Greinke or two slightly less expensive ones but isn't tipping its hand early. Last year they were fairly transparent in their pursuit of Jon Lester, and lost out, bidding $150 million, to $155 million for the winning Cubs. (The Giants would have gone to $155 million had he consented to come.) ... The Giants aren't ruling out a return for outfielder Nori Aoki, who is said to be "100 percent" according to agent Nez Balelo, following a late-season concussion that ended his year.
Mark Trumbo will play first base and Ketel Marte and Chris Taylor will play shortstop, but the Mariners will still need a center fielder, a starting pitcher, pen pieces and catching help ... They will make a two-year offer to Hisashi Iwakuma on top of the $15.8-million qualifying offer, as they hope to bring him back ... Carlos Quentin is hoping to make a comeback after saying last summer that he would likely retire due to longtime knee issues. He has been doing baseball activity for six weeks, agent Brodie Van Wagenen said.
The Rangers are looking to beef up their catching. Matt Wieters could be a possibility, but they would have been more interested if he didn't get the qualifying offer ... While Tolleson isn't being shopped, Texas is willing to listen to offers on him ... The Rangers are hoping to become more righthanded. Someone like Justin Upton or Yoenis Cespedes could fit them, potentially. The Rangers are not acting like they have big money to spend, however.
Alex Anthopoulos, ex-Jays GM, was in Boca Raton to pick up his MLB Executive of the Year awawrd. He received 21 of 30 votes with Pittsburgh's Neal Huntington and Houston's Jeff Luhnow the next top vote getters.
Nationals people deny that they ever gave Bud Black a one-year offer and maintain that they pay the going rate for managers after a managerial pursuit in which they negotiated with Black and the eventual hire Dusty Baker simultaneously. The Nats are sensitive to the perception they cut corners on managerial pay, and GM Mike Rizzo pointed out that Davey Johnson was the second highest paid manager in the game when he was with the Nats ... Anthony Rendon will be the third baseman with some combination of Yunel Escobar, Danny Espinoza and Trea Turner handling the middle infield ... They were pleased with Michael Taylor last year and he is a candidate to start in center field. The Nats are also weighing some outfield depth buy ... Rizzo said they were happy with Wilson Ramos' defense behind the plate, so even though he had a poor year at bat, they aren't set on trying to replace him.

Major League Baseball News

Nobu Matsuda, 32, a star with Softbank in the Japanese League, filed for free agency. He hit 35 home runs for the last year. He plays third base, second base and some shortstop ... One change that needs to be made regarding the qualifying offer is that players should have more than a week to decide whether to take it. As one agent said, "It's like making the trade deadline April 15." The smart money says no one, or almost no one, accepts again this year, even with the number up to $15.8 million.
Where might the Orioles third baseman land?

Kinsler will slot in at second base for the Angels

The Marlins got a better return for Ozuna than Stanton or Gordon
The two teams are going about things in very different ways

The Marlins are indeed in teardown mode under new ownership

The Marlins still have more attractive pieces