Led by Red Sox's Bradley Jr., players making big progress this spring
Here is a list of the spring standouts, with input from about a half-dozen scouts.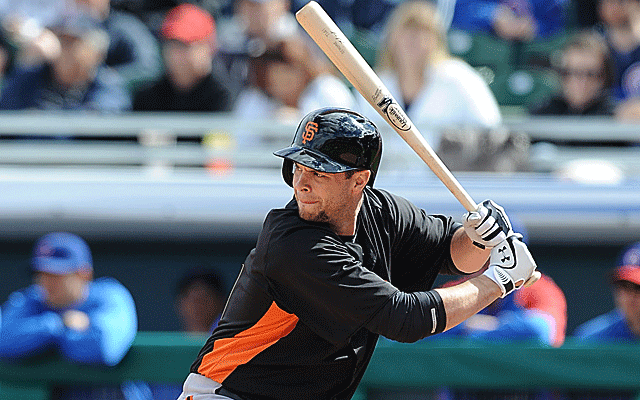 Brandon Belt is a rising star that looks terrific in Giants camp this spring.

(Getty Images)
BRADENTON, Fla. – Jackie Bradley Jr. was a non-roster prospect when he got to Red Sox camp, albeit a very good non-roster prospect, with what was said to be absolutely no chance to make the Red Sox team.
Now, at least, he's in the conversation.
David Ortiz starting the year on the disabled list (foot) is one factor improving Bradley's chances. But the bigger factor is the center fielder's play, which has been nothing short of spectacular.
"I'm just trying to be a tough out, to work the counts and make the pitcher throw a lot of pitches,'' the friendly, easygoing Bradley said here Monday after going one for three with a walk.
Red Sox people, who earlier were saying "no chance" to start the season in the majors, now are at least thinking about it. He is batting .436 with a .556 on-base percentage, and looking good against major-league pitching.
"I don't see how he couldn't be on the team? He's been their best player all spring," one American League scout said. (He suggests Bradley in left, with Jonny Gomez as the DH.)
"He's their second best outfielder,'' another scout said, meaning behind only Jacoby Ellsbury
Lack of experience (271 total at-bats as high as Double-A) remains the issue. But it sounds like Red Sox manager John Farrell is at least thinking about it.
"For a young kid, he's pretty polished," Farrell said. "He has a consistent approach at the plate, and defensively, he's very good."
Farrell, asked directly about whether Bradley will make the team, said, "We have 10 days for [the situation] to come to a head."
Bradley was asked if he thought he had a chance. 'I don't know,'' he said. "I'm here. And I'm enjoying it while I'm here. I'm excited to be able to play baseball ... at the next level.''
Bradley, who played in college at South Carolina and is only 22, has impressed the club with his serious approach. That goes for even the way he shags flies. His routes are impeccable, in practice and in games.
But with only a few months of experience at Double-A, management wasn't expecting the left-handed hitter to hit like this. 
Farrell said, "He's hit good pitching, and he's hit left-handed pitching."
And he might make the team, out of left field.
Here's the complete list:
1. Bradley.
2. Domonic Brown, Phillies OF:  After some fits and starts, he looks like the major power threat again. The Cubs tried to pry him for Alfonso Soriano this winter. No way is that happening now. "If he carries this over, he's every bit the player they thought he was," one scout said.
3. Brandon Belt, Giants 1B: The stat guys who love him may see him rise to star status this year. Looked terrific in Giants camp, as he's finally turning on more balls. Has four homers, 11 RBI and a .404 batting average.
4. Michael Wacha, Cardinals RHP: He's been sent down but he was so impressive in spring scouts were suggesting he might even be a better choice as the fifth starter than the Cardinals' two very good candidates, Joe Kelly and Shelby Miller. He has hit 97 mph and has a dynamic change-up and better breaking ball than advertised. Matt Holliday said he showed three above average pitches. "Plus, he's a good kid," Holliday said. Looks like the Cardinals hit the jackpot with the big right-hander out of Texas A&M, their first-round pick in 2012.
5. Kevin Gausman, Orioles RHP: Like Wacha, he as a first-rounder in the 2012 draft, so he has only 15 professional innings under his belt. And like Wacha, he looks like a star in the making. "Electric" one scout says of his stuff. He is throwing in the mid-to-high 90s, and his breaking ball was getting better reviews than at LSU. Also, he throws across his body a bit like Jered Weaver, so the ball is hard for batters to pick up. "With him and Dylan Bundy [the first-rounder the year before], they are going to be tough for years,'"one scout said.
6. Allen Webster, Red Sox RHP: He was throwing 97 to 98 mph and wowing them on the west coast of Florida. Rubby De La Rosa, the other prospects received in the big deal with the Dodgers, is also getting good reviews. "That's one heck of a trade," noted a scout. Not to mention the fact they excised $260 million in player salaries.
7. Aaron Hicks, Twins OF: He looks primed to make the jump from Double-A to replace Denard Span (and Ben Revere) in center field. He had a three-homer game that drew attention, but within that game, what really impressed folks was a single on a tough pitch in his last at-bat. Darin Mastroianni will make the team, but only as a backup.
8. Matt Adams, Cardinals 1B: He's squaring up almost everything. He has three homers, 11 RBI and a .310 batting average. He'll probably squeeze onto a stacked Cardinals roster, but the Yankees, for one, could really use him. The lefty swinger would be a monster power source at Yankee Stadium.
9. Jedd Gyorko, Padres 2B: He's made the transition seamlessly, from third base to second, and should give the Padres needed extra offense.
10. Gerrit Cole, Pirates RHP: The former No. 1 overall pick was sent out today, much to his disappointment. "He's awesome,'' catcher Russell Martin said. "He's a smart kid who makes adjustments and is unafraid. He has a power fastball and a power changeup. He has a slider that's in the works, and a curve in the works. He really fills up the strike zone.'' He was throwing 92 to 96 and occasionally touching 97. "Good stuff,'' one scout summarized. He'll be in the majors sometime soon.
11. Howie Kendrick, Angels 2B: He's being tried in the No. 2 hole, between superstars Mike Trout and Albert Pujols, and he seems to be enjoying it. Batting .500 exactly (20 for 40). Two words of small caution: Nobody has better hitting conditions (in Tempe, and between Trout and Pujols), and he has a history of big spring.
12. Yasiel Puig, Dodgers OF: Some scoffed when the Dodgers gave this rarely-seen Cuban $42 million. But it looks like it might be a steal along the lines of the Yoenis Cespedes deal ($36 million, four years) now. Hitting .452 over at Camelback Ranch with Dodgers.
13. Javier Baez, Cubs SS: He was sent out after a homer streak. Has to be one of the very best prospects in baseball. Cubs are stacked at shortstop.
14. Adam Eaton, Diamondbacks OF: Good thing they made room for this guy. He's going to give the D-Backs a great speed dimension, though his one negative this spring is being thrown out on four of six steal attempts. Batting .458. He's been "even better" than his stats raves a D-backs official.
15. Jared Mitchell, White Sox OF: The highly-touted LSU product is "finally healthy and made some adjustments with his setup." Looks ready for the prime time. Hitting .387 in the desert. Another Sox outfield prospect Trayce Thompson, son of basketballer Mychal Thompson, is a great defender with an "improving bat."
16. Leonys Martin, Rangers OF: The free swinger is batting .359 as he tries to lock down the center-field job. Even better, he has five walks and a .422 on-base percentage.
17. Christian Yelich, Marlins OF: Miami has three terrific minor-leaguer outfielders, including also Jake Marisnick (5 of 11 before suffering a broken hand being hit by a pitch) and Marcell Osuna, and if they're all in the same outfield that'd be something. Yelich hit up a storm in Jupiter.
18. Matt Carpenter, Cardinals 2B: He had a huge spring, and appears to be a slight favorite to win the 2B job over Daniel Descalso. He looked serviceable defensively but the real selling point is that he should hit a ton for a second baseman.  Hitting .410 this spring.
19. B.J. Upton, Braves OF: Looks like the money ($75.2 million, five years) hasn't gone to his head. He and his brother Justin are thriving together in Braves camp so far. Especially Justin, who's hitting .408.
20. Jordany Valdespin, Mets INF-OF: He came to camp without a job but it appears he'll either start at second base (if Daniel Murphy isn't back yet) or in the outfield, and appears to be penciled in as the Mets' leadoff hitter.  He's shown big power in spring.
21. Brandon Maurer, Mariners SP: Maurer, a mid-round draft choice, could crack the rotation. No less than Felix Hernandez identified him early on as the young Mariners prospect most ready to pitch in the bigs.
22. Evan Gattis, Braves C: He has a chance to make the team, thanks partly to Brian McCann being out until at least mid-April while recovering from shoulder surgery. He's hitting .378 and has big-time pop. A great story, he was out of the game a couple years. Ready to emerge.
23. Francisco Lindor, Indians SS: Terrific all-around talent provides hope for future, and could lead to Asdrubal Cabrera finding himself on the trade market. "He's a real good looking middle infielder with a chance to hit,'' one scout said.
24. Francisco Peguero, Giants OF: He's 15 for 39, and better still, with only five strikeouts. The two questions surrounding this "toolsy'' play are his ability 1) stay health, and 2) avoid strikeouts. So far he's doing both.
25. Nolan Arenado, Rockies 3B:  A terrific defender, he's hitting up a storm in the desert. Took a step back last year, but now looks ready to bloom. He's slowed a bit after a hot start but still has a 1.069 OPS.
26. Mike Moustakas, Royals 3B: He's banging the ball so well he was considered to be added to Team USA. Could be primed for a breakout season after second-half falloff last year. Hitting .415.
27. Oscar Taveras, Cardinals OF: The lefty hitter is wowing scouts in Cardinals camp. They don't need him … yet, anyway.
28. Rick Porcello, Tigers SP: If he's on the trading block, somebody better pony up quite a bit. He has 18 strikeouts and only two walks.
29. Jonathon Niese, Mets LHP: He'll get the Opening Day start due to Johan Santana's slow spring, but he earned it. He's 1-0 with a 0.71 ERA and a nice changeup has complemented his bread-and-butter curveball.
30. Jon Lester, Red Sox, LHP: He's been simply dominating for Boston, which needs a comeback year, from him and the team. He's 3-0 with a 0.90 ERA. Clay Buchholz is 2-0 with a 0.00 after an early hamstring strain.
31. Julio Teheran, Braves RHP: He's made the adjustment from a 97-mph thrower with little-to-no command to a pitcher who works at 91-94. Has 25 Ks and just six walks in 20 innings.
32. Nick Hundley, Padres C: They need him to get his swing back with Yasmani Grandal missing 50 games due to his PED suspension, and he has done that. Batting .457 in Peoria.
33. Justin Smoak, Mariners 1B: Some worry that his nice September might be a mirage, but at least he's carried it into February and March. The Mariners having been hitting like crazy in Arizona. (Trade pickup Michael Morse has five homers.)
34. Jorge Soler, Cubs OF: He was drawing raves as an all-around player in Mesa, not just a power threat. The Cubs are doing a nice job building for the future.
35. Alex Gordon, Royals OF: Kansas City has looked very good this spring, and Gordon is one reason. His big second half suggests he may be ready to become a bona fide star. Like Kendrick, he's 20 for 40 this spring.
36. Connor Jackson, Orioles OF: He's returned from a bad bout with Desert Fever and looks like he has a chance to regain his career. Has chance to make team. Nice story. (Last year's nice story, Lew Ford, is hitting .483 this spring.)
37. Jose Ramirez, Yankees RHP: Big arm. He impressed scouts early but had a rough one late. "Not quite ready,'' said a scout.
38. Lorenzo Cain, Royals OF: He looks ready to break out. Could be a nice year in K.C.
39. Alex Cobb, Rays RHP: No surprise, the Rays' young pitchers look good. Cobb has 23 strikeouts and just two walks. Chris Archer was shipped out with a 0.00 ERA.
40. Mike Trout, Angels OF, and Bryce Harper, Nationals OF: The two second-year players are showing no signs of letting up. Trout looks like he might duplicate what he did last year (.408 this spring), and Harper should take a big step forward. He's hitting a point higher at .409 with three homers and eight RBI.
Gallardo spent the first eight years of his career in Milwaukee

MLB revenues are at a record high right now, but teams aren't spending it on players

Chicago added Tyler Chatwood earlier this offseason but might not be done adding to the ro...
The Dodgers and Braves pulled off a whopper on Saturday

Sabathia will reportedly spend a 10th season in the Bronx

Fowler suffered a knee injury at Chicago's Guaranteed Rate Field