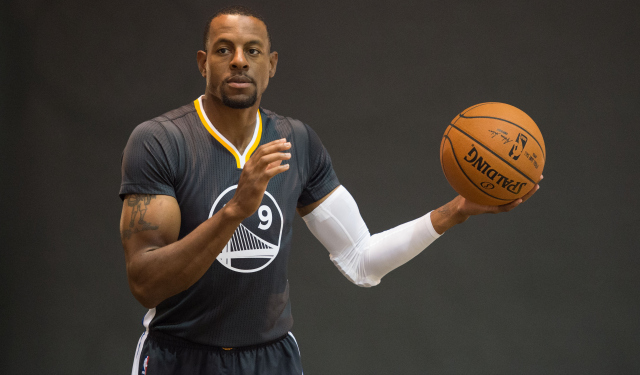 Golden State Warriors swingman Andre Iguodala came off the bench to play point forward on Sunday against the Los Angeles Lakers, and coach Steve Kerr told reporters that Iguodala was "brilliant" in the role. Harrison Barnes started at small forward like he did two years ago, and Iguodala finished with four points and eight assists in 21 minutes. While Kerr was just experimenting, Iguodala was asked about the situation on Tuesday, via the Bay Area News Group's Diamond Leung.
"It's just growing up, being smart about the situation," Iguodala said Tuesday. "You could do the opposite and kind of just tank it just to say that it's wrong. But like I said, our whole focus with this team is to try to continue to improve and make the most out of our unit, and we have so much depth, there are opportunities for us to get where everybody wants to be."

…

Iguodala reiterated that the question about his status in the lineup should not be a big story. Asked if he cared if he started or not, he said, "I don't know. That's a good question."

He paused.

"It's just playing ball, you know? You try not to make a big deal out of it."
This is a tricky time to ask Iguodala about it -- he still seems like the probable starter, and he's never come off the bench in his NBA career. He's going to do what the head coach asks him to do in preseason, and it would be silly for him to complain about it right now. As one of the best defenders on the planet and an intelligent offensive player, though, he has every right to think he deserves to start. Most would agree that Iguodala starting and playing big minutes would give the Warriors the best chance to win, even with the understanding that the injury to backup point guard Shaun Livingston changes things for Golden State's rotation.
So, how should Kerr handle this? One of his biggest challenges is to get the most out of Barnes, who played his best basketball as a rookie when starting and, in particular, when playing stretch 4 in the playoffs. His confidence then appeared to take a hit last year when he had to take a backseat to Iguodala. I'd love to see both Iguodala and Barnes start in the frontcourt, with David Lee coming off the bench, but that might not sit well with Lee, who is the team's highest-paid player. Coaching is about Xs and Os, but it's also about managing egos. Kerr has a few things to balance here.