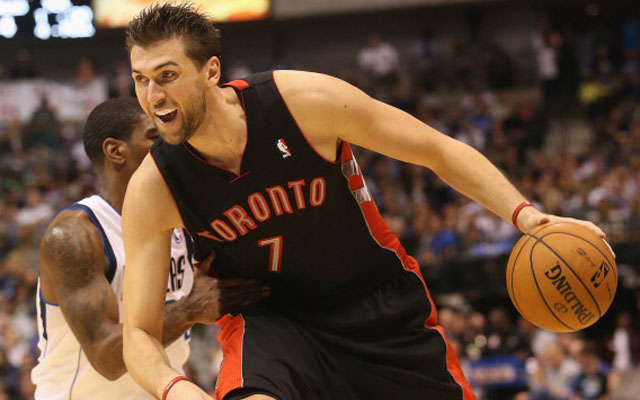 Bargnani is rumored to be in trade talks.
(Getty Images)
With the Raptors in abject freefall starting the season 4-17, the pressure is mounting on general manager Bryan Colangelo to do something to fix the disaster of the start to this season. 
And all eyes are on Andrea Bargnani. On an eight-figure contract for three more seasons, Bargnani is most identified as the problem with Toronto. He doesn't fit with second-year coach Dwane Casey's toughness-focused approach. He's not shooting or defending well this year. And from what I can gather from Twitter, most Raptors fans hate him with the fire of a thousand suns. 
But for Bargnani, with trade rumors swirling, most especially regarding a potential deal to LA, it's no big deal. His general attitude? "Whatever, bro." From the Toronto Sun: 
"No, of course it doesn't affect me, but I think it does make sense on this team," he said. "Who else would you blame? I don't really know what you want me to answer."

Even the trade rumours, the kind that keep popping up, the kind that can mess with a player's head aren't having any impact on him.

"Of course I hear the trade rumours," he said. "But trades are part of the job. Since the first day I joined this team seven years ago, I knew I could be traded. That's the reality. From Day 1 you know that can happen at any time."

In Bargnani's almost Spock-like logical world, there is no point in letting something that has always been a distinct possibility affect him one way or the other, and there's certainly no point in getting oneself prepared for such an eventuality.

"It's something you don't control, so there's no purpose in being prepared for it or getting prepared for it," he said. "The only thing you really care about is trying to play good for yourself and for the team. That's what you have to prepare for. A trade? Be prepared or not prepared, it doesn't make you a better player or a worse player. If it's going to happen, it happens. If it doesn't, I mean it's not something you really think about, at least I don't think about it.

"Maybe you have more chance of being traded when you're playing good, right? Because your value is up ... I don't panic, honestly. So all these rumours and the talking? What does thinking about rumours get you at the end of the day?"
(via Raps' Bargnani not bothered by trade rumours | Raptors | Sports | Toronto Sun)
That's a whole lot of apathy. It's one thing to acknowledge the trade rumors, but it's rare to see a player say that it makes sense and he's not surprised or upset.
Which is kind of the problem. Fans want to hear Bargnani desperate to stay, angry at the criticism of him, fighting for rebounds and scrapping out plays. They want Reggie Evans. This, though Evans is about as bad of a help defender, probably a worse man defender, and has no jump shot. But Bargnani dug this hole. His performance has simply not lived up to the expectations of his draft spot (No. 1 overall) or his contract. And it's time for a change in many people's eyes. 
But Bargnani just isn't built that way. If he were struggling, the outcry would be the same but wouldn't be as intense. It's one thing to not play well; it's another to not play well and kind of be OK with it. That's not Bargnani's attitude, but that's what it seems like. And for fans and media in the middle of a horrible season, that perception matters more than fact. 
Meanwhile, Colangelo is open with the fact that changes need to be made but isn't going down the roster-change option publicly yet. He knows it will kill trade value. 
"We're always pursuing every possible avenue to get better," he said. "When teams struggle, it creates opportunity sometimes. Sharks begin circling and different things start popping up but you can't believe everything that's been written out there, you can't focus on one thing or one player.

"You've got to look at this as a disappointing situation that we're trying to make better."

With Casey saying earlier Saturday that he wasn't about to tinker with his starting lineup (although "minutes and rotations will change according to production," the coach said), Colangelo defended the skill level of his team.

"I don't believe this is a talent issue," he said. "I think it's a lack of focus, attention to detail, consistency of competing. We've shown flashes of very good basketball, just not good enough to pull out games when we need to pull them out."
(via Raptors' play 'embarrassing,' says GM Bryan Colangelo - thestar.com)
That "sharks circling" comment is most revealing. He's trying to cover for Bargnani. If Colangelo does trade him, he must get good value in return. As much as Raptors fans might think they want Bargnani gone for draft picks and fluff, or a hustle player, the Raptors' offense will sink to the bottom of the sea if they don't get someone who can score and spread the floor. Defenses will pack the paint against Kyle Lowry and DeMar DeRozan and dare them to shoot, even with their bevy of shooters. 
The key for Colangelo needs to be roster overhaul, though. We've seen last year that, when players buy in, Casey's approach can work. It would be a shame for him to get nailed for this team's falures. They hired Casey, and they don't have a superstar. The objective needs to be to get Casey the kind of personnel that he needs. 
The Raptors have Jose Calderon's $10 million expiring contract to package, and they can probably spare Amir Johnson's deal as well to shed salary and sweeten a package. But the trick is going to be getting into a multi-team deal. Colangelo's odds of getting good return on a simple two-team deal are low. They need to target young players whom Casey can work with and a post scorer. It's a difficult deal to make happen. And if Colangelo doesn't pull it off or chooses not to pull the trigger, he's going to be facing a tough situation with his contract expiring.
Something's gotta give.