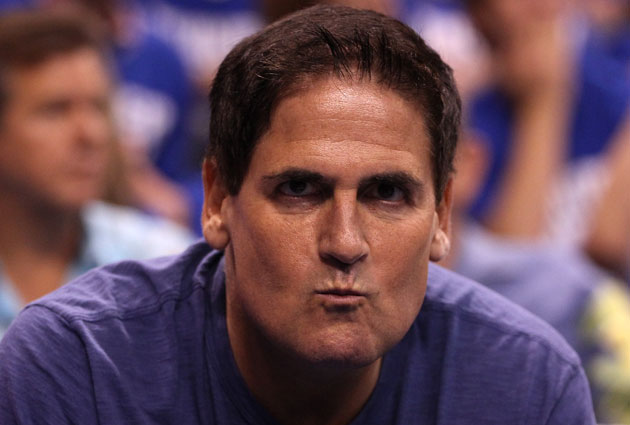 More NBA: Power Rankings | Expert Picks | Latest news, notes
Mark Cuban has a new opinion -- that the NFL risks "implosion" because of greedy tactics. 
"I think the NFL is 10 years away from an implosion," Cuban said Sunday evening when his pregame conversation with reporters, which covered a broad range of topics, swayed toward football. "I'm just telling you, pigs get fat, hogs get slaughtered. And they're getting hoggy. Just watch. Pigs get fat, hogs get slaughtered. When you try to take it too far, people turn the other way.

"I'm just telling you, when you've got a good thing and you get greedy, it always, always, always, always, always turns on you. That's rule number one of business."
Cuban's focal point is about the NFL's continuing reach at expanding their television rights, specifically in playing games on days other than Sunday or Monday.
"They're trying to take over every night of TV," Cuban said. "Initially, it'll be, 'Yeah, they're the biggest-rating thing that there is.' OK, Thursday, that's great, regardless of whether it impacts [the NBA] during that period when we cross over. Then if it gets Saturday, now you're impacting colleges. Now it's on four days a week.
"It's all football. At some point, the people get sick of it."
Cuban's point is essentially a supply and demand issue. The NFL is the United States' most popular sport by a pretty wide margin, so the league is naturally trying to capitalize on it. With television ratings at all-time highs and league revenue through the roof, it also seems like smart business to try and keep growing the product. 
The NFL reached a deal in February with CBS to simulcast games on Thursday with NFL Network. Meaning the NFL will have games next season on Sunday, Monday, Thursday and even Saturday late in the season. Cuban compared the tactic to Who Wants to Be a Millionaire, which declined in popularity after the show starting airing every weeknight.
"They put it on every night," Cuban said. "Not 100 percent analogous, but they handled it the same. I'm just telling you, pigs get fat, hogs get slaughtered."
Yeah, I'm not sure a formulaic game show and giant sports league are exactly comparable. But there is a saturation point we all reach. Part of the draw to the NFL is only committing to it once a week, and then on Monday night. Thursday night football has worked because people watch any kind of football (just look at the Pro Bowl ratings for crying out loud), but the more it's on, the less special it becomes. NFL Sunday is a weekly American event, appointment viewing in almost every household. By spreading out the games throughout the week, the NFL risks watering down the product.
There is only so much consumers can take. There are only so many eyeballs and if the NFL expands, it will then open the door to compete against a lot more than just other sports. It will go against giant reality television shows, popular drama series, and everything else. Right now, the NFL owns Sunday. There's a certain arrogance that it can own every other day, too, and that's where it could, as Cuban says, get burned. 
Then again, Cuban clearly has a dog in this fight. He's an NBA guy by trade, and the league has been trying desperately to close the gap on America's favorite sport. Adam Silver said recently the goal of the NBA is eventually "rival" the NFL. There has certainly been progress with revenues and ratings, but the NFL is king and doesn't appear to be at risk of getting knocked off its perch. 
Unless as Cuban predicts, it knocks itself off.