"We're talking about practice…"
How much is a sound bite worth? When it comes from NBA legend Allen Iverson, that one sound bite is worth the entire perception of who he was as a competitor. It was the inspiration needed to tear down one of the most popular athletes we've ever seen. Strip away his hard work and the context of a frustrated outburst over trivial misunderstandings. We find a joke, a meme, a distraction from a moment of pain and suffering.
In the documentary "IVERSON" which debuts Saturday, May 16 at 9 p.m. ET on SHOWTIME, filmmaker Zatella Beatty tells the story of one of the more complex individuals we've seen in the sport of basketball or any sport, really. To understand where he comes from is to begin to get a glimpse into a persona that has always been so guarded and misrepresented due to its isolation.
Pulling off such storytelling has been a journey in and of itself. Beatty's inspiration was derived from an interview she saw with Iverson a long time ago, in which his heart, determination and drive shined brightly through the television. From there, finding the beginning of his story and how he arrived to be the person she saw in that interview would prove to be difficult. Despite promises of being able to reach him through various channels, Iverson was at the height of his stardom and harder to get in contact with than the President of the United States.
You don't get to this point without Iverson becoming the global superstar he was and you don't have Iverson the superstar without the trials and tribulations of growing up in Hampton, Virginia and the mentorship and guidance of Gary Moore.
MAKING IT FROM HAMPTON, VIRGINIA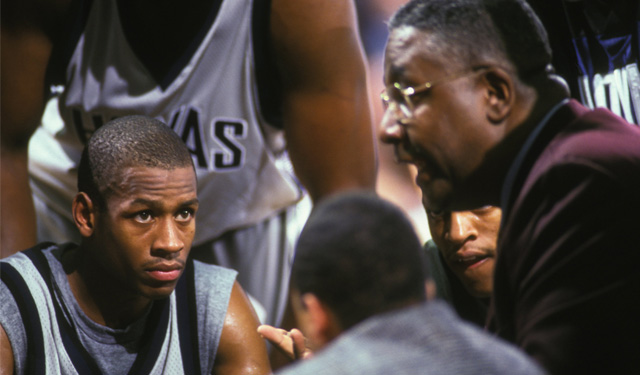 Over the years, Moore served as the mentor, father figure, coach, and manager of Iverson. Through the ups and the downs of Iverson's life, Moore was there to instill values in him that he hoped would help Allen find the right path out of Hampton and into realizing his potential. It's the same guidance he's offered up to hundreds of kids over the decades, and something he learned from his father. Moore's father started the Aberdeen Father's League -- teaching football, teamwork, and life skills to help young black kids reach their potential.
It was through that football program that Moore met Allen Iverson, through the encouragement of Allen's mother, Ann. Iverson was eight years old, and even though he was smaller and younger than the other kids, he took to playing the sport and learning from Moore. The preaching of "The team that won't be beat can't be beat" was instilled in Allen.
"I remember the first moment I saw him and he was just so small," Moore says. "I was just intrigued by his size but what was even more impressive about him was his heart and his desire. I could see that from the outside because he was always trying to encourage others, always trying to make them feel they could be better than who they were, and also he was trying to do and play everything, every position on the field."
The two gelled almost immediately as Iverson absorbed the teaching and guidance from Moore. As Moore says in the documentary, he would tell Iverson that he was going to mean to people what Martin Luther King, Jr. meant to people. 
"Some people were like 'how could you say something like that?'" Beatty questioned when recounting Moore's Martin Luther King comment. "Once we were down there and we saw what it was like, I understood that that's what it felt like to them because there were marches. There were boycotts. It was a major thing in this little Southern town, so that's what it felt like to them."
There were marches in Iverson's honor following his incarceration in September of 1993. Iverson's local celebrity as a two-star athlete destined for greatness lead to him being recognized and then accused of participating in a bowling alley brawl between local black patrons and white patrons from nearby Poquoson.
"If you're from Virginia then you know some white people from Poquoson don't like black people," Iverson says in the documentary.
Iverson and his friends recount the story in the film of fighting everywhere and his friends protecting Allen so he wouldn't be pulled down by people looking to hurt him and his future. They escaped from the brawl, left to get some food, and then found themselves accused of participating in a mob that maimed three people. Delays led to Allen going to trial as an adult and he was incarcerated on a 15-year sentence with 10 of the years suspended.
Beatty describes the task of trying to get people in Virginia to discuss the incident and the legal process as "investigative journalism." Acquiring footage of the incident, footage following the incident, and getting the Judge Nelson T. Overton to speak about the case proved to be difficult. Beatty and her crew had to earn the trust of those who owned the footage and still struggled to get people to talk about what happened. Judge Overton met with them but refused to speak about the trial. He passed away three months after meeting with Beatty.
The film crew was told to leave town. They had their cameras taken away. They faced issues that seem outdated by history books, but were still prevalent as of 2008 when these attempts to get an honest representation of the story were denied.
"You had to spend a lot of time in that area to understand the climate overall," Beatty explained. "You really can't understand it unless you're there and see what it's like growing up in that little section. I'm from Washington, D.C. but this was a part of Virginia I had never been exposed to. There were certain parts of the town where they said, 'Don't come here after dark.'"
Allen spent four months at the Newport News City Farm correctional facility. He wasn't even out of high school but he was serving time as an adult, while the community rallied around him and marched for him. His story became national news, covered by Tom Brokaw, and eventually Virginia Governor Douglas Wilder granted clemency to Iverson after four months in prison. 
Iverson had a choice to make in life. He could fall through the cracks of the system and lose out on his potential and his dream. Or he could channel that anger into work ethic and take his revenge by realizing his potential despite efforts to derail his development. He could fight for his second chance. 
"It's just from where I'm from," Iverson told CBSSports.com about his decision to channel the frustration into realizing his dream. "Either you give in or you fight. That's all I know being where I'm from. You fight for what you want. You go after what you want. The only thing I could do was give up or keep fighting for what I wanted in life. My dream was bigger than anything else. My fight and me wanting to fulfill what I wanted to be in life. That was enough to keep me strong enough to endure anything."
He completed his high school education at a school for at-risk students. His mother convinced John Thompson of Georgetown University to give Allen that second chance and Iverson says it was that second chance from Coach Thompson that made him realize his dream of being in the NBA was still possible.
THE ARRIVAL AND ASCENSION TO STARDOM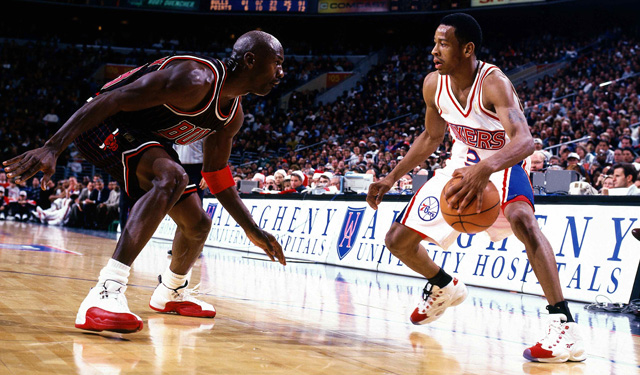 When premiering "IVERSON" at the Tribeca Film Festival, executive producer and lifelong Philadelphia 76ers fan Mike Tollin introduced the film. Tollin has been around long enough to see Wilt Chamberlain, Hal Greer, Julius Erving, and all of the Sixers' greats, including Iverson, play for Philadelphia. He told the audience, "As a lifelong Sixers fan, I can say that Wilt won us a title, Doc won us a title, and Allen won our hearts."
"You know, that's how I felt," Tollin told CBSSports.com. "Like, there's something about our relationship with Allen that transcends even the guys that had won for us."
After spending two years at Georgetown under the tutelage of Coach Thompson, Iverson declared for the NBA Draft in 1996. His sister was suffering from seizures and she needed to see a specialist. They needed money for that care. He was selected with the first pick in the draft by the Sixers, and immediately became the star many felt he was destined to be.
A couple weeks prior to the draft, Iverson signed with Reebok. In a big company event announcing Iverson's partnership with the shoe brand, he addressed the workers and representatives, talking about what a special time it was in his life.
He said, "I just feel this is my planet."
He was always one of the smallest guys on the court, but almost never showed pain. That was something Moore taught him during his formative years. You didn't show weakness. Every time you got knocked down, you had to get up and show you were fine. That was the way Iverson played. The word "warrior" became synonymous with how you described his fiery, competitive nature. He wasn't bashful and he certainly wasn't going to shy away from the spotlight. 
Iverson's big moment of arrival as a rookie was the famous crossover against Michael Jordan. He wanted to test his signature crossover against the best players in the world, and there wasn't someone who fit that criterion better than Jordan. Iverson would later joke that he hit MJ with his best move and still almost had his shot blocked, but it was this kind of confidence that permeated throughout his game. 
That game extended beyond the court. Iverson became a cultural icon in a way that few have. He was the bridge from the iconic global superstar Jordan, ushering in something of a cultural revolution for young people and young athletes. He had tattoos. He put his hair in cornrows. He wore baggy clothes as almost a counter-culture movement against what athletes were expected to look like.
Iverson was the antithesis to Madison Avenue, which was ironic because he was the icon marketing dreams are made of. He had to be embraced by advertisers while curbed by the rules of the league regarding dress code. It was an attempt to rein in his impact while still toeing the line to celebrate the money businesses and the league could generate from his existence.
His image was boosted by his play on the court. He was flash and substance at the same time. He played as hard as anyone we've ever seen. He was the attitude of the new regime of professional athletes, and it both boosted his brand and affected his standing. A near trade in 2000 refocused Iverson to embrace the teachings of his coach Larry Brown.
Allen was still the counter-culture icon for youth in America, but he also turned into the NBA's Most Valuable Player. The Sixers had a magical run to the NBA Finals, where Iverson's absurd Game 1 performance, including the famous "step-over" on Tyronn Lue, seemingly cemented his place in playoff history as one of the greatest individual performers. But he simply didn't have enough to take down a Lakers team that won the next four games and the championship.
THE PRESS CONFERENCE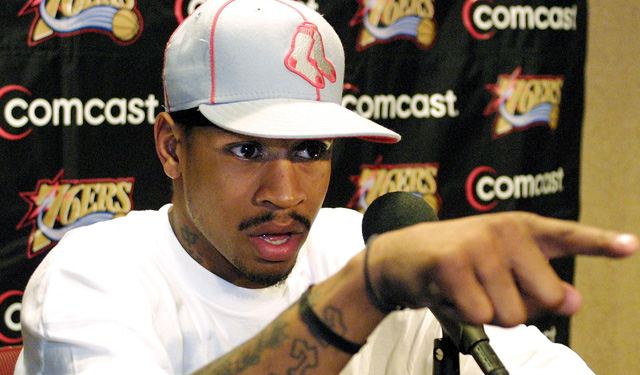 "It shows how the media treats me," Iverson says about the infamous press conference. "They didn't tell you why I was upset the way I was. They didn't go into that because that isn't what people want to hear when it comes to Allen Iverson. You want to hear something negative. Something positive about Allen Iverson don't sell. Negativity sells when it comes to me."
A year after the magical run to the NBA Finals, the Sixers didn't meet loftier expectations. Injuries and inconsistencies led to the 76ers finishing with a 43-39 record and a first round playoff loss. Brown had complained to the media about Iverson missing practices and then Allen walked into a press conference that blindsided him. Question after question to Iverson was about missing practices, and that was the furthest thing from his mind.
"He was broken," Moore says about the press conference. "No one really knows what that sound bite was really about. This guy was so hurt. It had nothing to do with his desire not to practice. 'I am sitting here tragically trying to deal with the loss of my friend, coupled with the fact that I just lost out in the playoffs and you guys are trying to talk to me about practice.' That's just how much Allen Iverson has been misconstrued and misunderstood."
Iverson's talk with Brown and management prior to entering the press conference was about the Sixers' star not going anywhere. He wasn't going to be traded. He wasn't going to leave after Philadelphia's failure that year. He was expecting to answer questions about that situation, not practice. 
"We talking about practice... Not a game. Not a game. Not a game. We talking about practice."
Iverson refused to leave the dais when Sixers' PR tried to control or even end the press conference. He was stubborn and he was going to prove a point about how silly the conversation was, but it had nothing to do with what he thought of the subject of practice. He had other things on his mind. He had the loss of the season. More tragically, he had the loss of his friend Rashaan Langeford, who was a groomsmen at his wedding.
Langeford had been brutally murdered following a dispute that year and the trial had begun.
"I lost him and I lost this year," Iverson said during the talk with the media that day. "Everything's going downhill for me, as far as just that. As far as my life. And then I'm dealing with this right here. I don't want to deal with this, man. I don't want to go through this s---.
"Try to go through what I go through in my life. My best friend: dead. And we lost. Y'all want to talk about what's going to make me a better basketball player; when you understand that, that people are human just like you, then that'll make you a better person. I'm trying to get better. You need to, also."
The sound bite was what lived on, rather than the message Iverson stubbornly tried to convey. There were things other than practice ruling his world in that moment. But the sound bite was funny. It was an instant meme. And it still lives on today.
"He had seen so much growing up in that environment and he had lost so much at that early age, here was just another one," Beatty says as she tries to explain the moment of the rant. "It was something very interesting because people talked about the way he dressed and all those things and why doesn't he just put on a suit?
"I wanted to somehow incorporate this in the documentary -- it didn't get in there -- but one of the reasons he always had issues with wearing suits was because every time he put on a suit, he was going to a funeral. All these things you had heard about him, they're not even reasons. We came up with our own narrative but the truth is it was a painful experience for him."
The sound bite is the encapsulation of everything that is Iverson. He was brash and adamant about doing things his way, which didn't always sit well with others. He was misconstrued and misunderstood in his message. He couldn't get out of his own way with his words and image, not because he wasn't able to, but because he didn't see a reason to.
THE LASTING EFFECT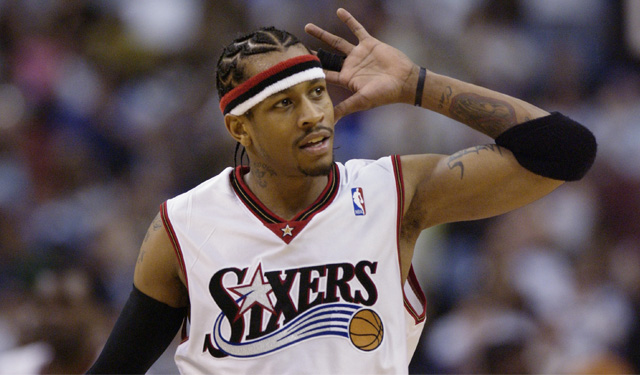 The journey of this documentary had as many twists and turns as Iverson's career itself. The project's blueprint was to tell his story as a tale of hope and inspiration. The teachings of Gary Moore and the absorption from the special competitor that Iverson's journey had created in him are there to tell kids, adults, or anyone that going after and fighting for what you want to be in life is worth the struggle.
Iverson was traded to the Denver Nuggets in December of 2006, and this project truly came together when Beatty and Moore connected with the same goal in mind: to tell Allen's story, something Moore had been asking Iverson to allow him to do for years. The project truly was in motion in 2007 and it was expected Denver would be the city where he'd retire. This would be the final chapter in his career.
A year later he was shipped to the Detroit Pistons and it sent Beatty and her crew scrambling. They had to reorganize their efforts less than a year later when he signed as a free agent with the Memphis Grizzlies. Three weeks into the season, Iverson was waived by Memphis. Less than a month later, he returned to Philadelphia in an emotional send-off with the fans and city that still loved him as if he had never left the organization.
"What I do think is he was aware of the enormous outpouring of affection from Philly and he knew how special that was," Tollin tells me about Iverson's understanding of his impact on the culture. "He knew how many elite athletes had had difficult times with Philly fans, so I really think he cultivated that relationship. He played to the crowd. You know that thing with him cupping his ear. That's sort of a lasting image and when he came back, kissed the floor, and then when we retired his jersey in the rafters, it's just an unending, a kind of blind love."
Three months after signing back in Philly, he was released so as not to be a distraction to his teammates while he dealt with his daughter's illness. That's where his NBA journey ended. His story still rings loudest out of most legends; a story that was allowed to be told through Beatty and Moore, who hopes its teachings resonate in young people like his teachings resonated with Iverson.
Moore tells a story of Iverson's great grandmother, Ethel Mitchell. He glowingly describes her as a "strong black woman with great character." He calls her the backbone of the Iverson family, constantly teaching the core values of life and the importance of family. Before her passing, Moore says that she looked him in the eye and told him to take care of Allen because he'd need Gary throughout his life. It's something that motivates him to keep a watchful eye out for Allen as his story and life continue.
"I look at it like it's a piece of art or a painting," Beatty says about what she hopes the audience will take from it. "I think when people go to a museum or a gallery, they look at art and they see many different things. And there are many different things in this documentary.
"If you're a child, you see what can happen when you overcome adversity. If you're a parent or a coach or a mentor as Gary was, you see what happens when you take the time and nurture a child. If you're an athlete, maybe it's a cautionary tale. If you're just a person in general, maybe it's about survival and endurance because I didn't realize that was what we experienced. It was about getting through this. You'll experience many different things as if you're in a museum and it's a piece of art, take away from it what you see."
And what does Allen Iverson want the audience to get from the story of his life and journey?
"Yeah, but I'm talking about adults as well," Iverson says about the message of the documentary. "Anybody. Anybody can look at the documentary and I just want them to see that they can make it. They can take any part from the documentary from start to end regardless of whatever it is and get one message out of there that they like and I'm satisfied."
"IVERSON" airs Saturday, May 16 on SHOWTIME at 9 p.m. ET.