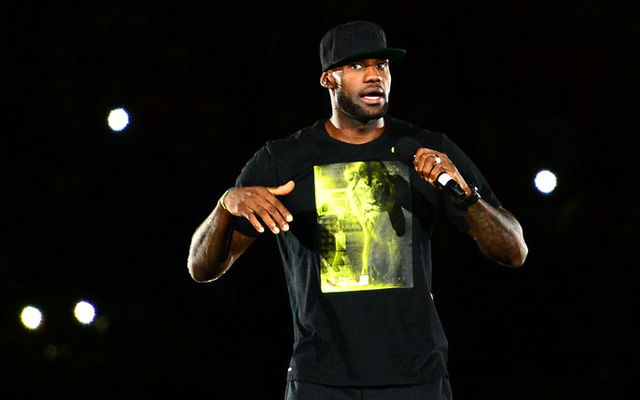 In a panel interview about his new Starz series Survivor's Remorse (premiering October 4th), executive producer LeBron James was asked about the possibility of multiple seasons, which his manager Maverick Carter had mentioned earlier. James took the opportunity to make a crack at himself.
"What (Maverick) said about Season 6 – Last time I said, 'Not one, not two, not three, not four …,' that … didn't go over too well," he said, drawing laughter with a reference to a memorable Heat rally with fellow stars Dwyane Wade and Chris Bosh. James, who recently signed a deal to return to the Cleveland Cavaliers, led the Heat to two championships and four NBA finals during four seasons in Miami.
via LeBron suits up as producer for 'Survivor's Remorse'.
James, of course is referring to this:
It's good that the King has a sense of humor about it now. He was sullen after that 2011 Finals loss, and it took a while for him to understand how messed up he'd been in that year between the loss to the Celtics with the Cavs in 2010 and the loss to the Mavericks in 2011.
Whenever the LeBron James' book comes out -- and it will -- the chapter on his mindset after the Heat teamed up that summer should be interesting. It seems from the exterior like a fascinating mix of arrogance and insecurity. He can look back and laugh at it now. That's a good thing. But it's also an important lesson for younger players. You're going to say and do things that won't represent who you are only a few years later.
It's important to be able to laugh at them, though.