Mock Draft 2.0: Jabari Parker your new No. 1
Duke phenom moves to No.1, heads to Bucks in latest draft simulation.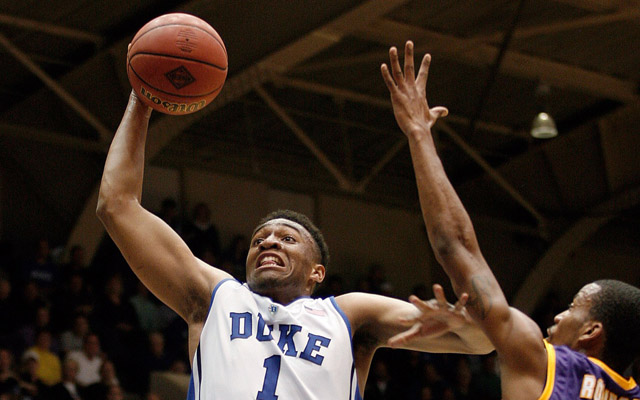 It's been a disappointing start to the season for those who love to claim things are overrated. A few weeks in, the 2014 draft class looks well worth the hype it has drawn. From that night in Chicago that put so many players on the national map to the individual nights showcasing how these players are getting better, there's no reason not to get excited about how good these players will be at the next level.
Jabari Parker has retaken the top spot after a blistering start. He's the one player who seems to put together all the elements; that versatility is more highly regarded in NBA circles than a any point in history. There are a lot of Carmelo Anthony comparisons for him, but he's such a gifted playmaker, it honestly feels like an insult. And that alone is a crazy statement in a vacuum. 
Mock Draft 2.0 uses the same formula we used in 1.0, using Basketball-References's SRS metric which evaluates strength of schedule and point differential to estimate what an order would look like. This order was established following the games of Wednesday, November 27th. Like we said before, there are going to be weird things with this order (Jazz No.3, Bobcats No. 5, etc.) but the point is to not focus on where teams are at and think of this more as a possible simulation based on probabilities drawn out from the performance of that team so far.
Draft pick debt via HoopsWorld.
1. Milwaukee Bucks: Jabari Parker, F, Duke: Parker jumps to the head of the pack with a sensational start to his season, even after the loss to Arizona in which he had 19 points on 21 shots. Parker's combination of size, speed, athleticism, shooting touch and skill has wowed just about everyone.
2. Cleveland Cavaliers: Andrew Wiggins, F, Kansas: If the worst thing that happens with Wiggins is the Cavaliers were to get a souped-up version of Harrison Barnes, they've still come out way ahead. And he fits perfectly with their roster, dysfunctional as it is.
3. Utah Jazz: Julius Randle, PF, Kentucky: I get a little nervous of how this goes with their current roster construction, but sometimes best player available is best player available. Hopefully they finish worse and take Parker who is the best fit. Randle's a good problem to have, though.
4. Atlanta Hawks (from Nets): Marcus Smart, G, Oklahoma State: Smart slides into the two-spot and all of a sudden the Hawks' offense is devastating and Jeff Teague doesn't have to run the entire offense. This would work really well.
5. Charlotte Bobcats: Aaron Gordon, PF, Arizona: Gordon and Zeller would make for an odd but interesting future frontcourt, and Gordon could likely play next to Al Jefferson.
6. Denver Nuggets (from New York Knicks): Joel Embiid, C, Kansas: Brian Shaw gets the clay from which to make the Roy Hibbert in his desired image.
7. Philadelphia 76ers: Montrezl Harrell, PF, Louisville: Harrell and Nerlens Noel are perfect together in every way. Harrell would be a fantastic fit, here.
8. Boston Celtics: Dante Exum, PG, Australia: You know ... just in case Rondo's not around. Just in case.
9. Washington Wizards: Vonleh, F, Indiana: Back to the basket player to revolve the offense around.
10. Charlotte Bobcats (from Detroit Pistons): Wayne Selden, SG, Kansas: Gives them a ton of options on the wing and provides scoring balance.
11. Boston Celtics (from Atlanta Hawks): Willie Cauley-Stein, C, Kentucky: Kelly Olynyk slides to the four and Stein provides the defensive backbone for the Celtics going forward.
12. Sacramento Kings: Rodney Hood, SF, Duke: Explosive scorer with good athleticism at a desperate position of need for the Kings.
13. Toronto Raptors: Dario Saric, SF, Cibona Zagreb: This would be the most Raptors pick of all time.
14. Los Angeles Lakers: Andrew Harrison, PG, Kentucky: They have about 900 point guards, I recognize this. But Harrison provides them with their only long-term option there.
15. Orlando Magic:  Gary Harris, SG, Michigan State: He and Oladipo form an extremely talented backcourt to go with that young frontcourt for balance.
16. Chicago Bulls, Doug McDermott, PF, Creighton: Versatility and a good physical set of tools for Thibodeau to work with.
17. Philadelphia 76ers (from New Orleans Pelicans): James Young, SF, Kentucky: A combo forward named Young and the cycle begins anew.
18. Memphis Grizzlies, Sam Dekker, SF, Wisconsin: Can he shoot? Because that's all he needs, here.
19. Oklahoma City Thunder (from Dallas): Glenn Robinson Jr., SF, Michigan: Lot of upside here for him to fill that wing need as a scorer the Thunder have wanted.
20. Phoenix Suns: Adreian Payne, PF/C, Michigan State: Bruising bruiser who bruises.
21. Orlando Magic (from Denver Nuggets): Aaron Harrison, SG, Kentucky: Would fit really well here as a combo guard off the bench.
22. Utah Jazz (from Golden State Warriors): Rasheed Sulaimon, SG, Duke: No reason he can't work next to Trey Burke as a combo-guard, gives them options with Alec Burks.
23. Charlotte Bobcats (from Portland Trail Blazers): Semaj Christon, PG, Xavier: Too talented to ignore at this spot and gives them speed off the bench. Ramon Sessions is a free agent this summer.
24. Phoenix Suns (from Minnesota Timberwolves): Jahii Carson, PG, Arizona State: Provides depth after Goran Dragic is inevitably traded with high value.
25. Oklahoma City Thunder: Isaiah Austin, C, Baylor: Continuing the grand tradition of project centers for Oklahoma City.
26. Houston Rockets: Mitch McGary, C, Michigan: Muscle and depth for the Rockets behind Howard, and he can spend some time in the D-League learning spacing.
27. Los Angeles Clippers: Alex Poythress, F, Kentucky: Athleticism on the wing, something they're missing at this point.
28. Miami Heat: James McAdoo, PF, North Carolina: Talented and skilled but unable to put it together, this would be a steal for the Heat with their development system.
29. Phoenix Suns (from Indiana Pacers): T.J. Warren, SF, N.C. State: Gifted complimentary scorer who doesn't need the ball in his hands.
30. San Antonio Spurs: Jerami Grant, SF, Syracuse: Gifted and would be a nice fit in the Spurs' system.
Dan Fegan was once considered as one of the most influential agents in the NBA

Ersan Ilyasova isn't quite the player he used to be, but maybe the 76ers can bring the best...

LeBron James speaks his mind and that's part of what makes him a superhero to Gregg Popovi...
We've got all the scores, top plays and news from Sunday's NBA games

Stephen Oh has his finger on the pulse of Wizards basketball and released a play for Sunda...

The Warriors don't have any interest in winning a popularity contest. They're fine winning...